Leaving our bungalow in Pranburi, Cédric and I had something other than cycling and food occupying our mind: the night before: we discovered that our laptop would no longer turn on. At that point, we had big goals in mind for continuing with our blog posts, but alas, life wouldn't let us have it. Cycling northward that morning, we stopped at various locations in Hua Hin to try to figure out what was acting up. Around noon, after a visit to an IT-repair guy who barely seemed to know how the inside of a laptop looks like, we gave up and decided that Bangkok, a mega-city of 14 million people, would be the better bet for fixing the laptop.
The rest of the day consisted of riding alongside the busy highway 4 until we could finally turn off. In Hua Hin and Cha-am, we could once again feel that Thailand is indeed a heavily touristed place. Where Krabi and Ao Nang had a laidback beachy vibe (at least in the low season), these northern cities touted multiple-story 5-star hotels, visited by the wealthiest people from Bangkok (only a few hours' drive away, and thus a good weekend getaway) and a surprising number of northern Europeans. Hua-Hin and Cha-am are not particularly appealing, especially after the long stretch of empty beaches just a few hundred kilometers south, but I guess some tourists cannot imagine being abroad without safe 5-stars large resorts with a romantically modelled version of exotic Thailand – but still within walking distance of Starbucks, KFC and H&M.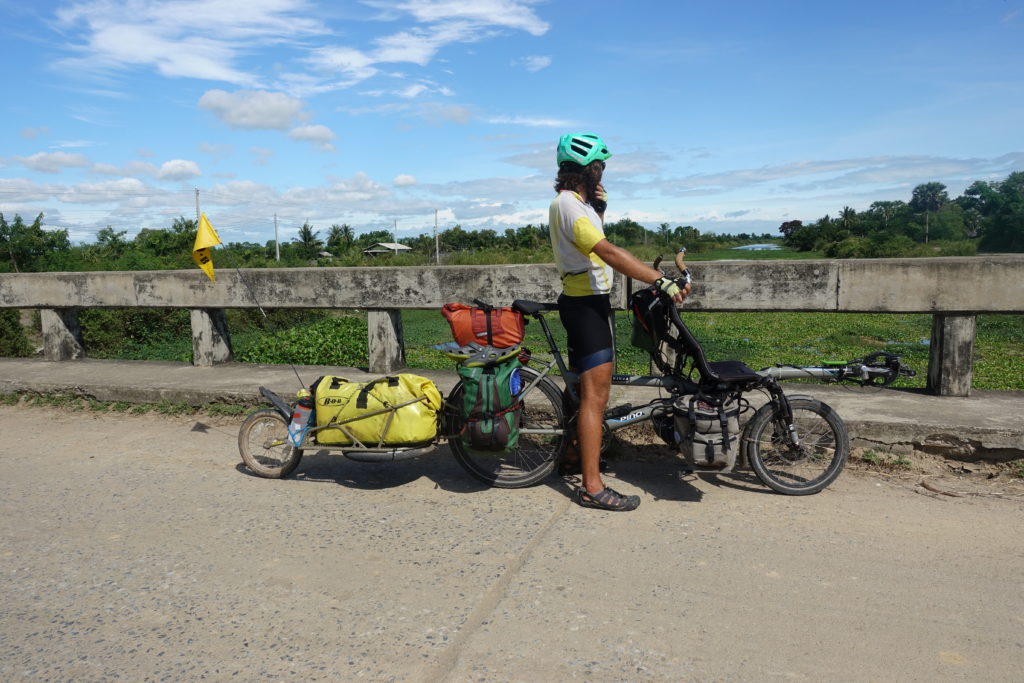 We cruised across that part of Thailand, helped by good tailwinds, flat roads, smooth asphalt, being fit, used to the climate, and not much interest to stop anyway and managed to cycle some parts at almost 30km/h (a bullet speed while cyclo-touring). Arriving in Samut Songkhram, the 2×4 lane-highway clearly indicated that we were entering the metropolitan area of Bangkok. The traffic also becoming less and less enjoyable (although we felt that the massive highways are a lot safer for cycling than smaller roads thanks to a 3m wide shoulder), we decided to stop there our way to Bangkok that evening and continue with a van the next day.
Samut Songkhram is mostly known for its train line that goes right into a market (it's actually more a market that goes right into the train), looking at the map, that train runs only a few times a day from kinda nowhere south of Bangkok to that town 30km away (train are not quite optimal in Thailand as train rely on an outdated infrastructure and lines are not physically linked to each other), but this train has become a popular touristic destination around Bangkok. In short, hordes of people come with a train in the morning, then empty their wallets buying elephant-pants and other souvenirs that will end up in a drawer while waiting for the next train, take a picture of the next train and go back to Bangkok. The market thus lives with sudden waves of hundreds of visitors, with the city returning to quietness in the evening.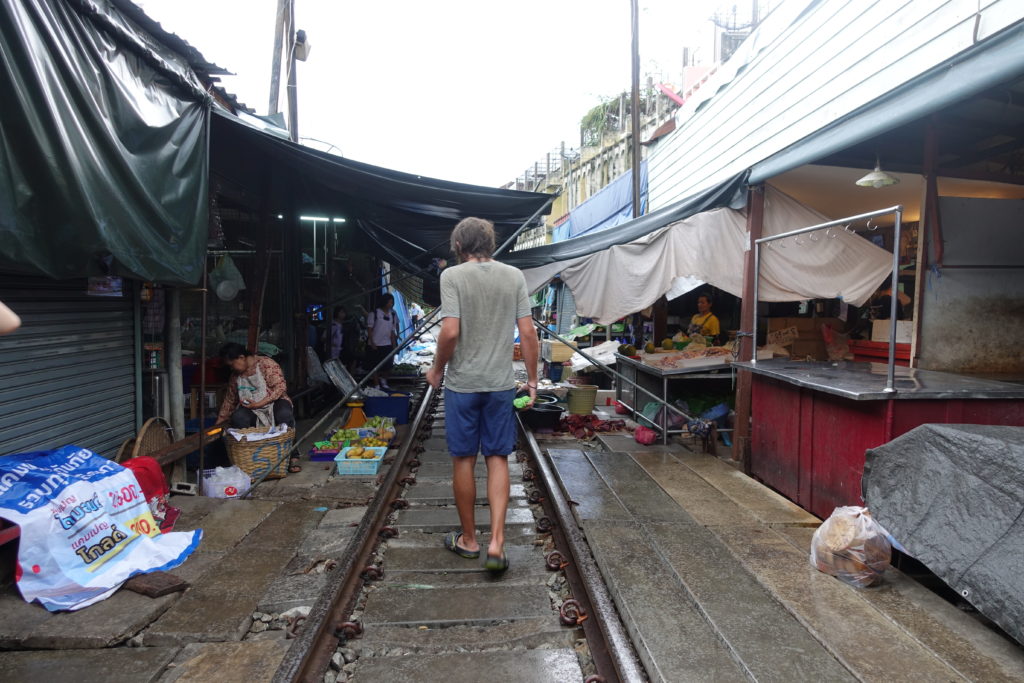 Even though we had explained the number of luggage, the size of the bike and so on the day before to get a van to Bangkok, things obviously did not work out the next day with the van company telling us that it's not possible to put a bike in their van (a 12-seater minibus). We eventually had to double the fare and an hour later another minivan from the same company (same model, same story that the seats cannot flip, etc.) took us to a station in Bangkok that we had not agreed on, but "same same, still Bangkok, you can take your bicycle to your original place". Of course, they understand English whenever they feel like it. We went into Bangkok to visit Cassie's friend Pete, against all odds telling us to ride around it, and observing its lights from far far away. We eventually got welcomed into Bangkok with 20km of traffic jams, a lot of concrete and smog, and our nightmarish 10km ride to Pete's place.
Bangkok has had its population multiplied by 30 in the last century, seemingly growing without any sort of planning or urban thought. Public transportation is just completely inadequate to that size of city: my hometown Toulouse (far from being any sort of public transportation model) has a longer commuter train network despite being the size of Bangkok in the 1930s, buses all seem to have had their odometer fully loop a few times. Add the fact that the Bangkok area is a lot richer than the rest of Thailand (the GDP is about 7 times higher), and that cars are a symbol of wealth and success, and you get the second most jammed city in the world! Its drivers apparently enjoy wasting on average 1h15 of their lives every single day of the year in traffic jams (it's about 18min in LA or 25min in Paris for comparison), its pedestrians enjoy noisy engines and their unregulated scent of exhausts and other particles – literally 24/7. The only way to get around: add on to the traffic and get a long nap in a taxi, luckily unbelievably cheap (count about 3 euros for 10km in an hour).
Being in Bangkok, our main first goals became to service our bike in one of the rare reliable shop around as we don't want to mess up our precious iron-horse (read the Malaysia post) at "BokBokBike" and find a solution to keep on updating the website (among other useful things a laptop can do). For the bike, that unfortunately meant twice 8km dealing with the traffic, with Cassie refusing to steer a single meter and pedaling while closing her eyes/nose/ears – just the mouth and the lungs must remain open to try to supply a bit of remaining oxygen that hasn't been burnt by combustion engines around!
The bike got its maintenance done without much problem, things got a little more complicated for the laptop: the manufacturer telling us that it will take several weeks and probably will have to get some parts from Germany because it comes from there (I have never heard of a Chinese laptop manufacturer having its production outsourced to low-cost western Europe…), then a few places refusing having to deal with those small compact devices, and finally a Dutch owned shop explaining us after running a few tests that we should cry a little and prepare the credit-card for a new one… Shipping a laptop to some place in Europe for a repair until our return appeared to be impossible (thanks Li-Ion batteries), but we yet managed to sell the dead carcass at a market for a tenth of the price of the brand-new one (knowing that the motherboard and screen were broken)! So we are now writing our posts on a Thai-keyboard (you thought the French keyboards were weird? Check the Thai script!).
While waiting for the Hase Pino and computer to be serviced, we also managed to see a few of the touristic parts in the heart of old Bangkok: the Wat Pho complex, the Emerald Buddha temple complex (an overrated temple with a ridiculous entry fee – that we reluctantly paid because there is not much more in Bangkok otherwise, where we were turned away twice for not wearing the correct clothes – both long pants and long sleeves are required despite the heat) and Chinatown. We also explored the myriad of shopping malls along the Rama I and Sukhumvit roads (very exciting: you can see the new models from Zara, H&M or Gap…) to look for a few items and a new laptop. Besides exploring the seedier side of Bangkok (think: white-creepy-gramps with their new Thai-love-too-young-to-be-their-daughters and happy endings), the other thing tourists can turn to is a shopping extravaganza for everything you can think of. Having spent the past 6 months carrying around just our necessities, it was mind-blowing to see the sheer abundance of goods in these shopping malls. Besides 'luxury' shopping malls with a lot of western brands, Bangkok has also other types of malls with literally thousands of stalls selling cheap no-quality useless (often Chinese) crap – and a lot of tourists apparently enjoy wasting their time and money filling suitcases of stuff that will never be used and will eventually be trashed across the world. A bit too much for us!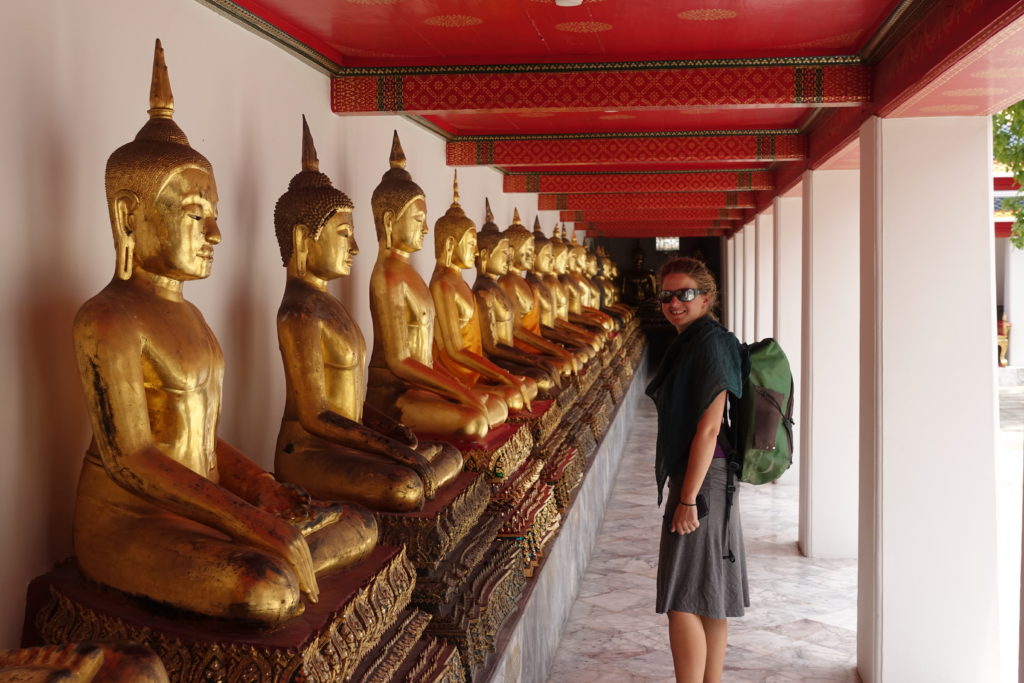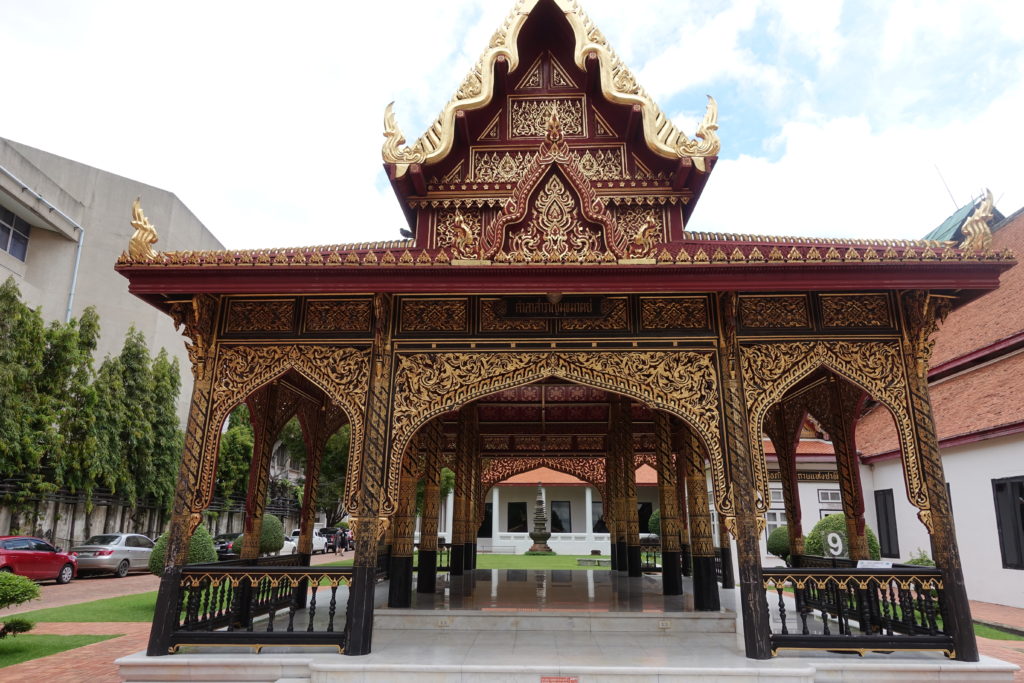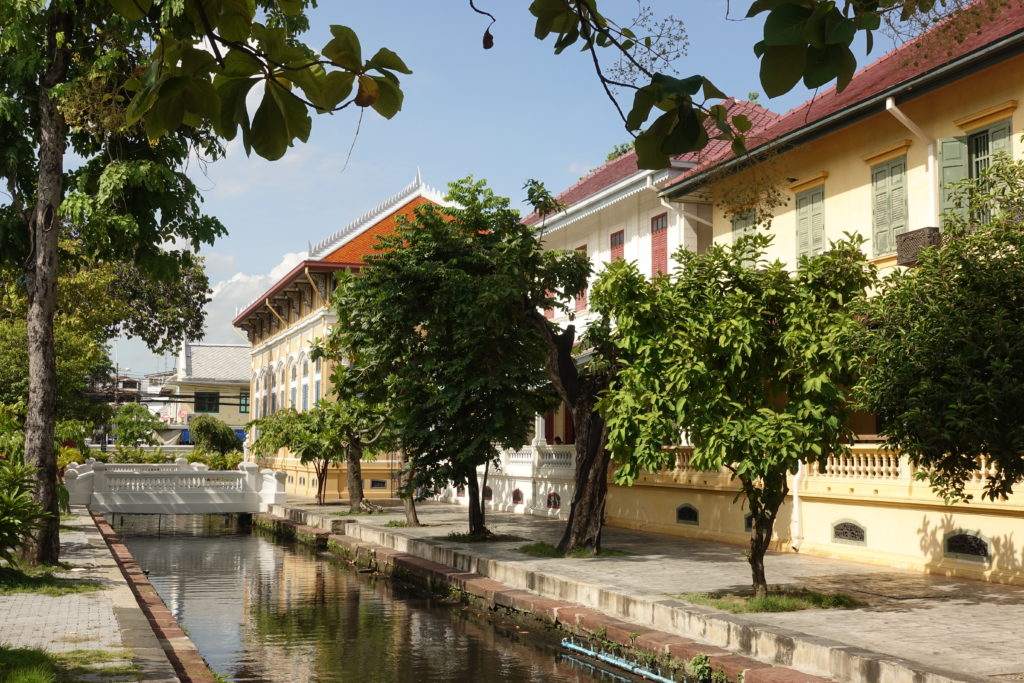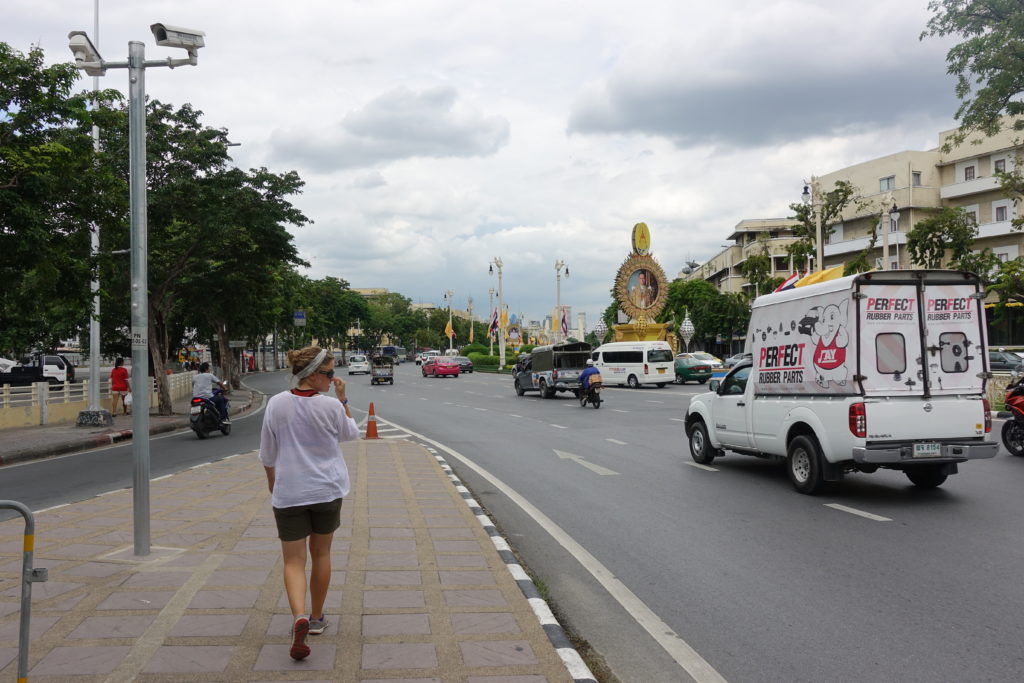 Once the bike was ready to go and we set up the new computer (a few hours were dedicated to trying to remember just how we managed to get a free version of Microsoft Office on the old laptop), we packed our things to get out of the city. Being in Bangkok, we had a few more transportation options than a van ride so we bought tickets to Ayutthaya, the capital city of Siam before Bangkok, less than 100 km north of the city. Just as we were leaving, Cedric picked up a nice respiratory virus as a bonus gift to carry with us for the next few weeks…souvenir from Bangkok!
So in short, we really enjoyed hospitality of Pete's family, and Bangkok is the place in Thailand to find literally anything you may be looking for (including a branch of Cedric's company 😊), however don't expect much for sights and enjoyable places to hangout. If you really need a Thai-script-tattoo, some elephant-pants, or a Singha/Chang beer-T-shirt, the Khaosan district will have everything to provide to look like a western clown, if you are into the weird obscure brothel stuff, well you can surely find that too, but we really cannot give any advice on that (unless recommending taking a flight back home).
If any cyclist is reading that post, seriously don't consider cycling into Bangkok (apart for suicidal riders), and unless you need a bike shop (BokBok) or spare parts, just ride around the city (to get to Laos, Myanmar and northern Thailand) or get another mean of transportation across (for example if heading towards Cambodia). Also read the previous post about dogs: 10% of dogs in Bangkok have rabies – very exciting!