Energized by an evening of stories with other cyclo-tourists, Cédric and were ready to make our way into Tajikistan. As we bid farewell to everyone and wished them luck for their respective journeys (some were headed north, others towards China and Peak Lenin), Cédric and I slowly collected our things and made a few last-minute purchases for the big ascent. This day, we planned to cycle to an area between the Kyrgyz and Tajik border check points: No Man's Land – just 30 kilometers from Sary Tash. The day was sunny and clear – giving us excellent views of both Peak Lenin and Peak Kurumdy as we cycled over the Alai plains. As we got closer to the Kyrgyz border, we crossed paths with a few more cyclo-tourists, exchanging bits of information about the upcoming segments and more importantly – exchanging money. We had extra Kyrgyz Som and they had remaining Tajik Somoni – and a few US dollars were thrown in to even everything out. After our lunch break overlooking a herd of yak, Cédric and I cycled up to the Kyrgyz border and crossed the check point without a problem. Just after we entered No Man's Land, the 20 kilometers between both borders, we were greeted by marmot whistles and a rough dirt road. We were keen to take pictures of the marmots scurrying across the road, unaware that we would see them everywhere over the next few days. As the late afternoon drew closer, it became windier and felt like a storm would soon appear, so Cédric and I pitched our camp on a small piece of grass and huddled inside to keep warm. Since both borders are closed from 6pm onward, we got to have this part of the valley for ourselves – no cars (or dogs, or anything that tends to be loud during the night) to bother us while we slept, and some Tajik and Kyrgyz military keeping our camping spot safe all night on both sides!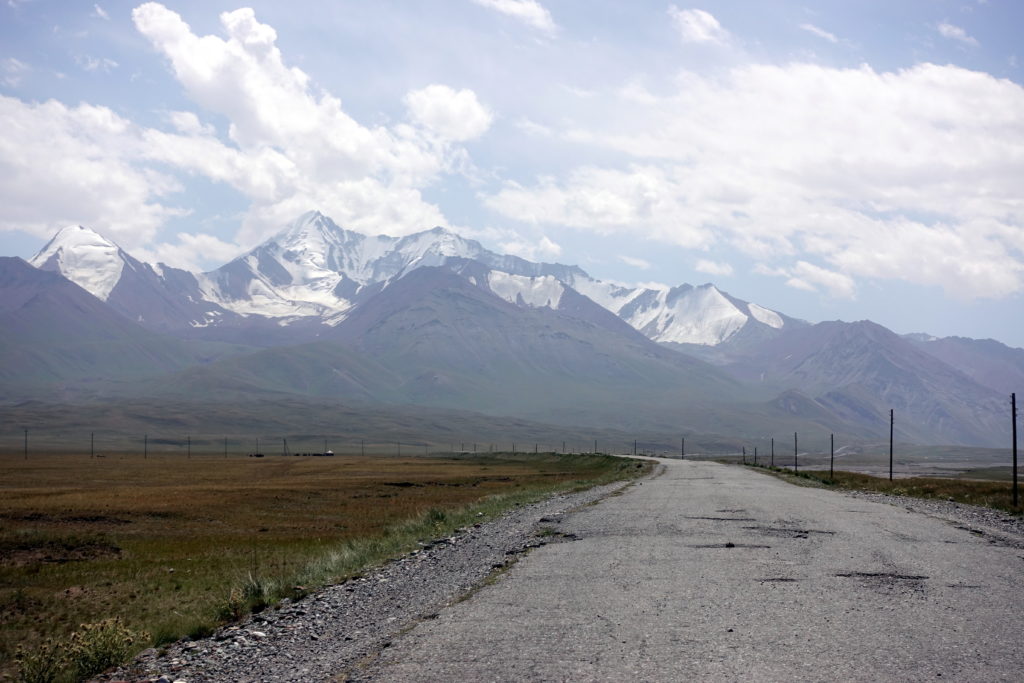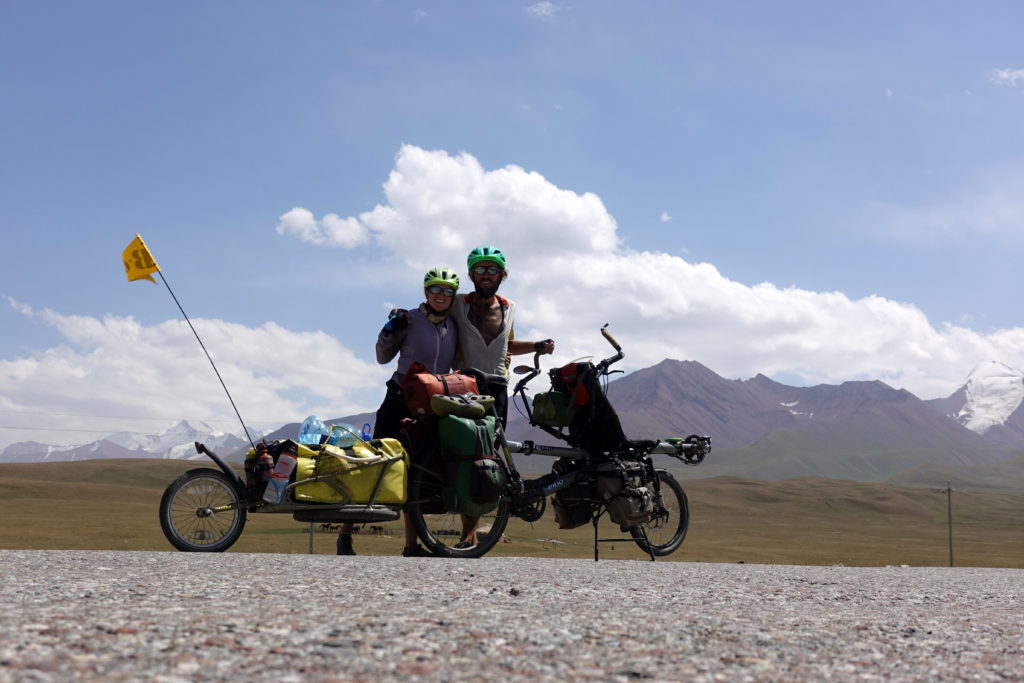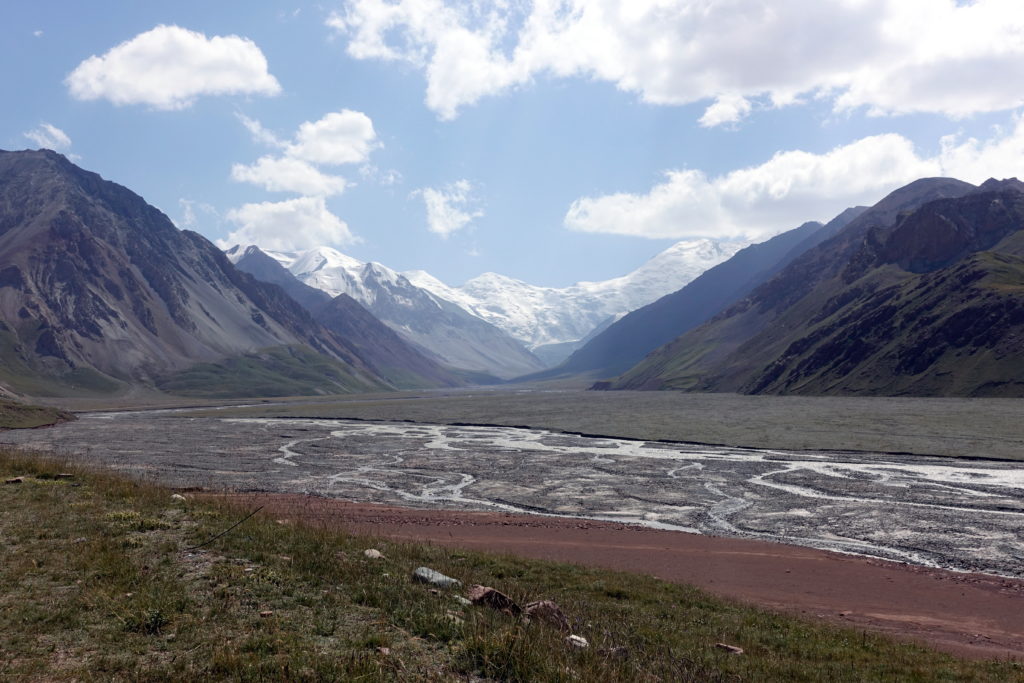 The next morning, we awoke to cold and windy weather (despite the near-cloudless skies) and had a little pep-talk for the Kyzyl-Art pass. This next pass surpassed the Taldyk pass by a few hundred meters – looming over us at 4250m and would test our ability to acclimate to the high altitudes. A few days prior, Cédric and I started taking Diamox to ward off any altitude sickness – something we don't want to encounter while on our journey. Cycling the Pamir Highway is supposed to be easier in the opposite direction that we are taking, as starting in Osh means going from 900m to 4300m in only 4 days. We are cycling towards Europe, so well, we'll cycle the road the hard way! However, the ascent between our campsite and the pass was still significant to make us catch our breath. Once we reached the final switchbacks leading to the top, Cédric and I needed to get off and push the bike, because the road quality deteriorated along with the amount of oxygen. Every few tens of meters up, we needed to stop and gasp for air for at least 30 seconds. Finally, after what seemed like forever, but probably maximum 15 minutes, we made it to the top and celebrated, ignoring the cold and strong winds for just a few seconds.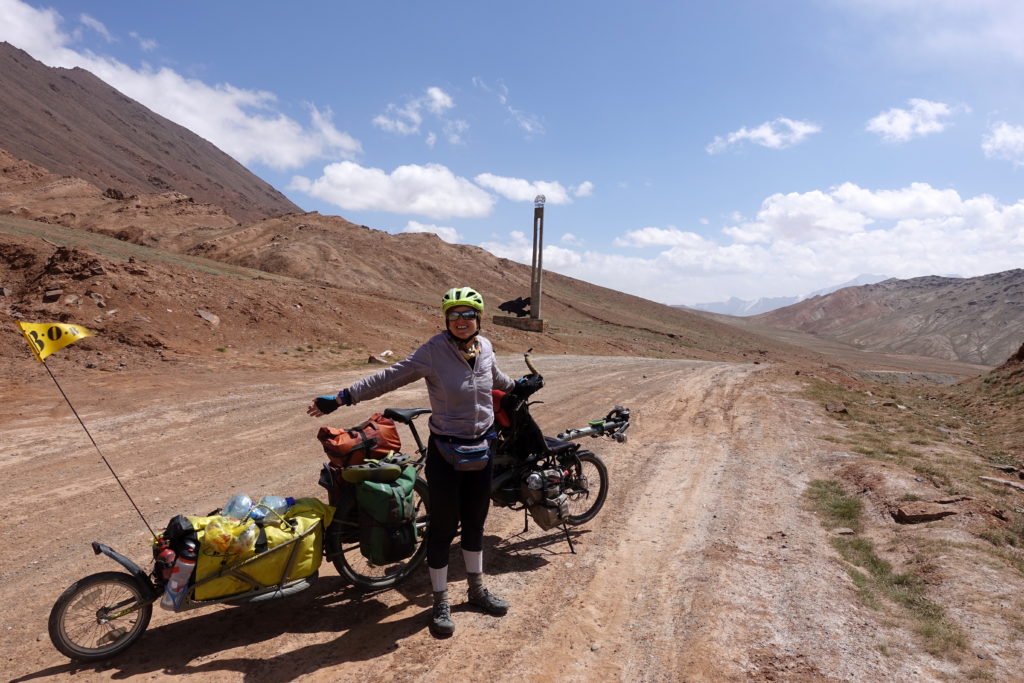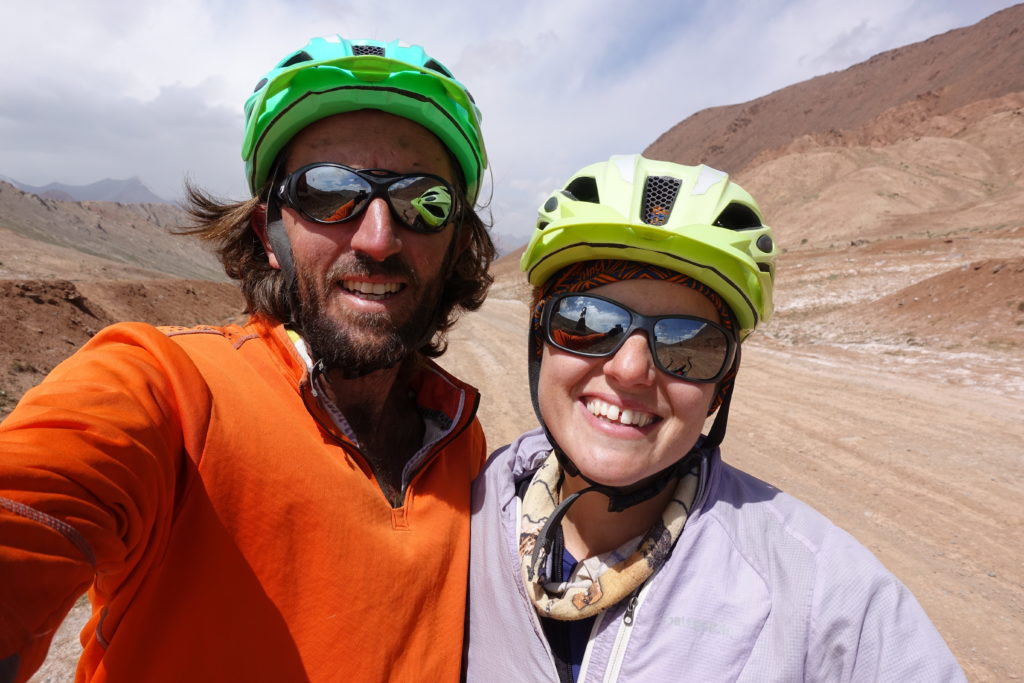 When we were done rejoicing, we hopped on the tandem and slowly made our way down to the Tajik border just a kilometer down from the pass. At this border control, things were a bit different – no electricity and internet connection required everything to be entered by hand and checked a few times by various guards. The longer process also allowed us to watch the various types of travelers pass through the border; some were locals visiting family, others were sand-blasted tourists like ourselves, either cyclo-touring or participating in the Mongol Rally (link). The ones who stuck out were a Swiss couple who drove up and inadvertently sprayed everyone in dust with their enormous MAN Action Mobil Global (link). (As a side note, we give heavy eyerolls when we see these types of overlanders/unimogs, which has been in Central America, Africa, and here. These vehicles must be one of the most culturally insensitive things we've seen while traveling. It takes up the whole road and gives the impression that the local hotel [or any interaction with the locals besides at the gas station] is too treacherous… Really, there's no reason to drive around a 600,000EUR moon rover to go down the same roads we cycle on. People are well aware of the price of those shiny luxury trucks – just imagine that a truck costs as much as the annual income of 3000 people…
Just before leaving, we also encountered a group of chauffeured British cyclists who treated us like a human zoo – far enough away to not need to talk to us, they were happy snapping pictures of us without asking. Once again, the behavior of people traveling in organized-groups is a desperation – yes, we have a special bicycle and yes, some people want to take pictures, but even locals in Central Asia with whom we do not share a common language ask first and we are always happy to even put the bike on the kick-stand. But when western tourists (and even worse for native-English speakers) hide behind a fence to take a picture – that they are never going to look at ever again back home – it's just a feeling of hopelessness… (/rant)
Although the previous night was spent in No Man's Land, the landscape just after the Tajik border felt more like No Man's Land- from green mountains on the Kyrgyz side, we descended to a moon-like landscape with no vegetation in sight. The mountains grey and the water salty. Continuing on, we descended into Karakul looking for a homestay for the night. Once we got over the second 'pass' of the day, we were greeted with stunning views of Lake Karakul and the glacial mountains surrounding the plains. At our homestay, we were happy to be welcomed with a pot of tea (at the end of the day, all worries about water-related illnesses and low boiling temperatures faded away – for better or worse). We also shared dinner with some other Americans, one who grew up mere miles from my Dad's childhood home.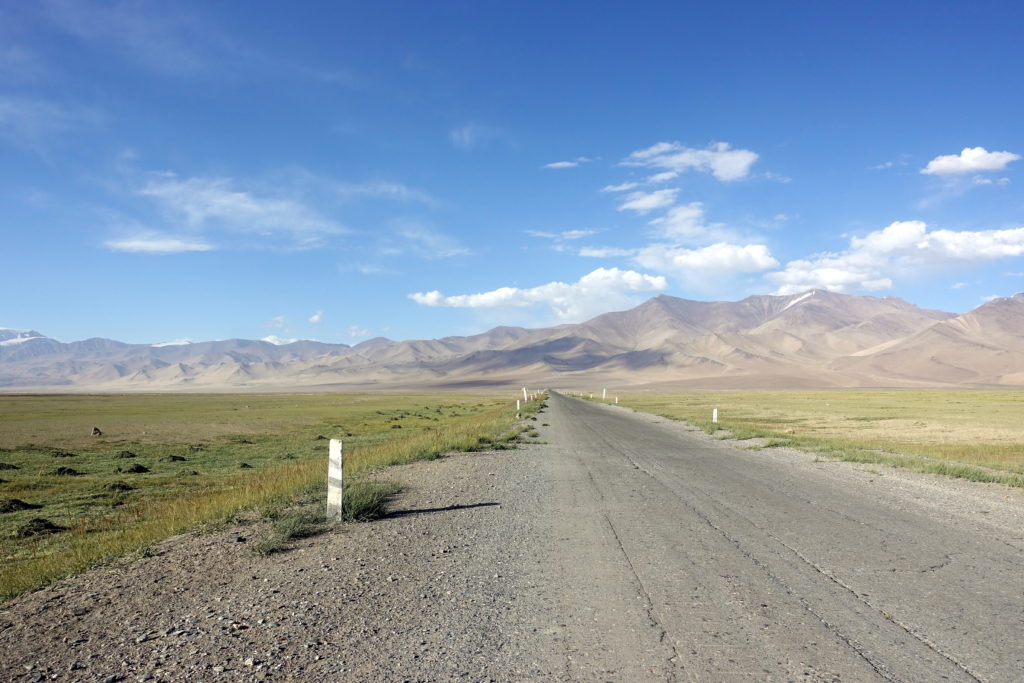 The next morning, we ate breakfast and got ready for the journey towards the Ak-Baital pass, the highest point of our trip. Before we left the village, we managed to trade SIM cards with passing cyclists headed towards Kyrgyzstan and gathered bread and water for the ride. The landscapes remained barren and mountainous, and we wondered how anyone decided to live up here, let alone stay here over the winter. As we got closer to our planned campsite, the paved road gave way to rough washboard and we were instantly reminded of riding the Kazarman road in a week ago. Shortly before we wanted to call it quits for the day, we spotted a yurt stay and decided to stop for tea before setting up camp, and escape from the wind. As we've now learned, asking for a 'chai' also implies bread and other homemade treats, like yogurt and butter (and no refrigerator in sight, so we've really thrown all caution to the wind at this point). After our snack and few kilometers down the road from the yurt-stay, we found a place among the marmots that seemed slightly less windy than the rest of the valley, although Cedric spent an hour in the tent reading while holding the tent wall – luckily the wind always calms down in the evenings.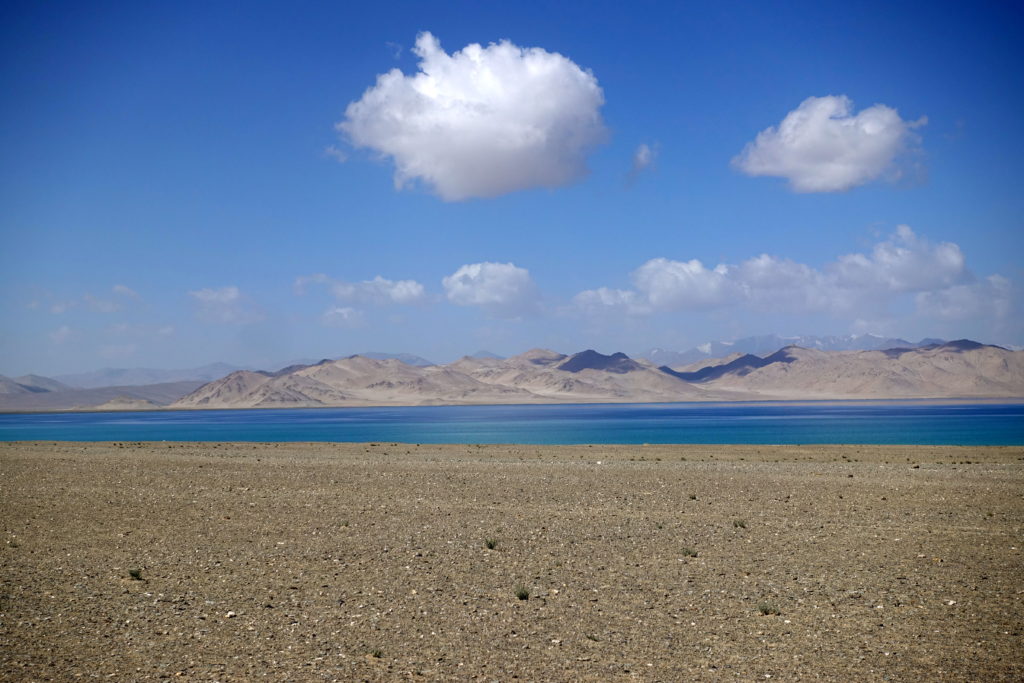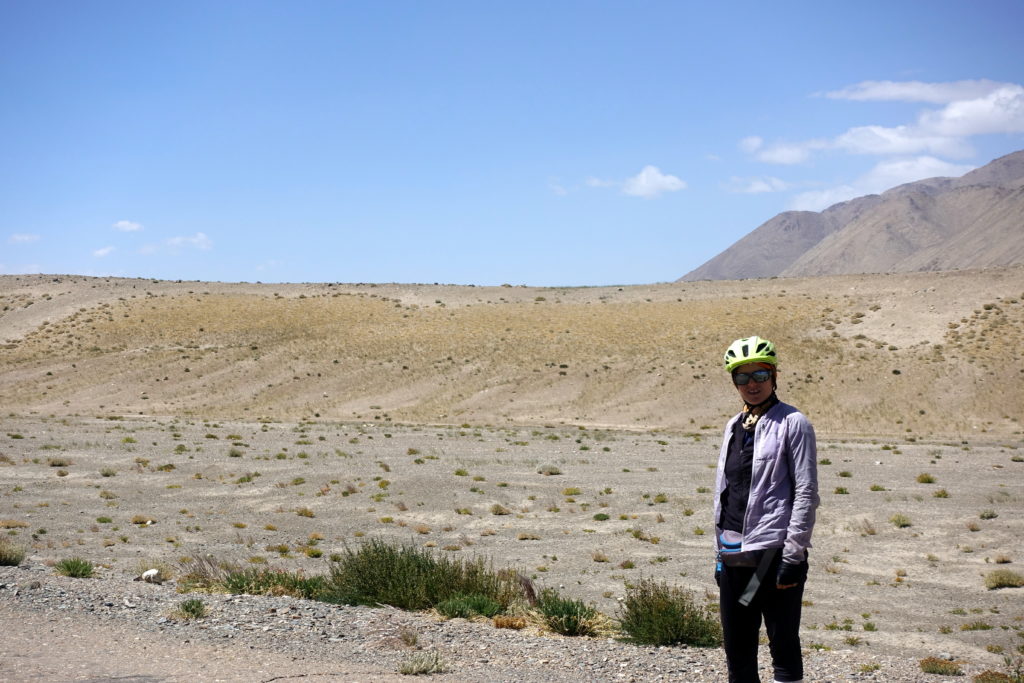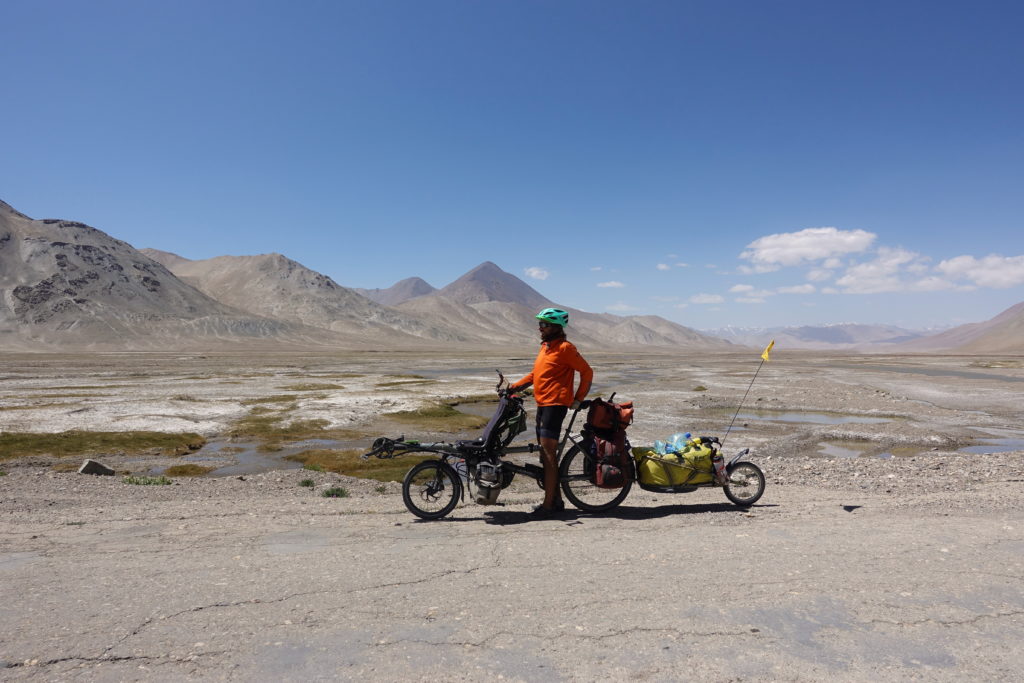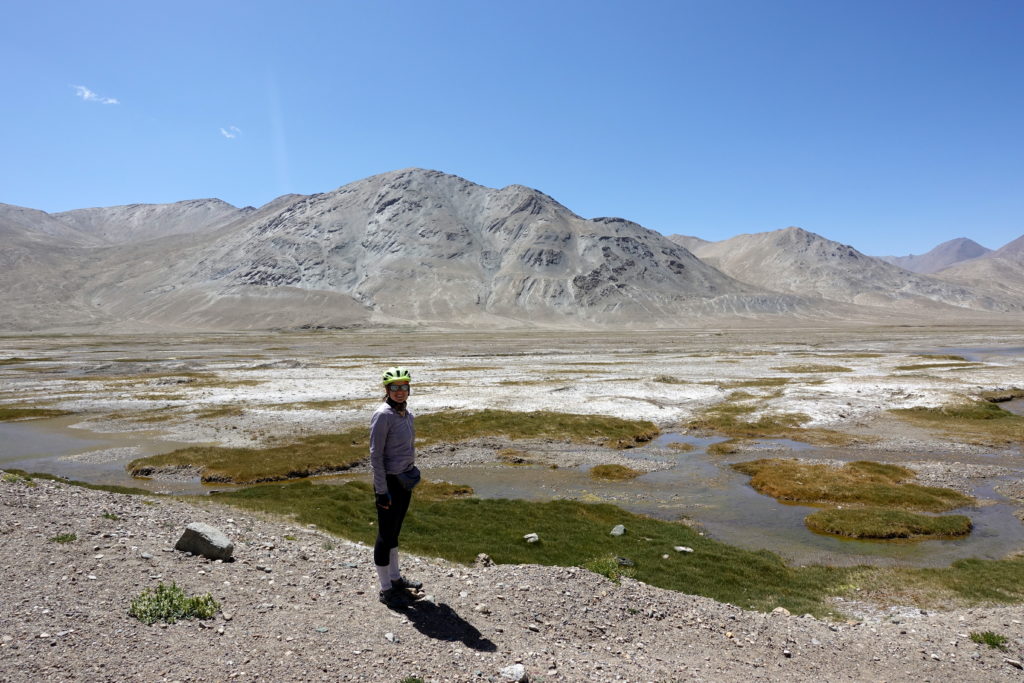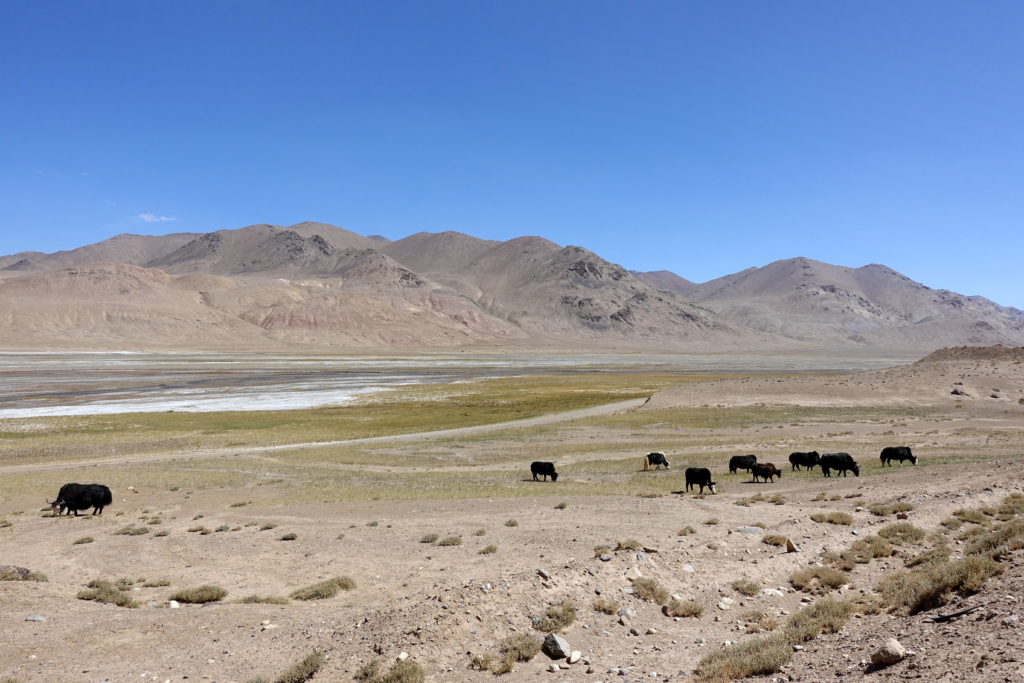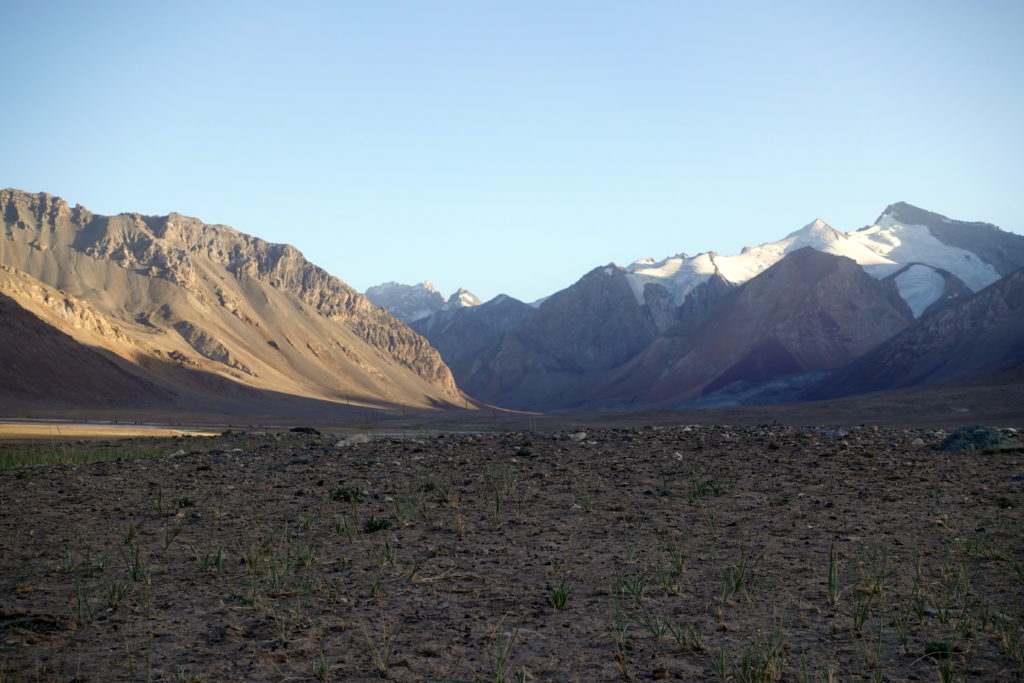 Waking up from a chilly night, Cédric and I packed our things and set off for the pass at 4655 meters. Within the first few kilometers, we stopped several times to chat with other cyclo-tourists coming the other way, having just conquered the pass. We shared tips about the days ahead and gave each other words of encouragement for the upcoming stretch of road. As we continued our ascent, we found even more marmots scurrying across the road and a local family, herding goats through the valley. Finally, without pushing this time, we made it to the pass – which was slightly underwhelming for such a feat. After a few fits of coughing and pictures from the area, we cycled down the valley and were greeted with new red and yellow landscapes. As the day progressed towards Murghab, our tailwinds from the past few days gave way to strong headwinds and the last bit into town was almost unbearable. We were supposed to be going downhill, but our speed would have said otherwise. In the evening, we shared a guesthouse with a few like-minded travelers and experienced our first bucket shower of the trip (no indoor plumbing has some neat alternatives). We will be staying in Murghab two nights with the plan to do absolutely nothing the next day, only rest and drink some chai, with a view over the Chinese side of the Pamir and the Muztagh Ata in the background.