When we set off from Passau the next morning, it became quickly apparent that the EuroVelo 6 infrastructure in Germany is lacking. The signage was neither very clear nor the path very consistent. We noticed it right after the first few kilometers outside of Passau while finding ourselves alongside the morning commuters on a four-lane high traffic road but technically still the bike-way, on the north side of the Danube. Thankfully, this didn't last too long, and we were able to find much quieter roads and trails along the river. For the first time in a week, the GPS routing proved to be quite useful for finding the right path, and confirm that after hundreds of kilometers pretty much alone on the side of the Danube, we now have to ride along exhaust pipes and noisy engines. The weather cooperated on this day (finally, after getting rained on so many times) and we enjoyed the relative warmth that the sun provided. Our morning was spent weaving through small villages and fields while trying to avoid the gravel paths. Ever since Georgia and a few occasions in Serbia and Hungary, unpaved surfaces proved to be untrustworthy, especially with the copious amounts of rain we received in the past few weeks. We were a bit surprised to find just how smooth and maintained the gravel paths were in Germany (oh yeah, lots of people do small tours here and the local governments try alternatives to adding a yet another-lane for lazy locals enjoying getting stuck in traffic jams…) but riding over wet gravel still made our pace exhaustingly slow. We stopped for a Bavarian lunch in the Niederaltaich Benedictine abbey.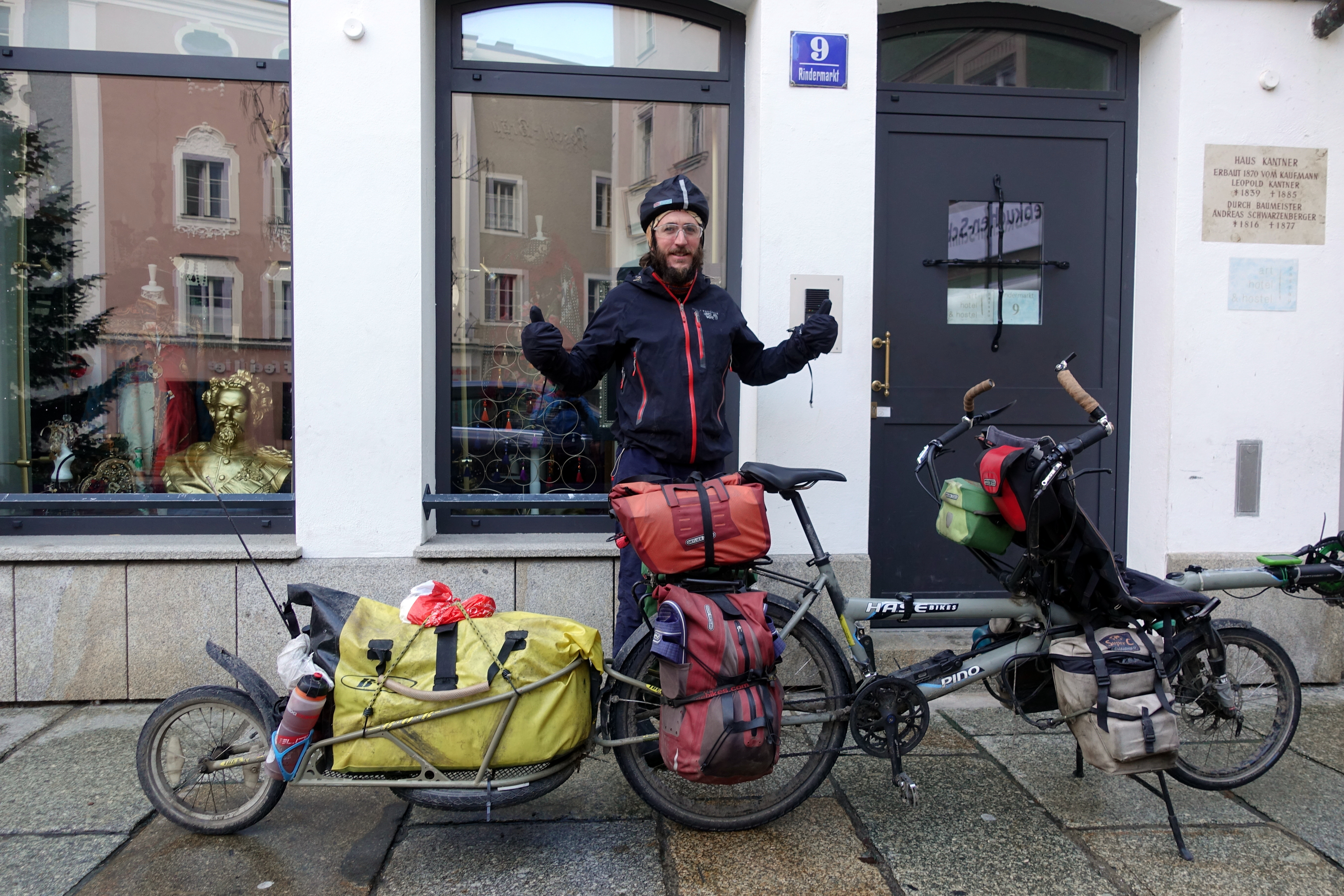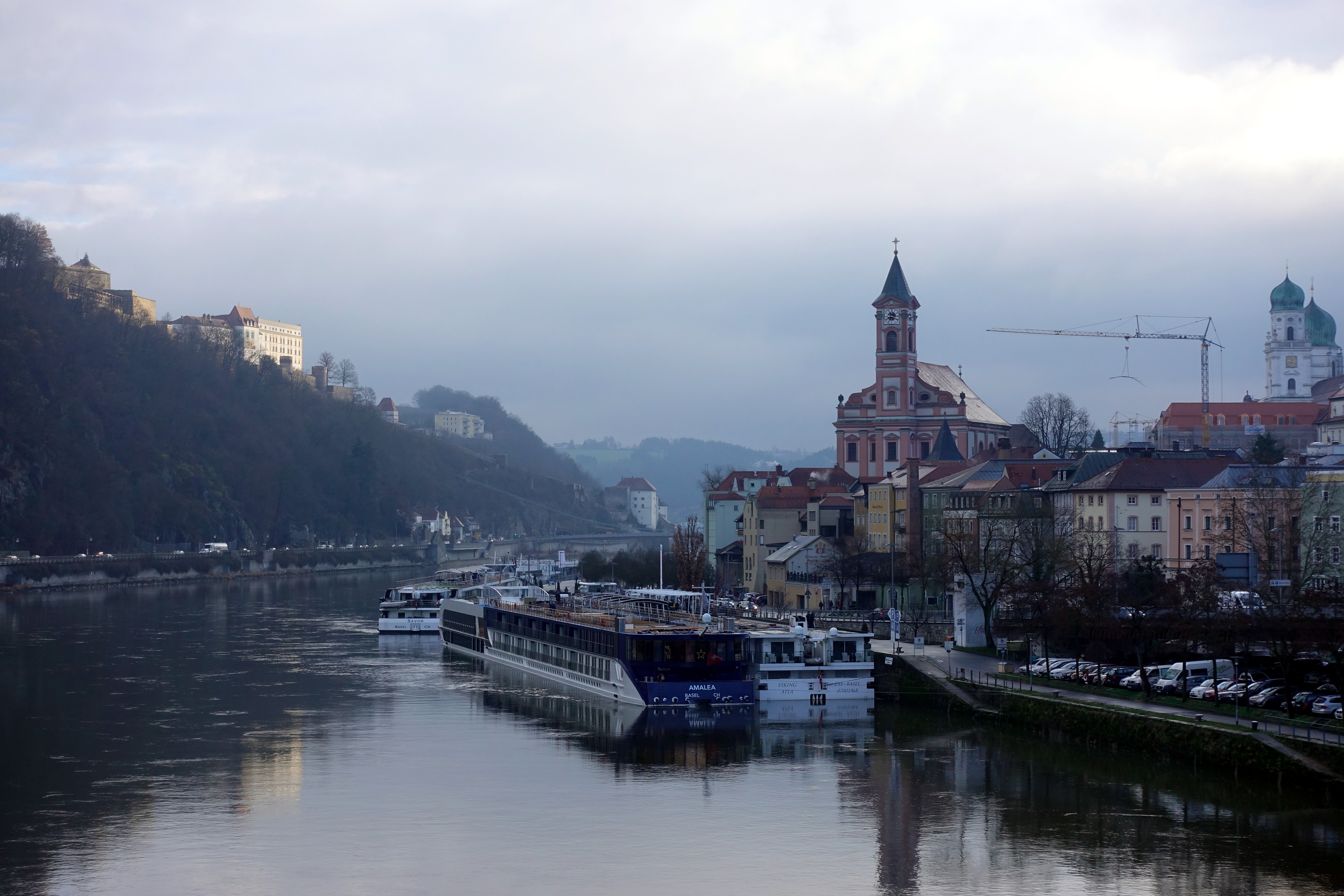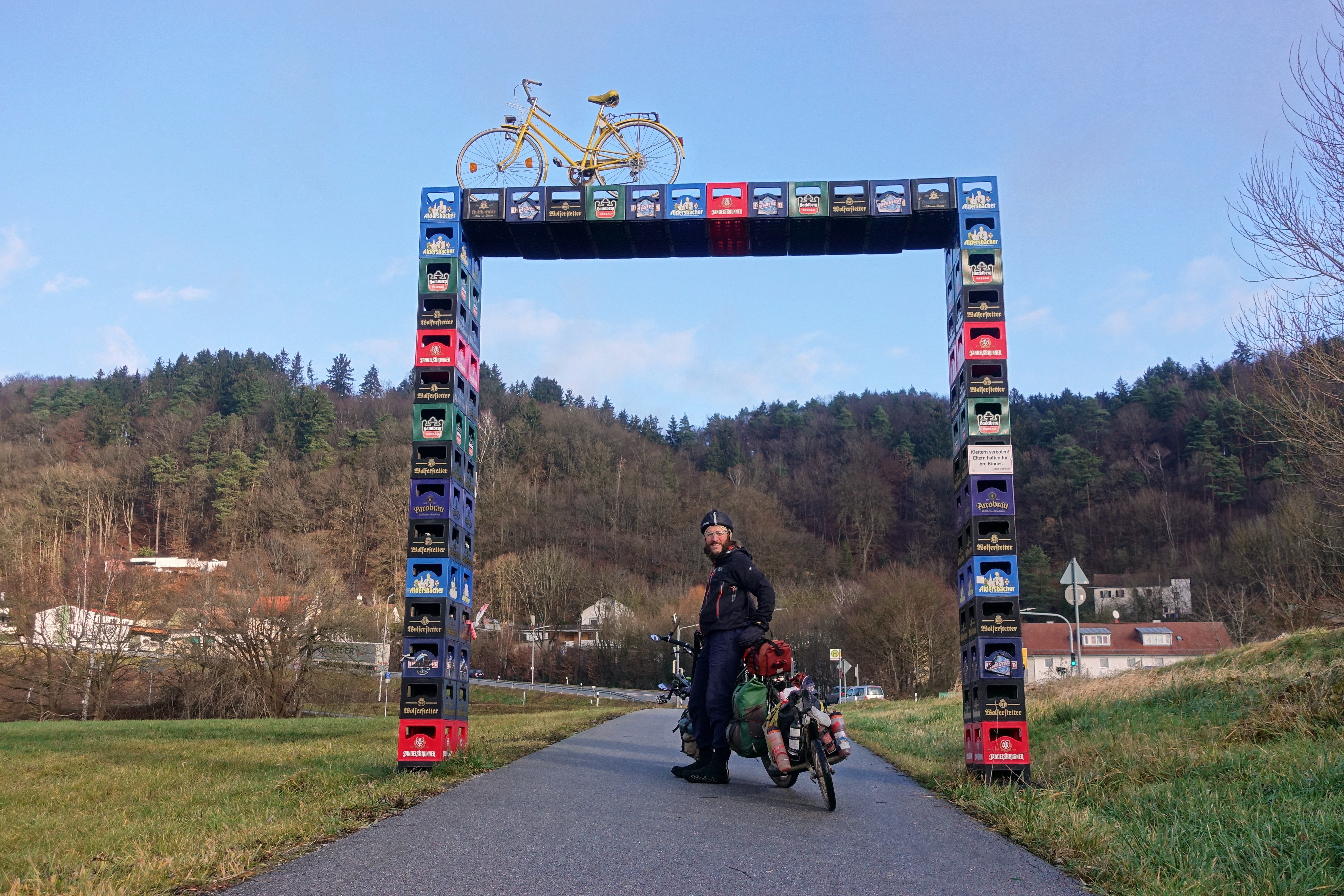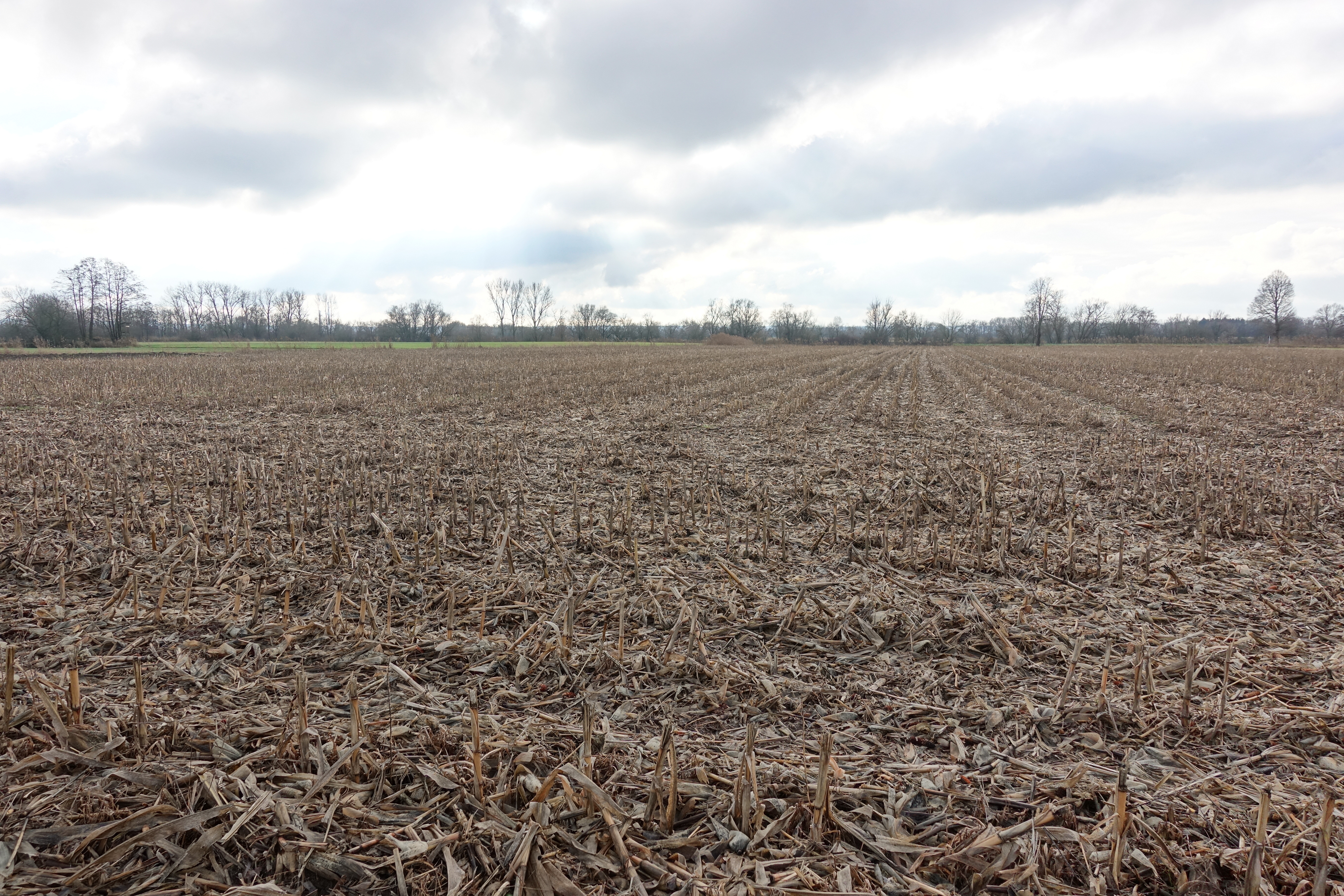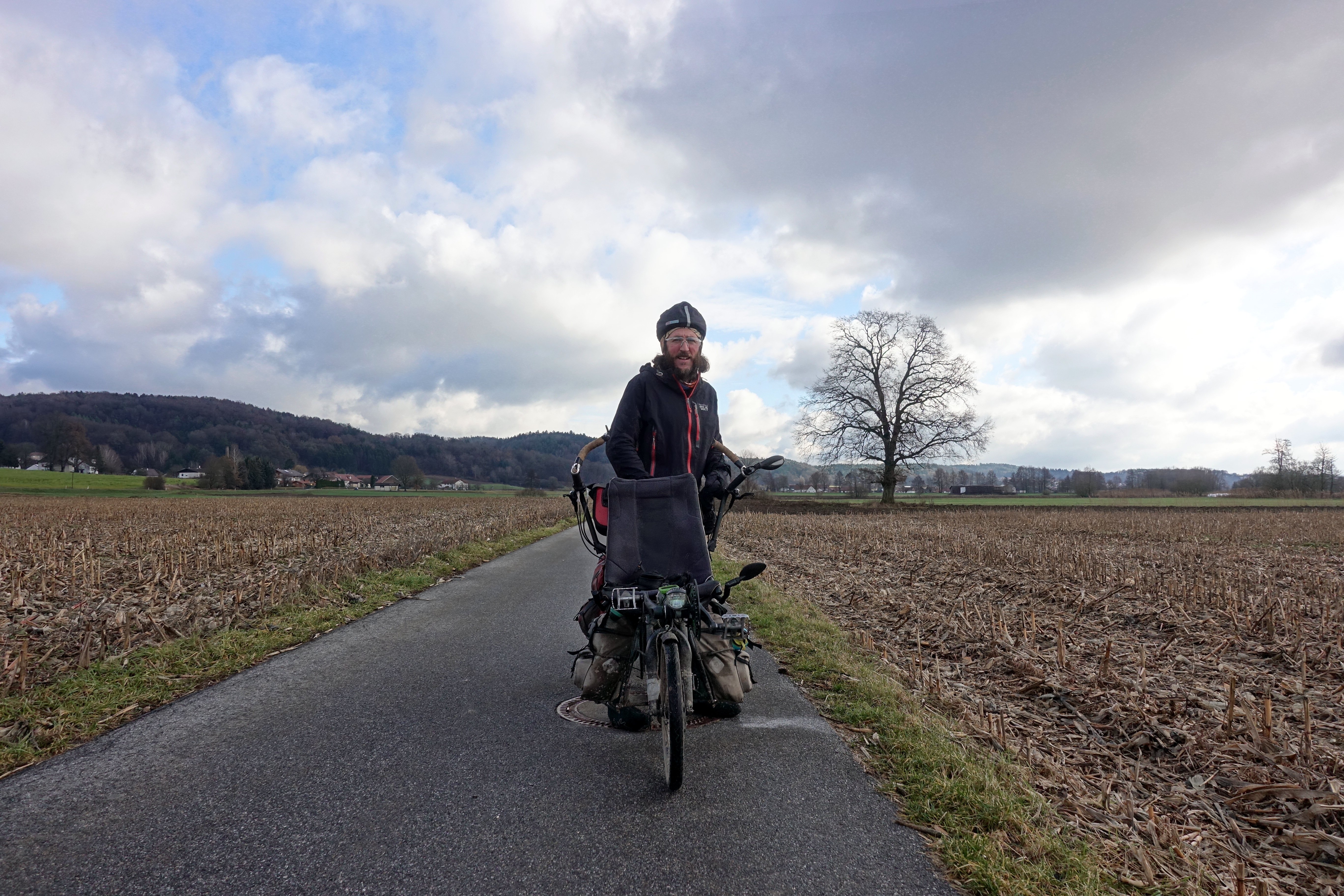 The rest of the afternoon, we continued along the north side of the Danube, through Deggendorf and to our tiny guesthouse in the middle of nowhere. Just like Austria, we were having the same amount of luck finding a reasonably priced place to sleep. Everything on Booking was out of our price range and others sold-out, but our method of typing 'pension' into google maps gave us a result of otherwise non-listed guesthouses. These are usually small B&Bs managed by locals targeting returning workers spending time for the duration of a project, they don't do any advertisement but are known by word of mouth. We arrived in the afternoon, just as the weather was getting colder, and settled in for the rest of the evening – full of hot showers, tea, and Jerry Seinfeld.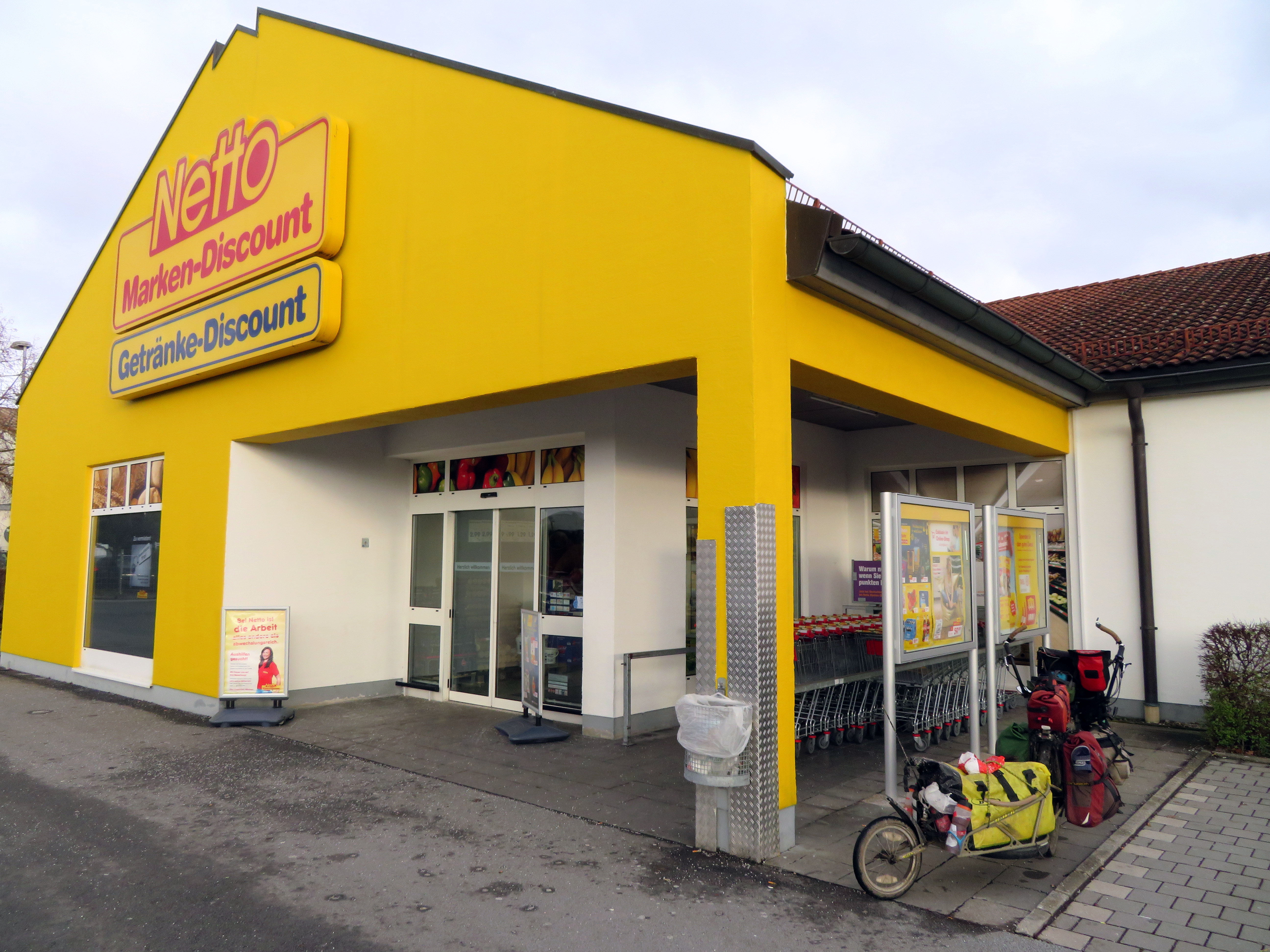 The next morning, we woke up to everything covered in a thick layer of frost and some fog. As we ate our breakfast, the clouds were lifting, and it looked like we would have another rain-free day. We set off on the bike and enjoyed the flat Danube plains. We spent our morning riding and trying to find the best, most direct path to Regensburg. In this region, the Danube meanders, meaning that following the shoreline curves would add extra, unnecessary kilometers to our day. For the most part, we were alone on the roads except for local traffic; the A3 highway was nearby though and we could watch the never-ending stream of semi-trucks. Cycling west, we could appreciate what dense, wealthy Europe has to offer in terms of roads. It was reassuring to know that we could always find a quieter side road away from any heavy traffic and large trucks.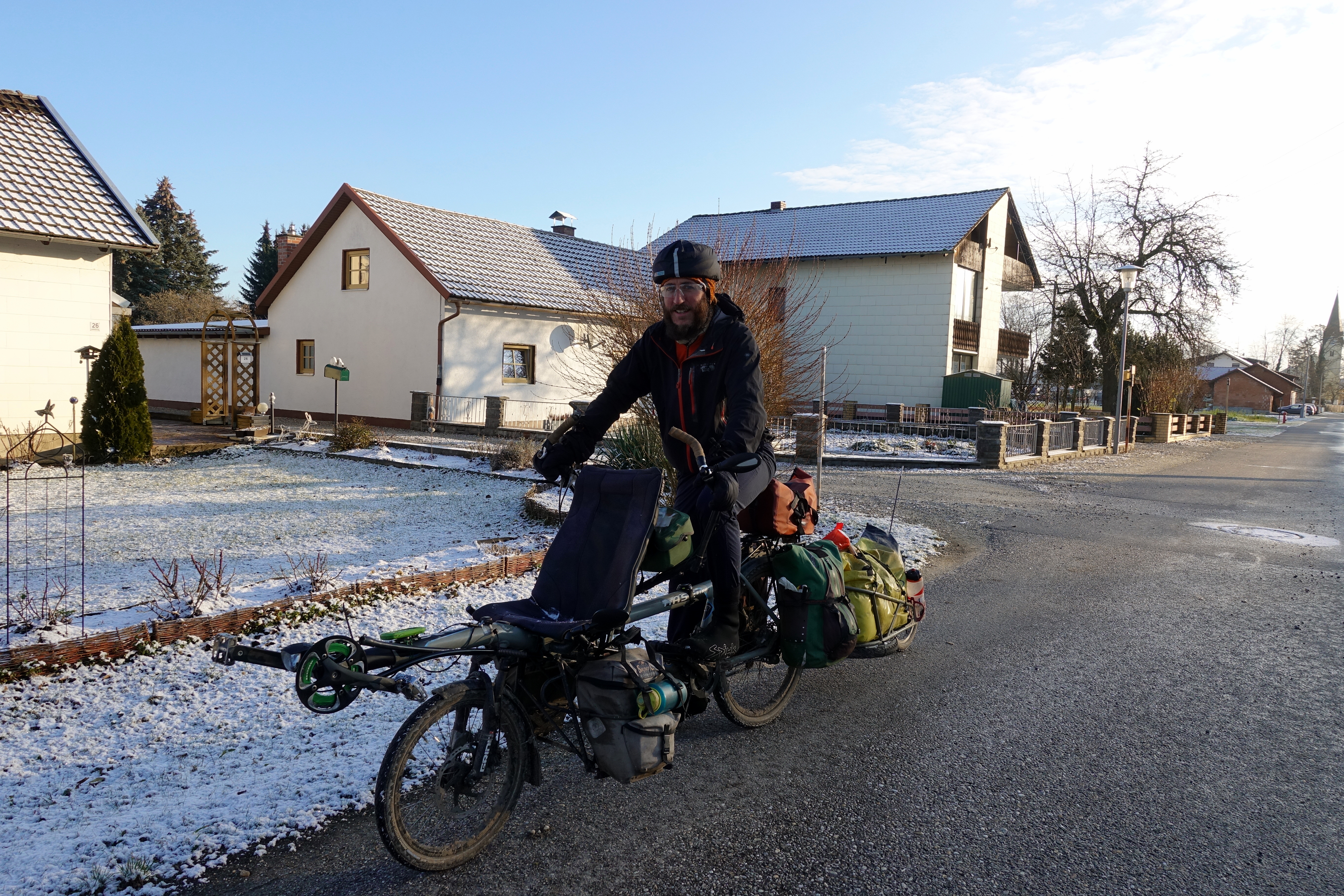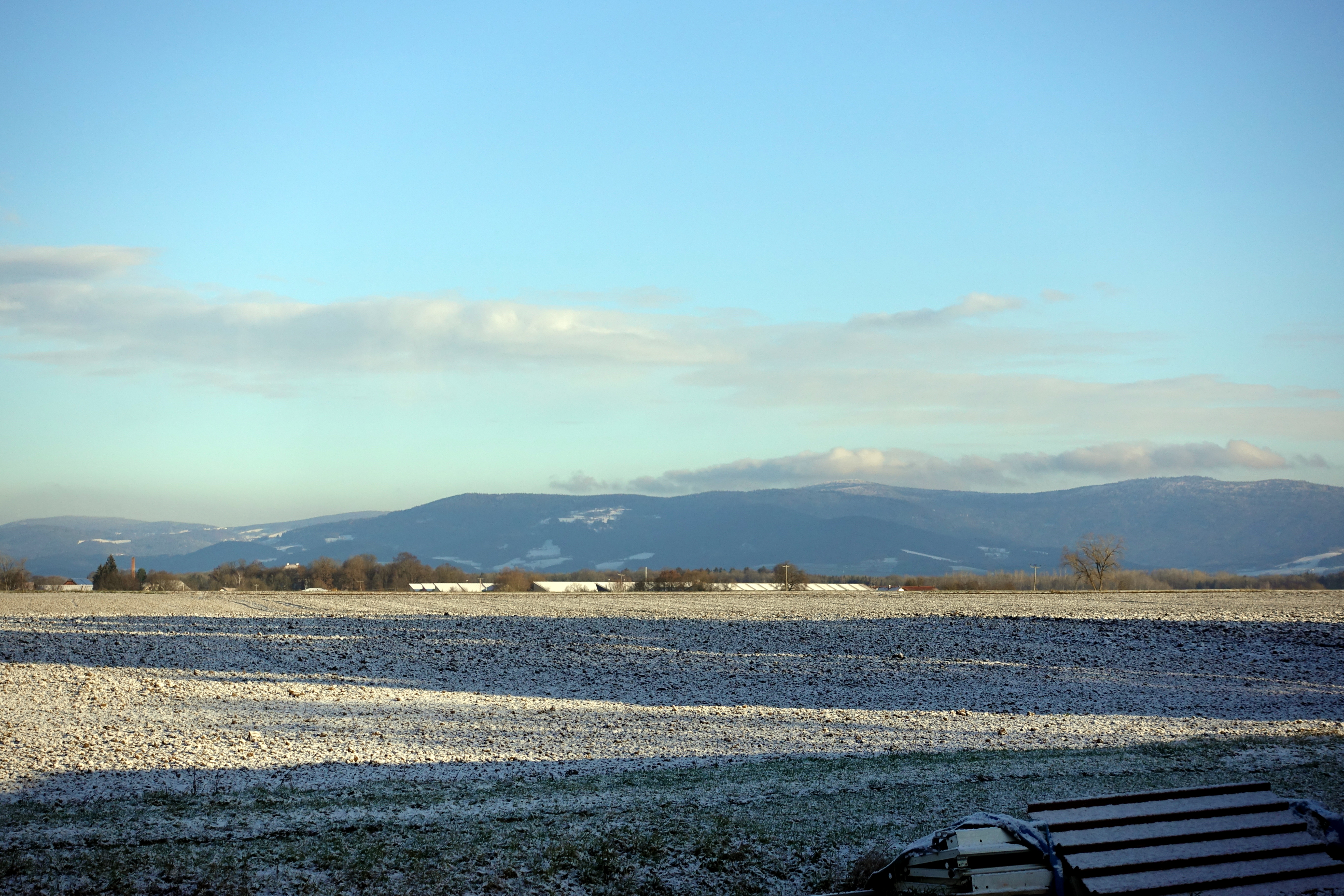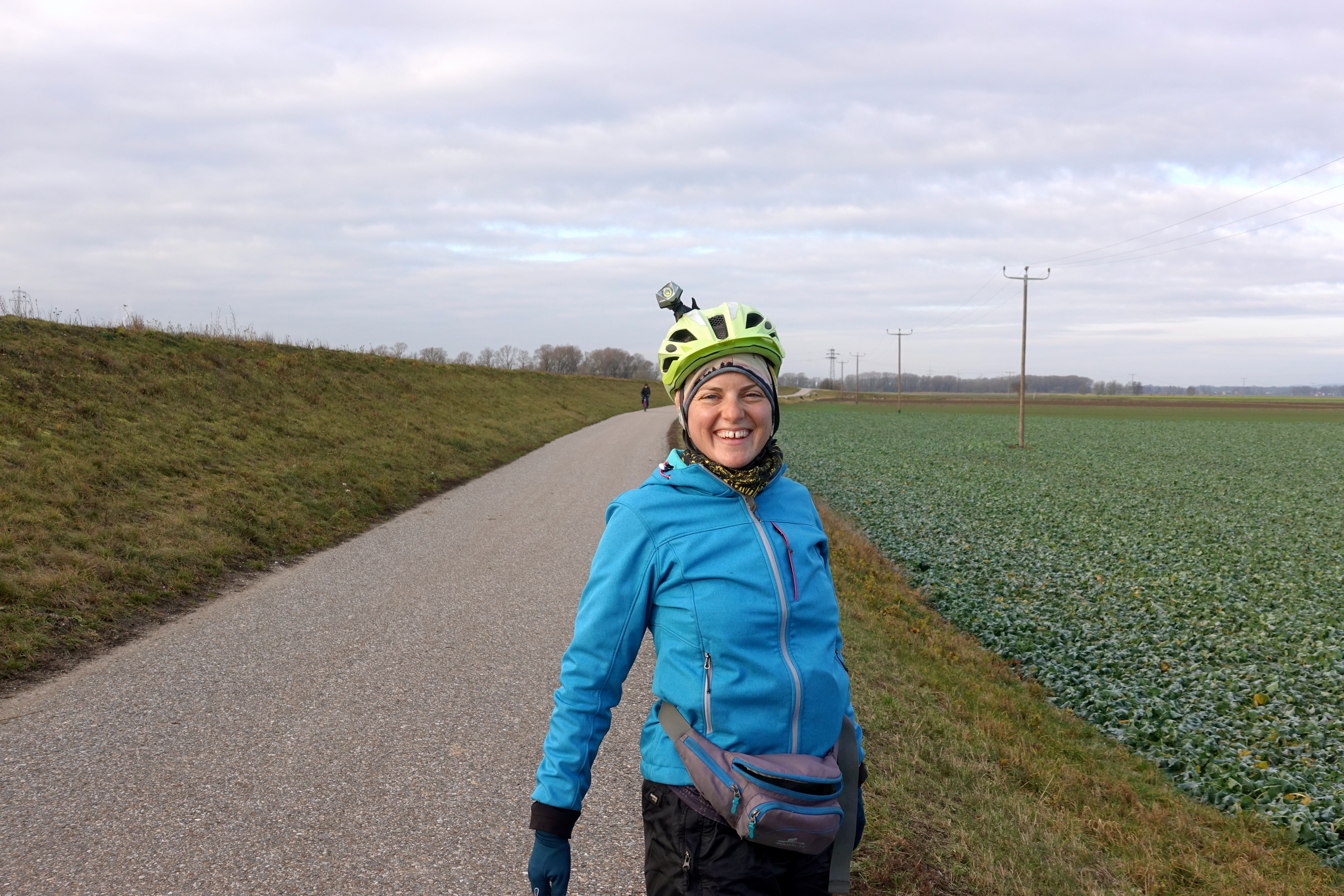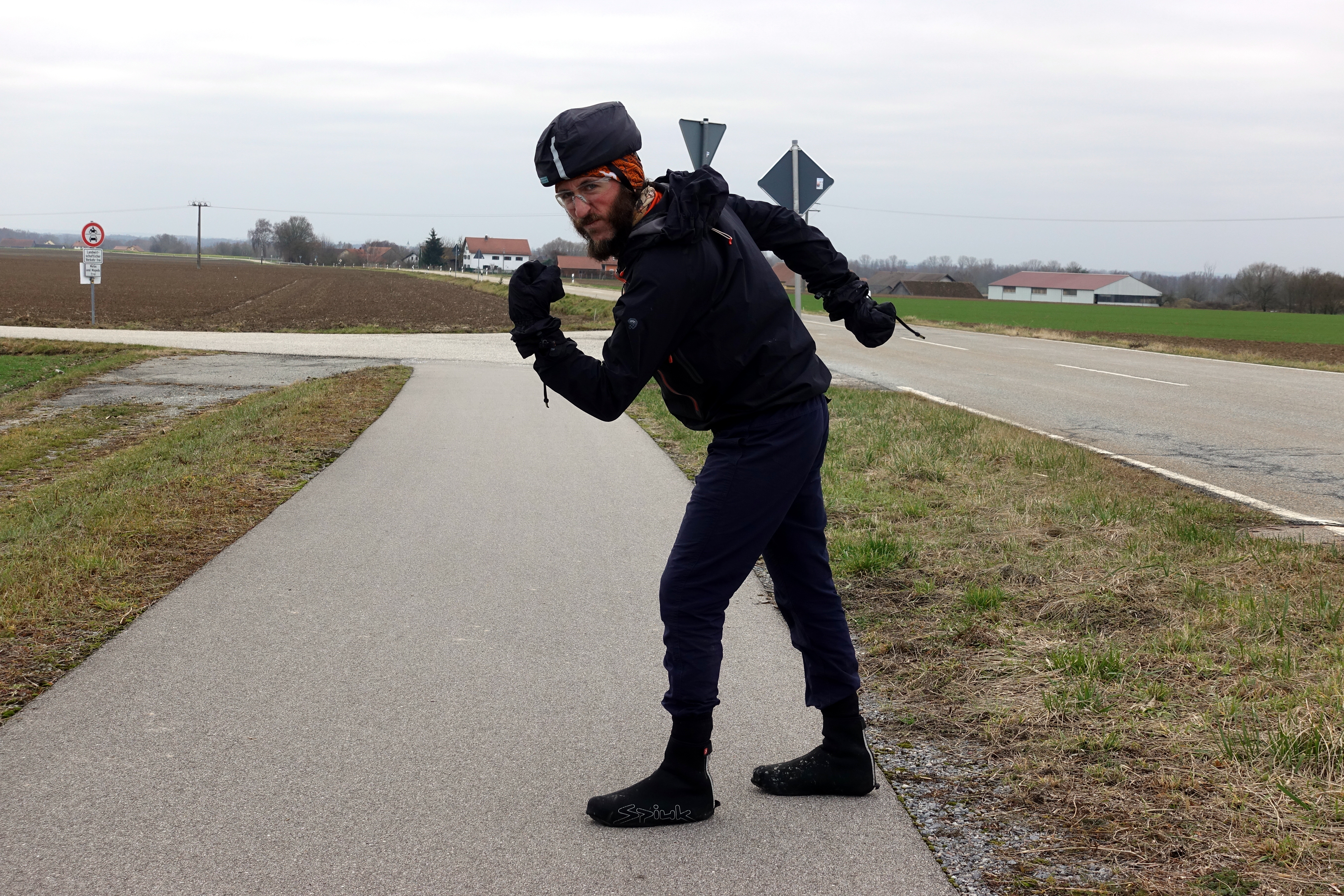 We wound up at a Greek restaurant in Wörth-an-der-Donau for lunch, where some curious locals asked about our bike and where we were going. When we told them Augsburg, which is just a few hundred kilometers away, they were astounded that we were traveling that far… mentioning that we began our journey in New Zealand seemed incomprehensible though. When we hopped back on the bike that afternoon, we were looking keen on getting to our warm spot for the night and meeting up with some friends. Cycling into Regensburg, we joined what our maps called the 'highway-cycleway' and found a speedy, paved route into the city. By now, around 2:30pm, the skies were covered with thick clouds, making the temperatures feel even colder and nightfall seem imminent. We quickly unpacked the bike and found our way into Bettina and Andi's apartment so we could warm up our fingers and toes. That evening, we made another noodle dinner and enjoyed some drinks as we caught up with our friends.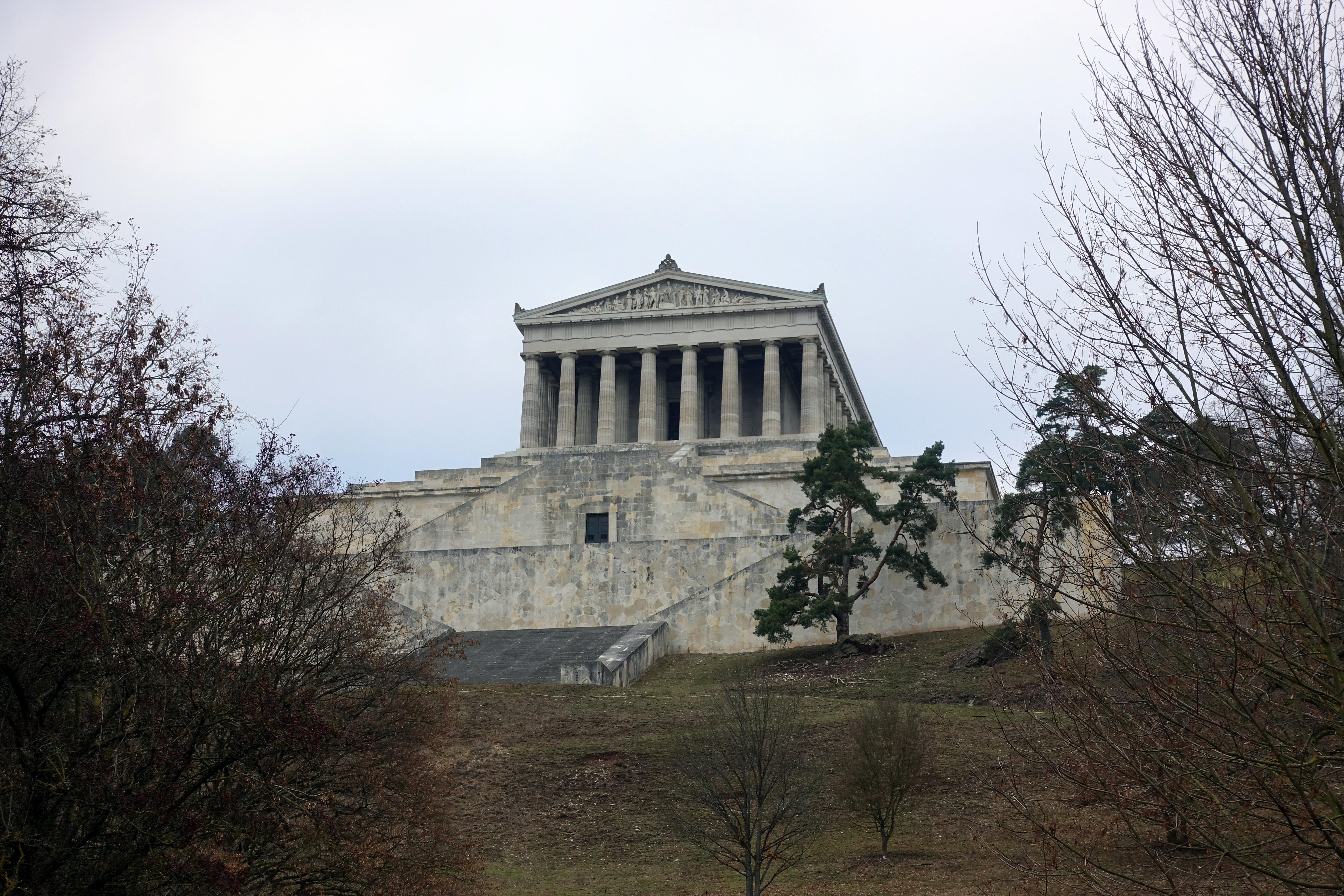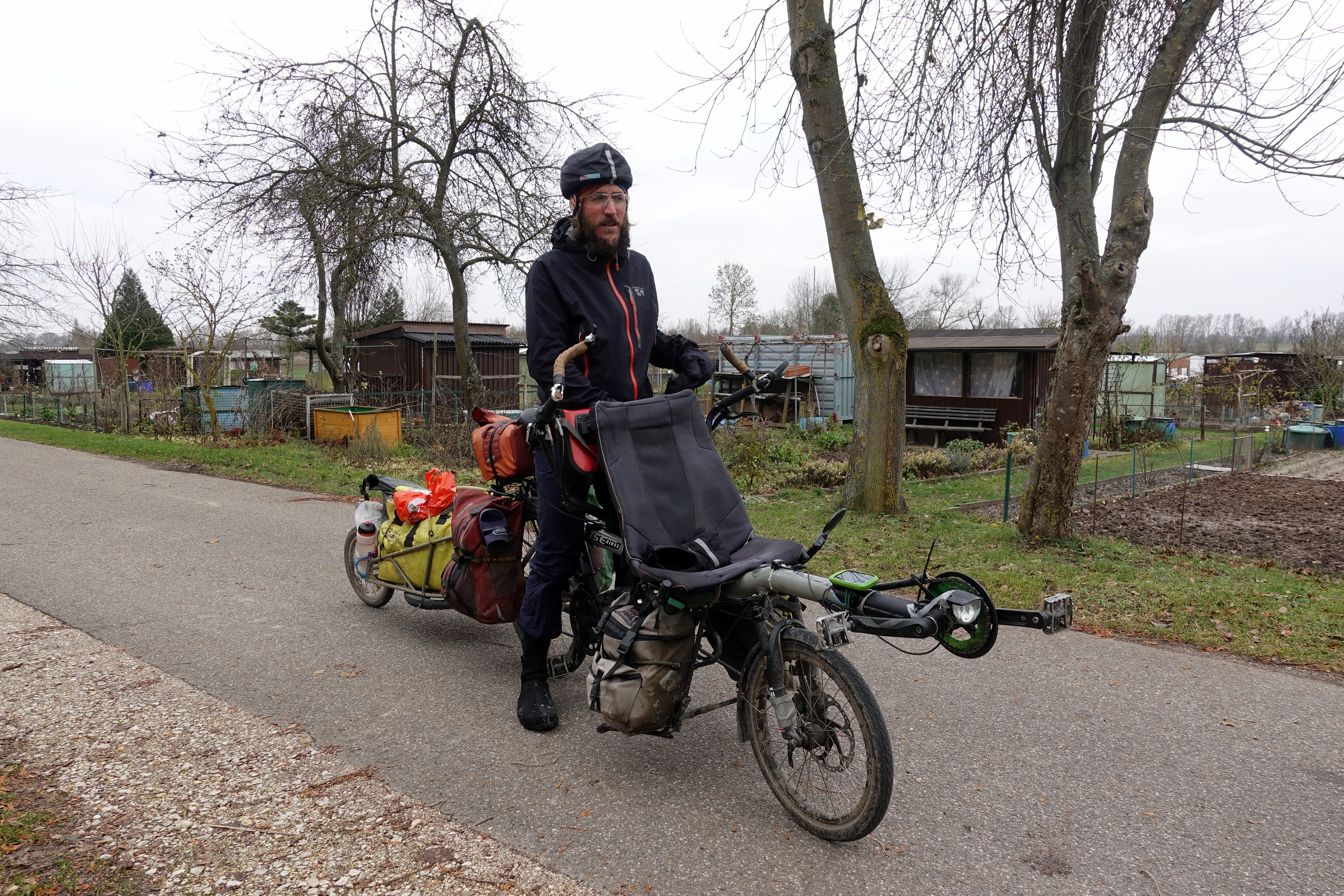 The weather didn't improve the next morning, and clouds were still hanging low and thick. It took a bit of navigating to find a good path out of Regensburg and back onto to Danube. Regensburg sits where three rivers flow together, so it was a bit tricky figuring out how to cross to the southern side of the Danube. However, we managed and started making the journey south towards Augsburg (Regensburg was probably the northern-most part of our trip).  Once we noticed that we would cycle significantly more kilometers by following the shores of the Danube, we decided to cut inland. Though this area wasn't flat anymore and it meant climbing up small hills. Most of the morning was spent riding and trying to find the best option for riding towards Neustadt-an-der-Donau, where we figured we find a restaurant for lunch. For whatever reason, bike paths were nearly non-existent in this corner of Germany (we really got spoiled over the last week), so we rejoined some quiet roads through the forest. As we were nearing the village, about 10 kilometers away, we noticed that the GPS was giving us a route with a few additional kilometers, so we had to do some human-routing, which meant stopping at every intersection to look at the phone (thanks 21st century technology!). In Neustadt, we had a well-deserved pizza lunch- it would be enough fuel to get us to Ingolstadt for the evening.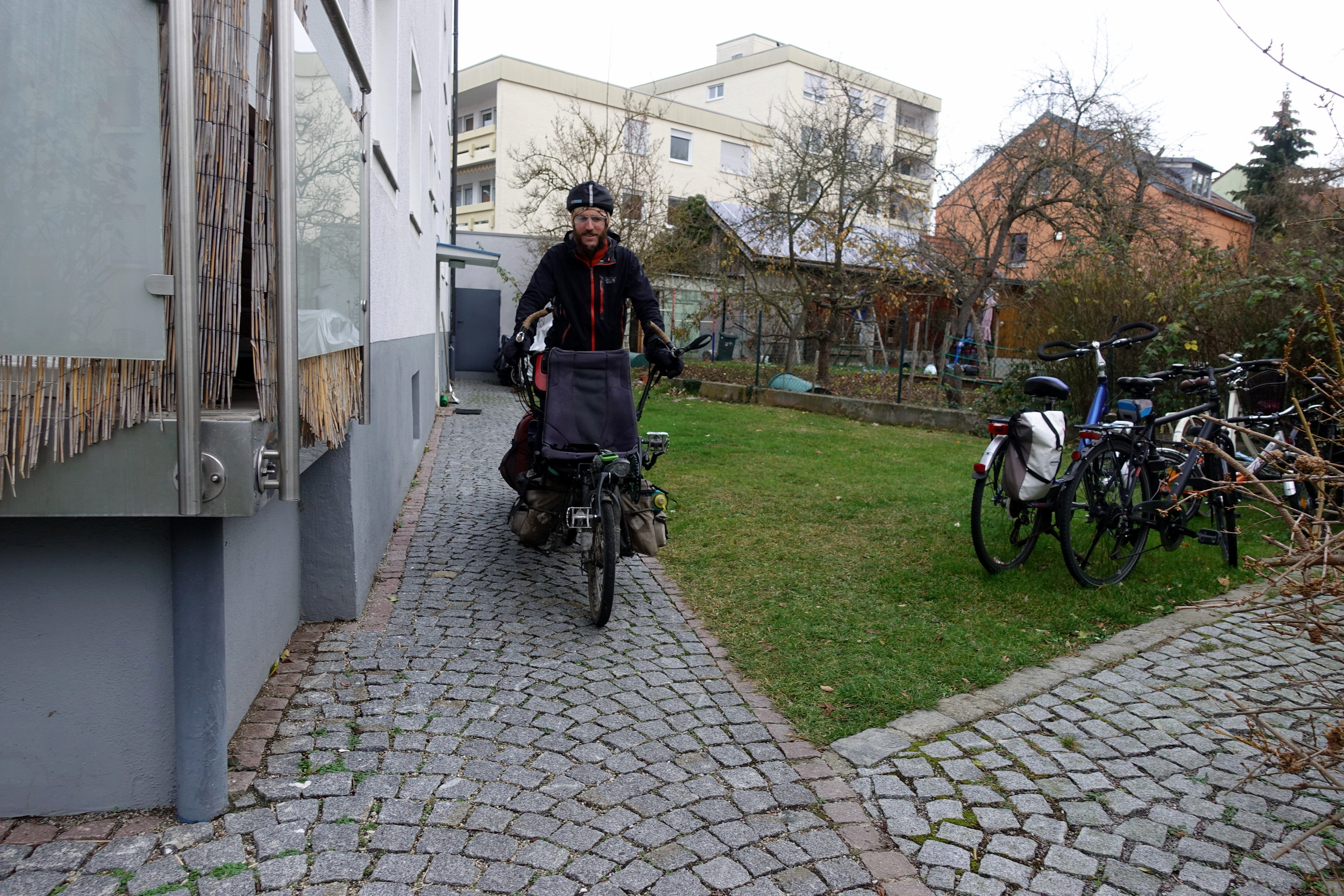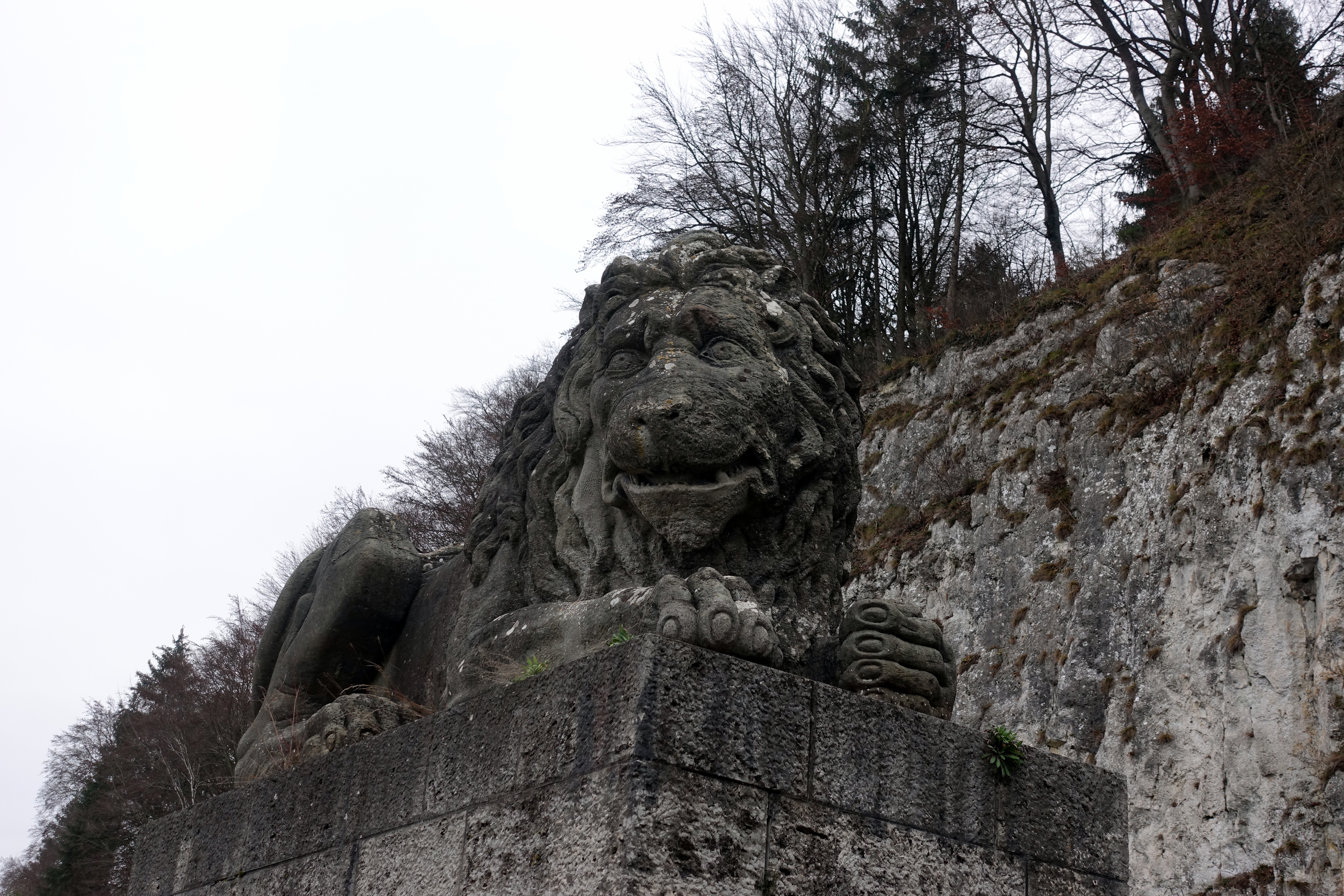 Once we warmed up a bit inside the restaurant, we prepared to get on the bike again and noticed that it was sprinkling. It wasn't ideal, but we only had 25 more kilometers left for the day. This was also around the time when we decided that instead of cycling along the Danube through Donauwörth and following the Lech river to Augsburg, we would just continue straight to Augsburg. With the weather getting continuously colder and the days uneventfully gray, days off the bike seemed more pleasant, plus we knew the area fairly well from weekend rides, so we could wait for the next spring to bike on those roads. As we left Neustadt, we crossed the Danube to the northside and continued cycling west. Just like the morning, we had to be conscious of the GPS routing, because it kept wanting to follow a busy road, something that we preferred to avoid around Ingolstadt, the land of speeding Audis. We rolled into Grossmehring just as it was beginning to rain. We found our hotel, stored our bike in the garage and settled in for the night, only venturing out to find a supermarket for dinner supplies (which also included a bottle of Glühwein).
Now that we were in Ingolstadt, 'home' was less than 100 kilometers away… about 75, so a full day's ride away. Instead of rushing to make it to Augsburg before it got dark, we decided to ride only until Aichach and savor our last day cycling without feeling like we had to rush. This second-to-last day was for the most part uneventful… the skies were still gray, everything was still a bit damp, but we were both giddy with the fact that we were almost home. We cycled through empty fields and the landscape began to look familiar; these were places where we had often cycled on day trips. We stopped for lunch at an Italian restaurant outside of Schrobenhausen, where we felt very out of place in our bike gear sitting next to a wedding party. Once we finished our last restaurant lunch of the trip, we got back on the Hase Pino and cycled the remaining distance to our guesthouse in Aichach, only stopping to gather sundries for our final dinner on the road.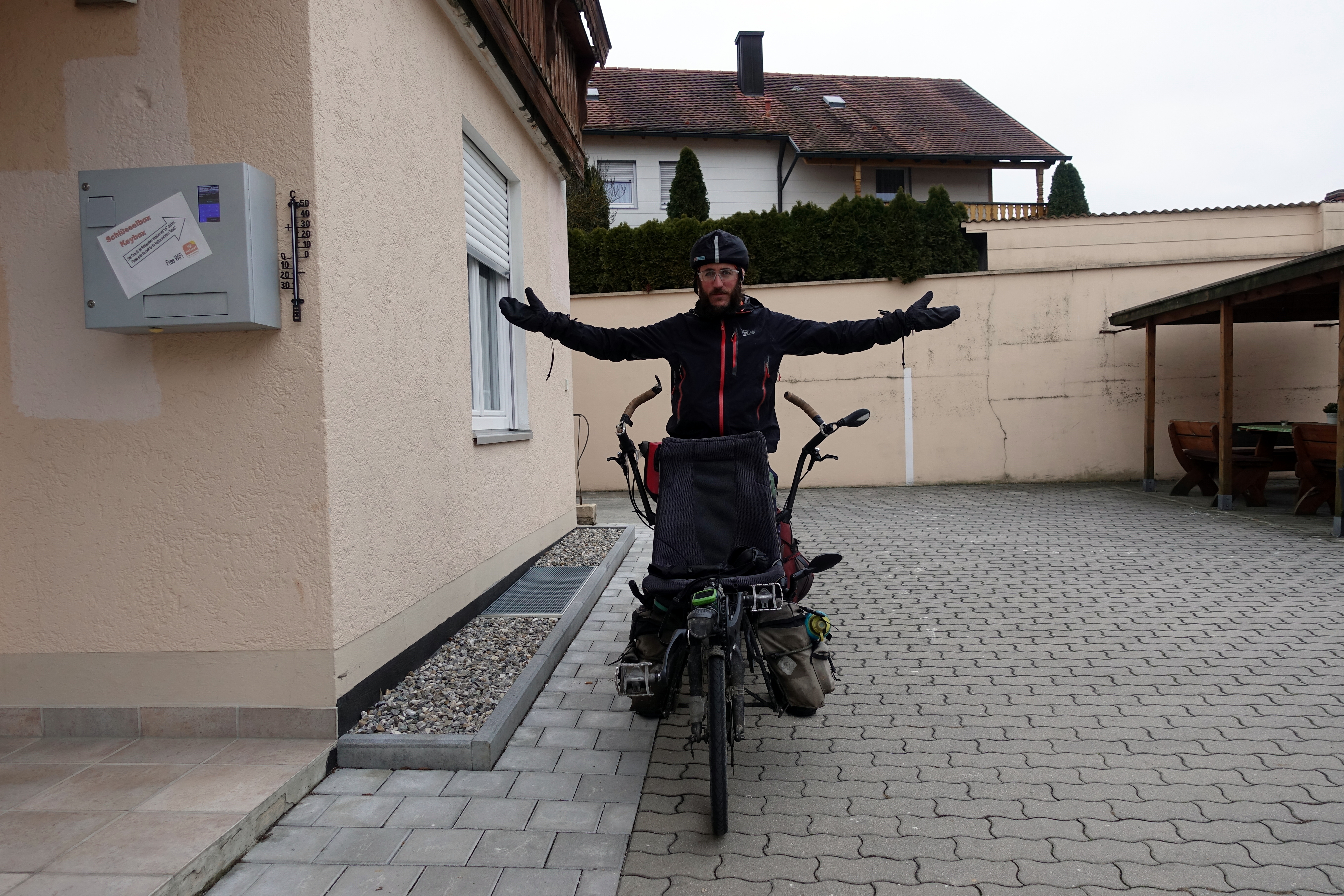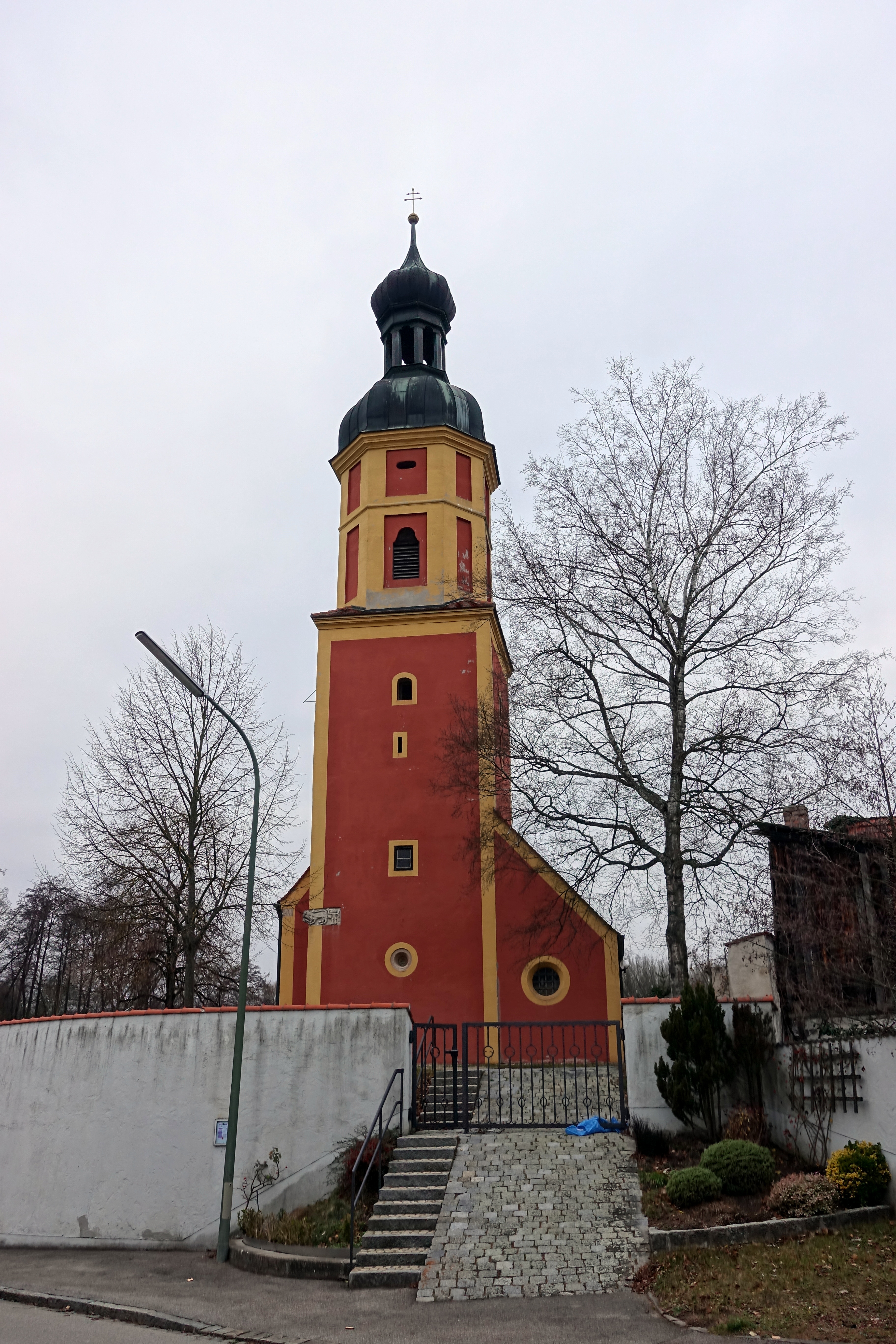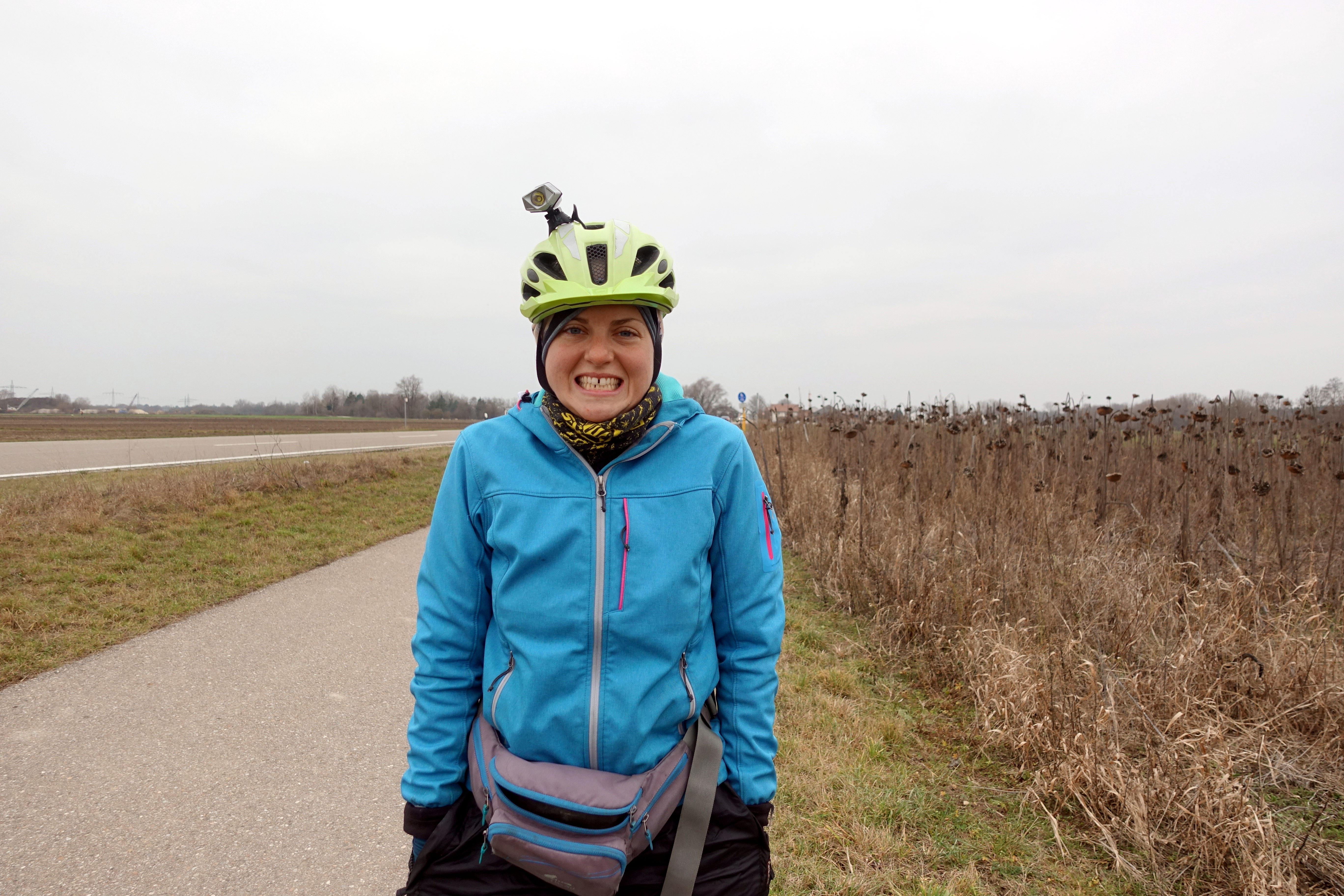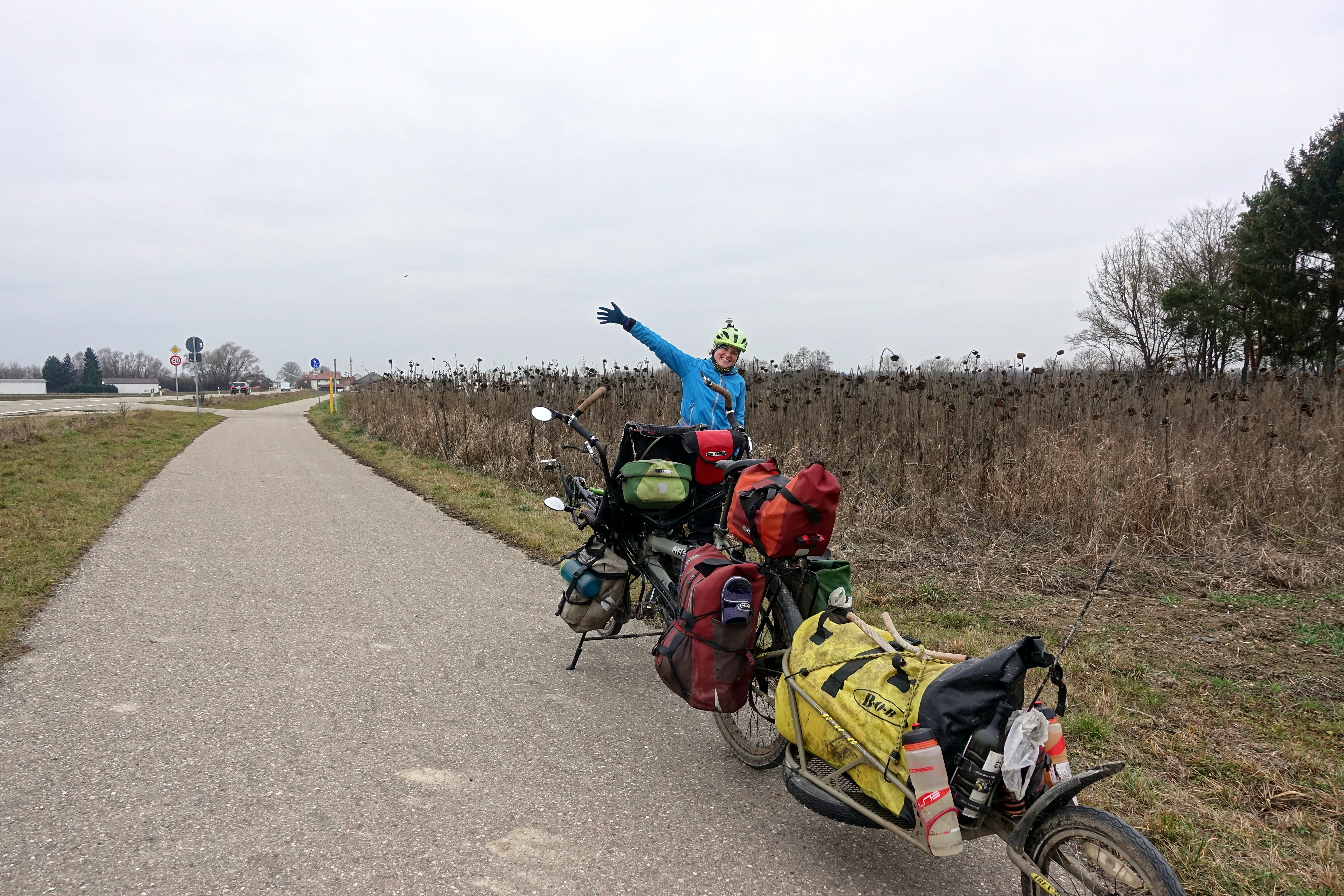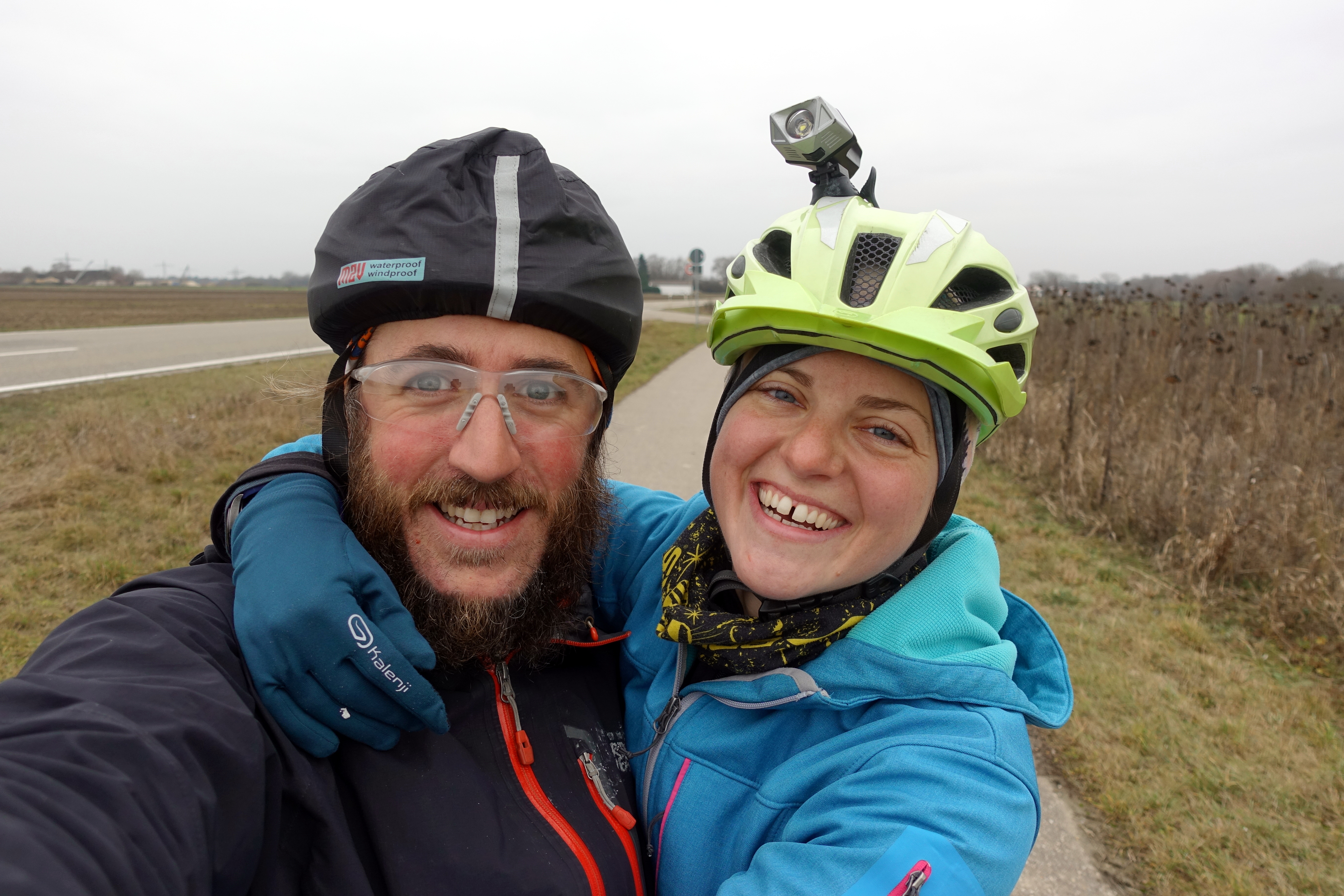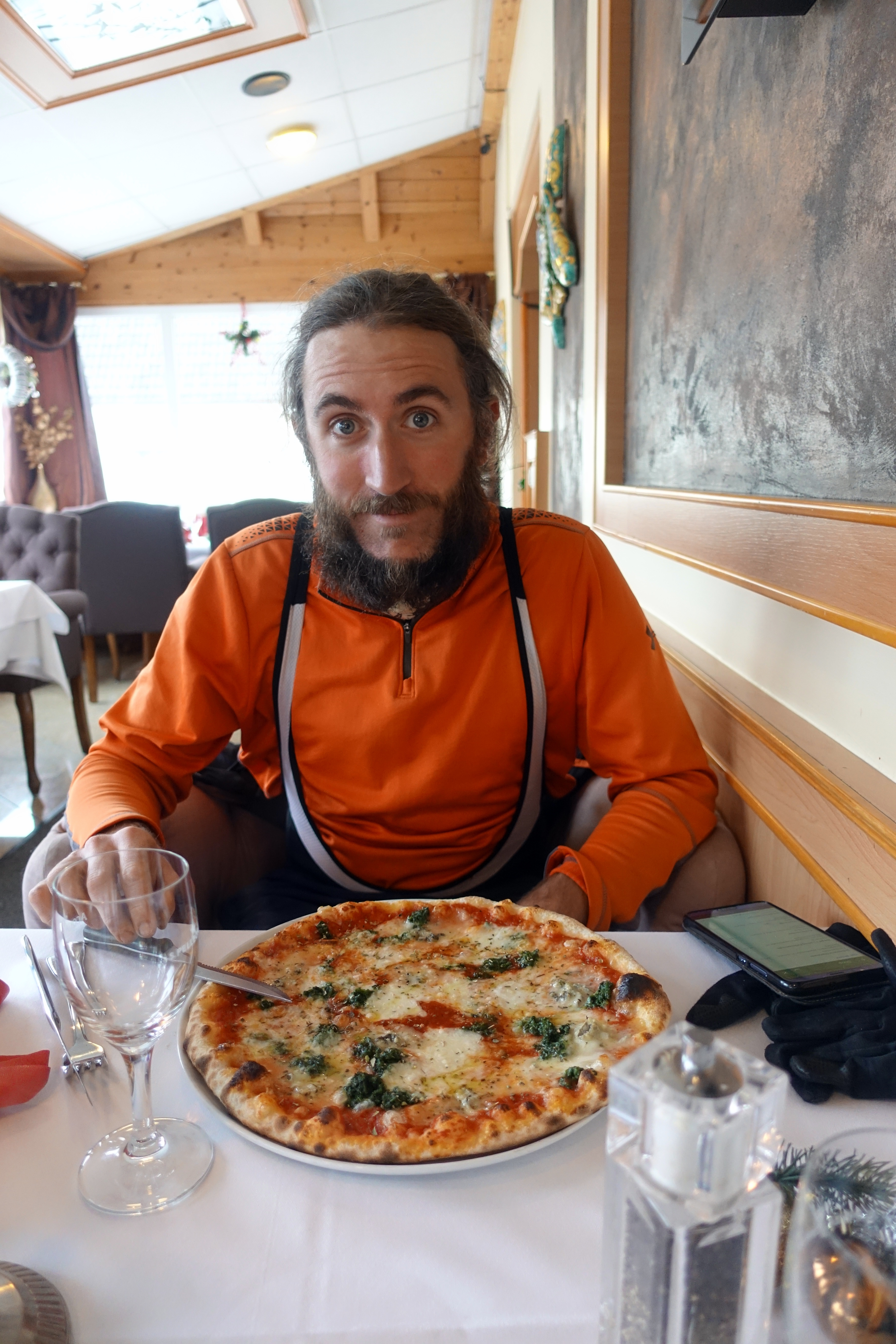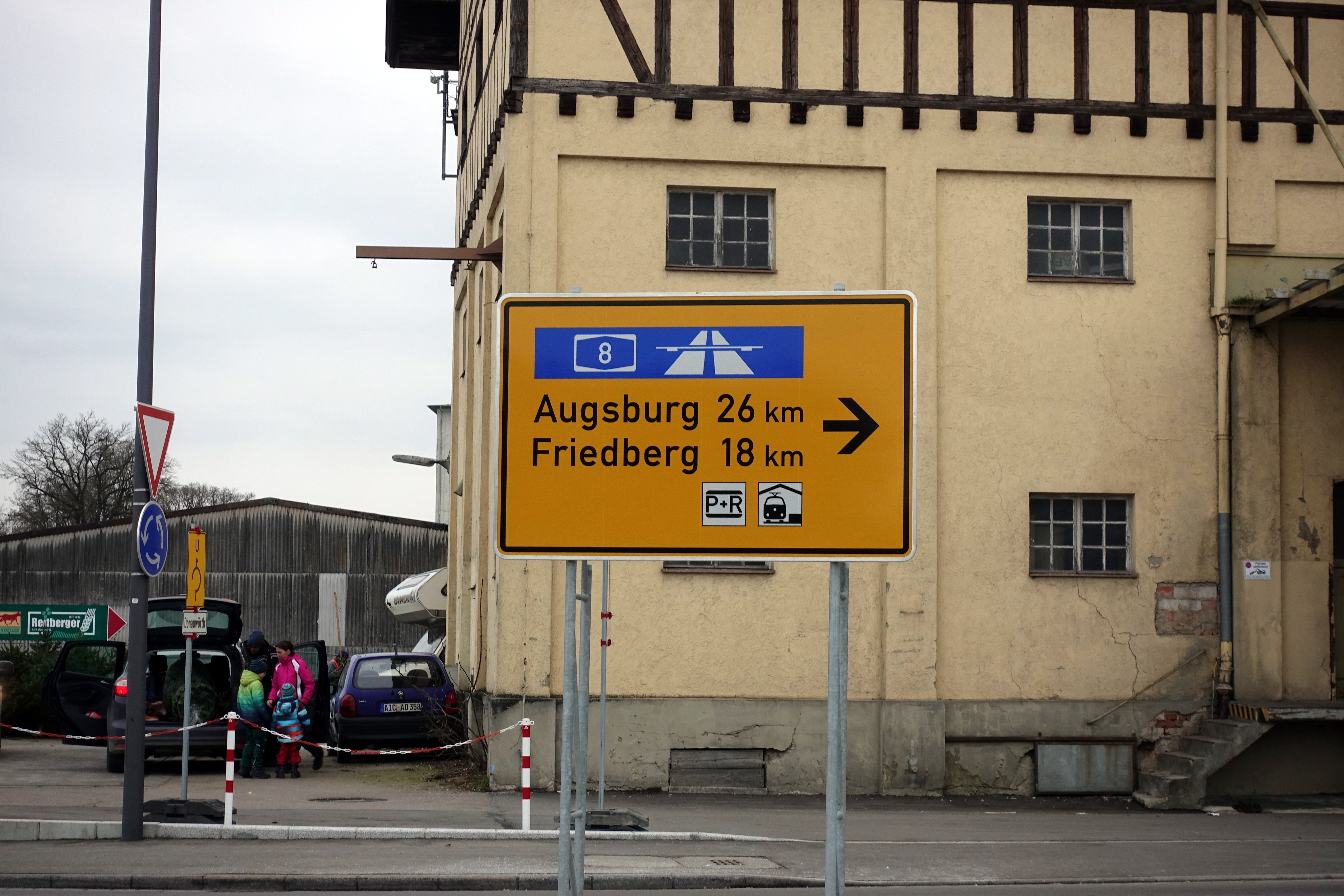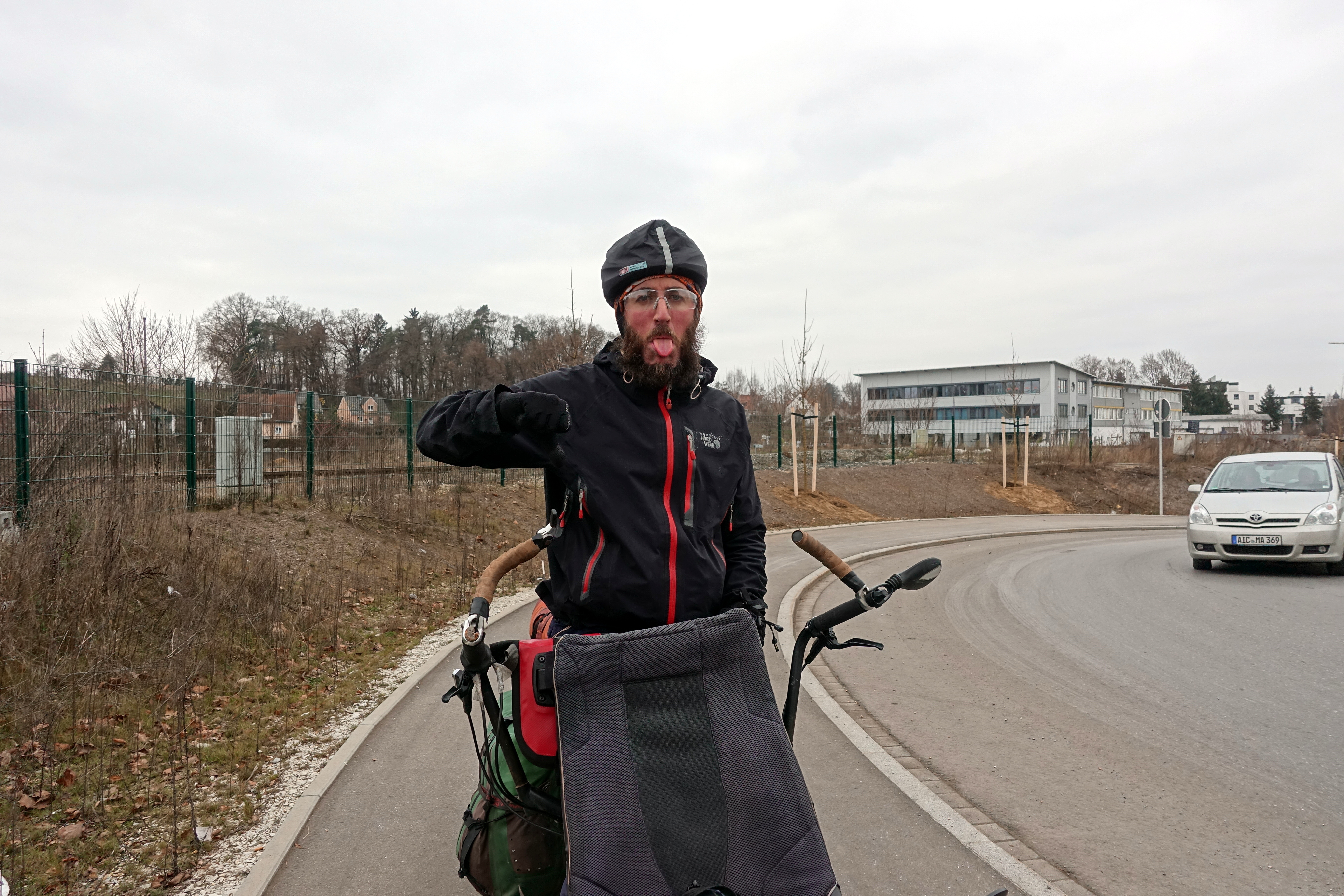 As we prepared our things the next morning, we noticed that big snowflakes were beginning to come down. We also decided to start a bit later than usual because we managed to get one of our friends, Mike, to brave the wintery weather and ride with us into Augsburg. However, up to this point, we never rode in a snowstorm. Once we found Mike at the Aichach train station, we left and were eager to finish the cold ride to Augsburg. Even though we were so close to home, the GPS proved to be (once again in Germany) suboptimal for taking the most direct route. We ended up unintentionally riding through the hilly Sielenbach-Dasing section, which would have been nice on a summer day, but not in a near-blizzard. We thanked Mike for coming with us in one of the worst weather we had in the entire year – luckily one of the shortest too. Once we got back on track, we rolled through Dasing and Stätzling, the first direct suburbs of Augsburg. Now we were able to make out Augsburg from the top of the hill. We took some small paths into our hometown, so no grandiose arrival, and not even a city sign where we were hoping to take a picture, but also the snowy streets only for ourselves. It was still snowing once we made it through the outer neighborhoods to the city center, and went many kilometers talking about what happened in Augsburg during the year (spoiler alert, not much changes year after year!) and then suddenly, there we were… at the Christmas market in Augsburg's main downtown square, only a few pedal strokes away and finish! We had to clarify to some folks that we had not biked from Munich Airport but from slightly further east (probably not checking our webpages regularly enough…), explained why we had a fully loaded bike at this time of the year at the Christmas market, etc.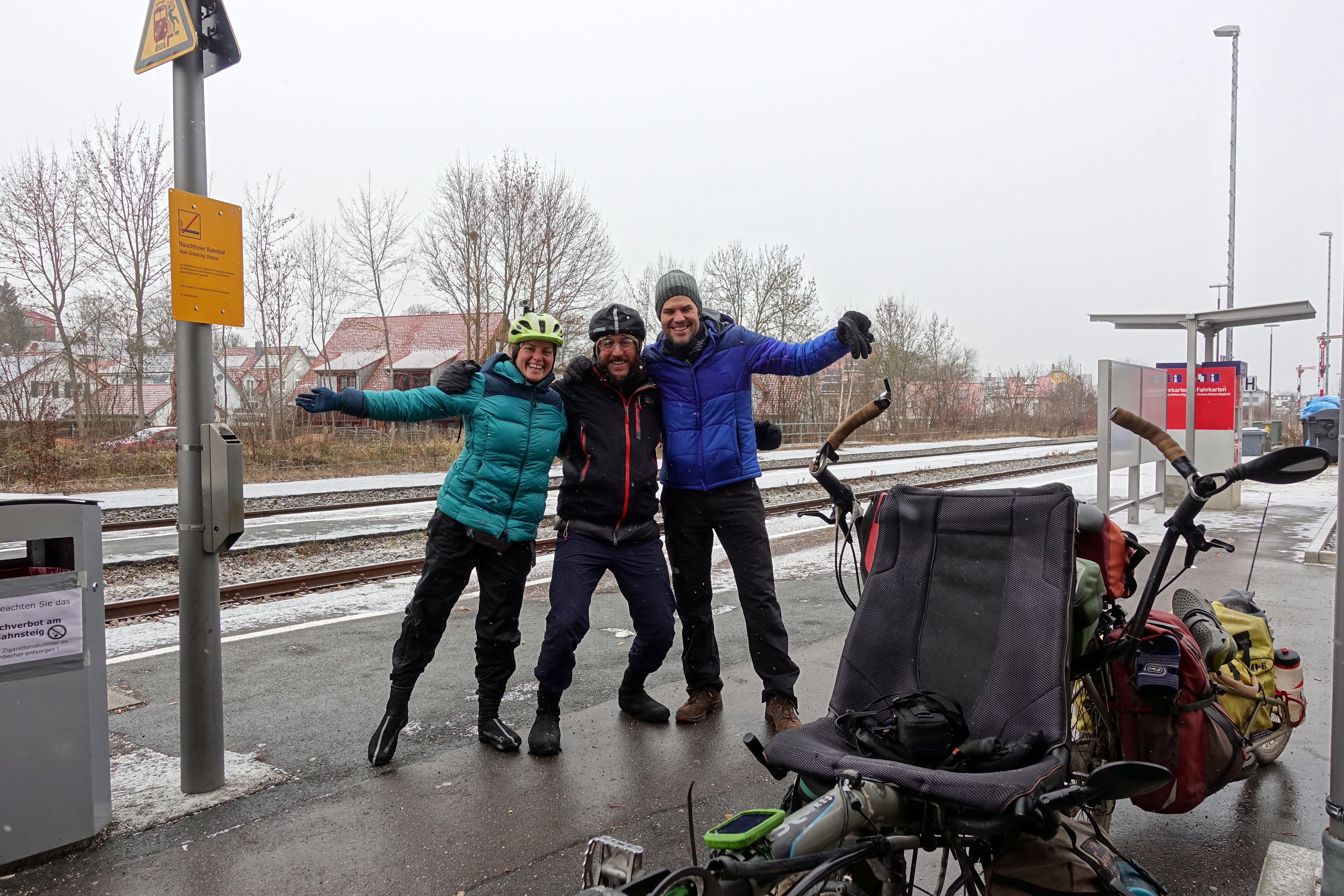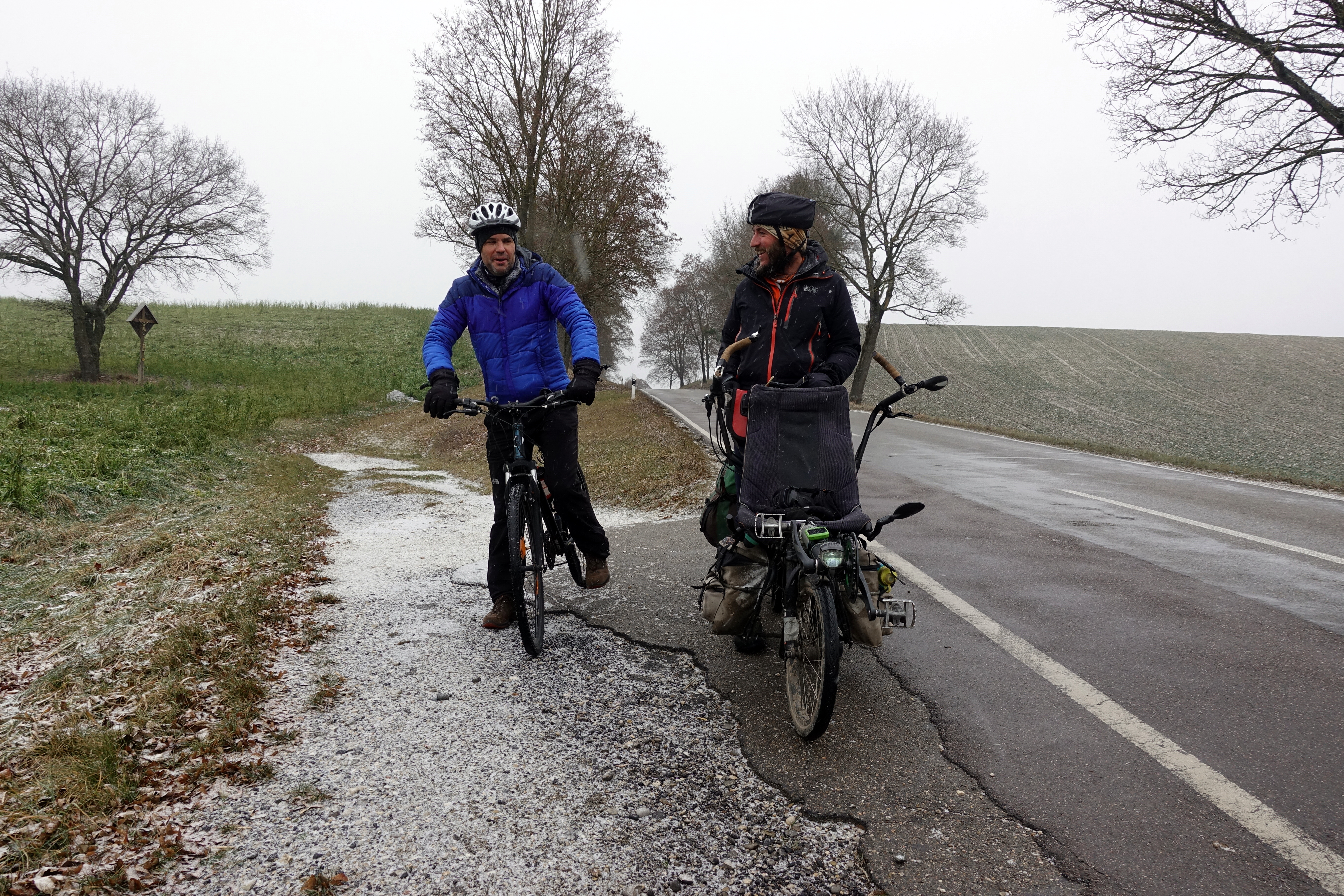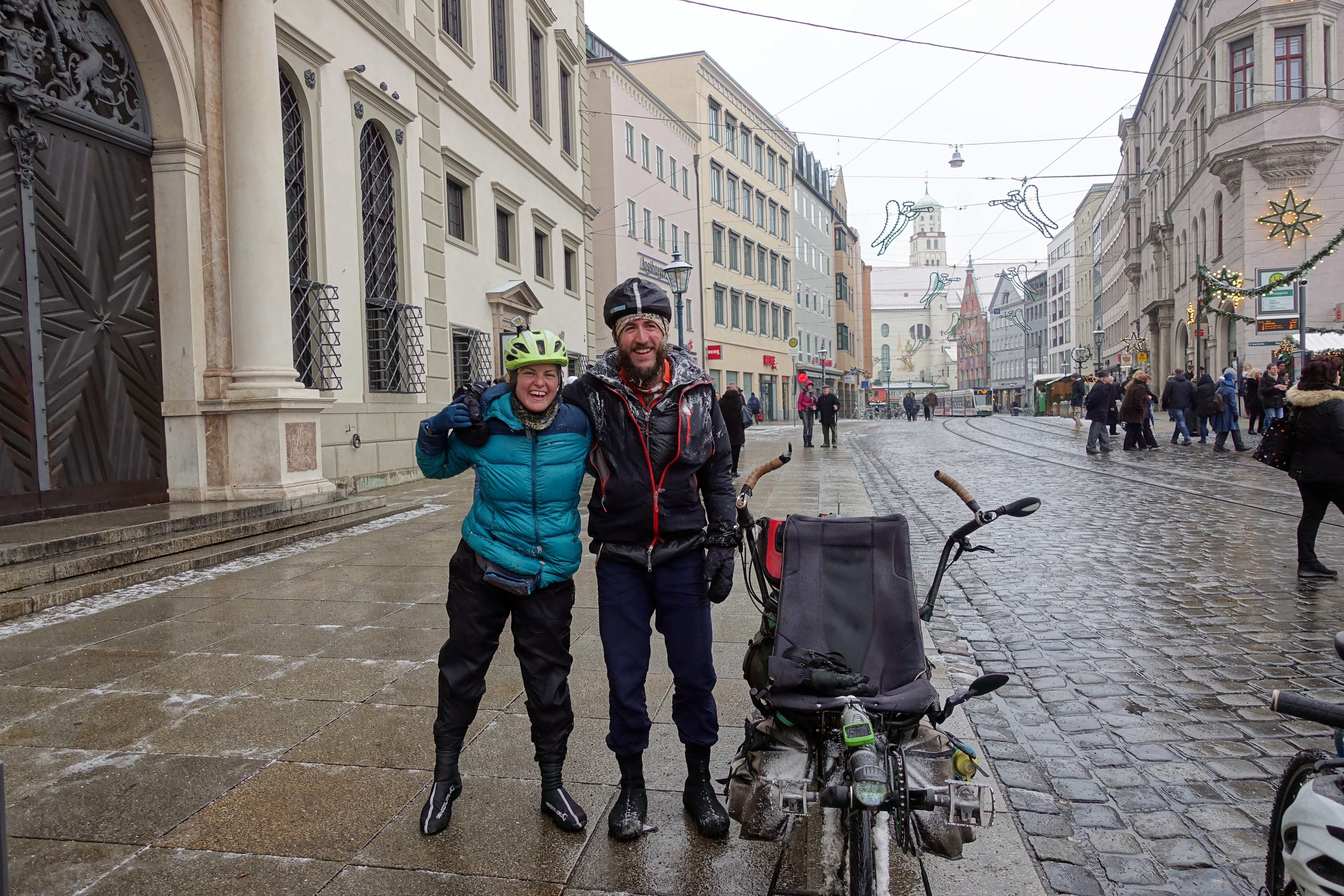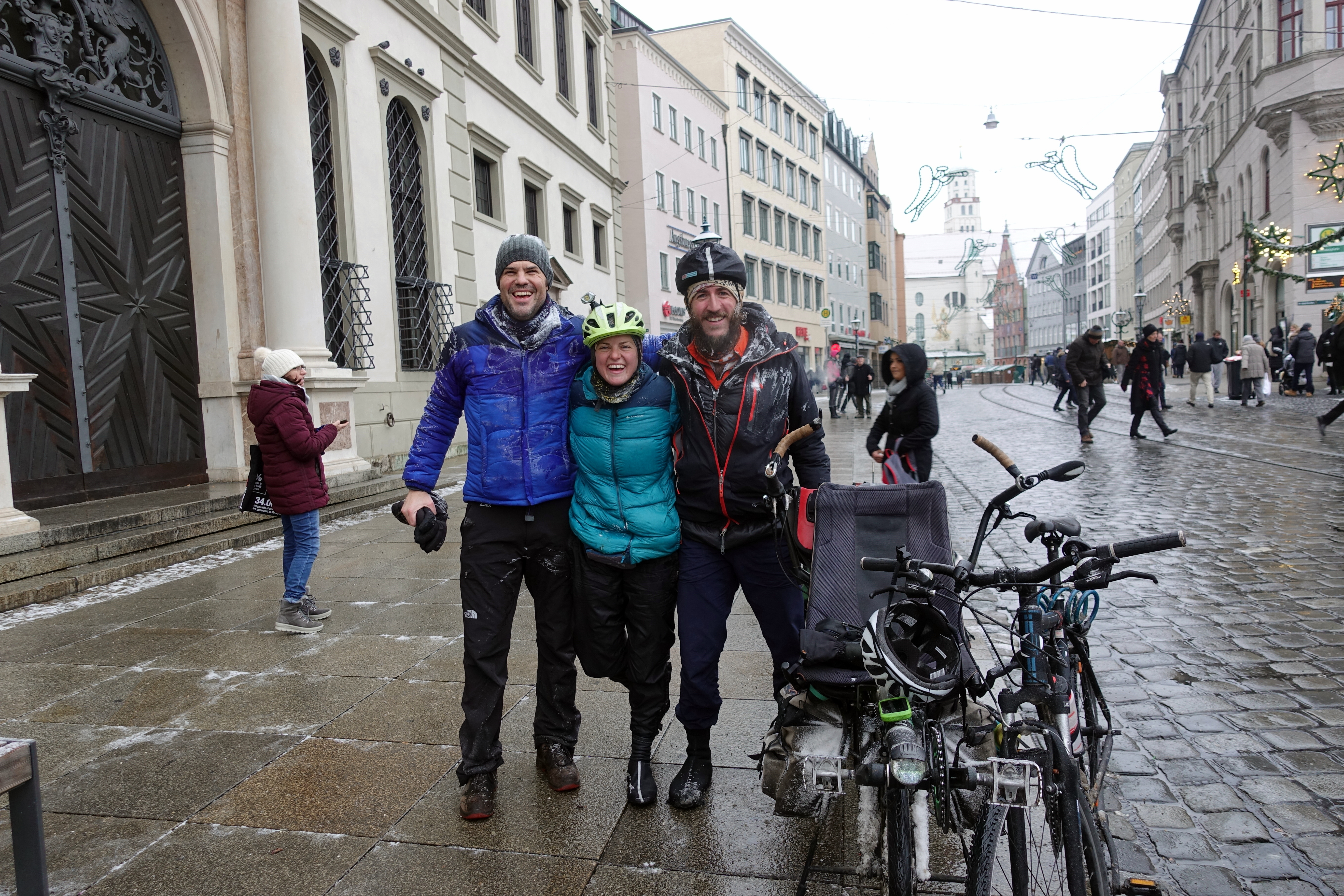 But just like one year ago, we were at the same place sipping Glühwein(s) with friends. It was hard to find the right words, but we made it!
Our year's journey came to its end, and had finally reached its destination – home!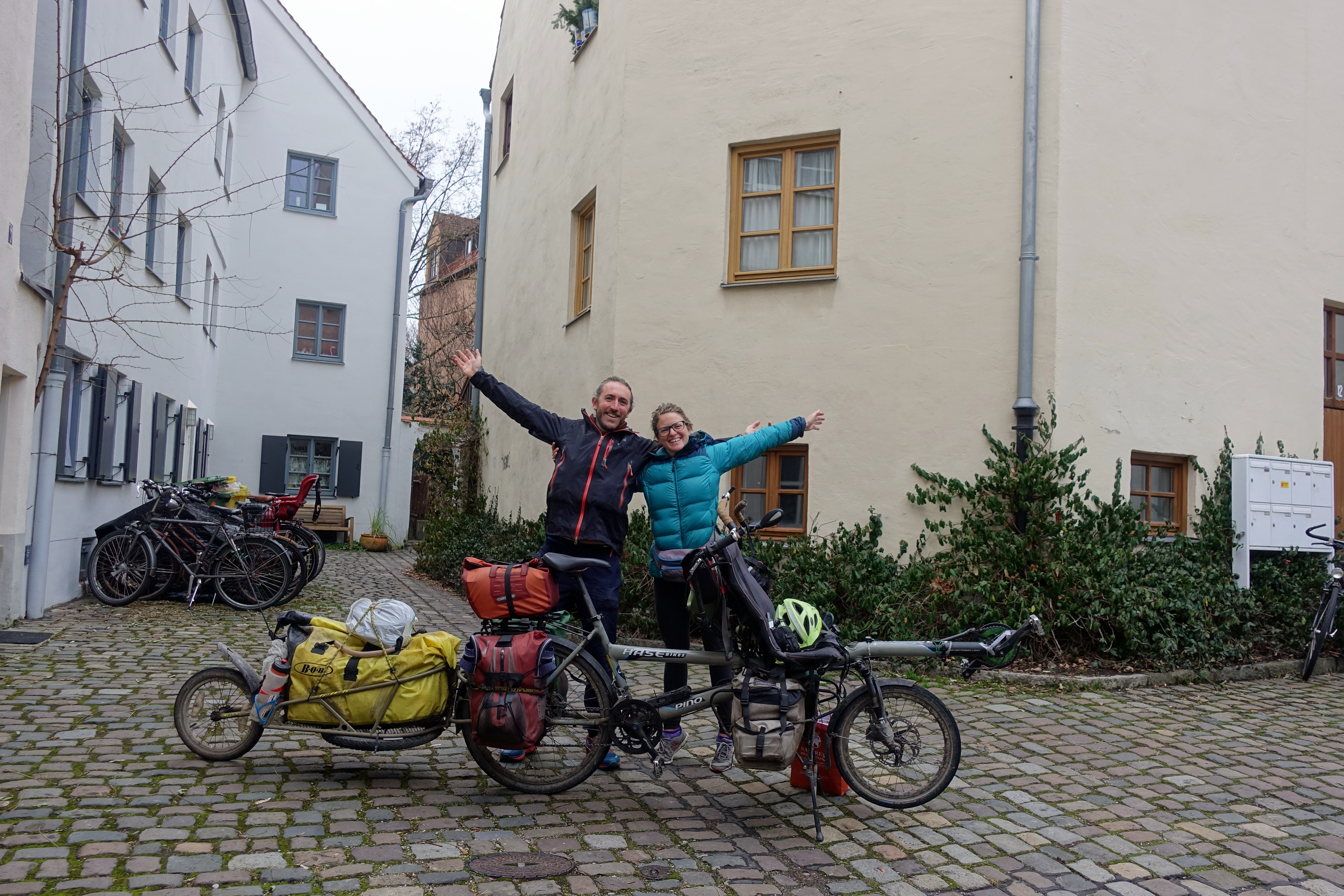 (Don't unsubscribe immediately, we may have a few more posts to come – it just happens that writing is more difficult with our daily routine/regular-life/daily-grind is actually quite time consuming!).