We entered Slovakia – almost without noticing it – along the Danube, apart from the sunny weather turning around and welcoming us with torrential showers and sudden strong headwinds. We just tried to pay no mind to that and pushed the last hour soaking wet before reaching our accommodation for the next two nights. The way getting into downtown Bratislava by bicycle is probably one of the best we have seen so far for a capital city; there are good bike lanes everywhere and bridges across the Danube for bikes and pedestrians only. We went from farmland to our accommodation in the city center almost without having to stop, dealing with traffic or struggling with car-only paths (Belgrade…). The good thing with travelling in central Europe during the low season is that you can get great bargains in the larger cities – and we enjoyed having a 6 people apartment to dry all our gear with the heaters on full blast!
Bratislava is a pleasant mid-size city although without too many fancy monuments like its neighboring Budapest and Vienna, but green and pedestrian, so we just took an easy day off wandering around – after a visit to a bike shop to replace the entire front drivetrain. We had to explain the mechanics that the size of chain-rings doesn't matter, it's only a matter of ratios, and thus got some brand-new top parts with flashy colors – originally for an Enduro-MTB – but whatever, it is not the first weird part that we have added and we'll now both be able to make it through the next two weeks! Through a discussion group that we used the whole year, we contacted a fellow cyclist from Spain (and actually living in Munich) – Jose – also in Bratislava at the same time and heading in the same direction to finish his year-long trip and spent the evening together over some Glühwein and beers.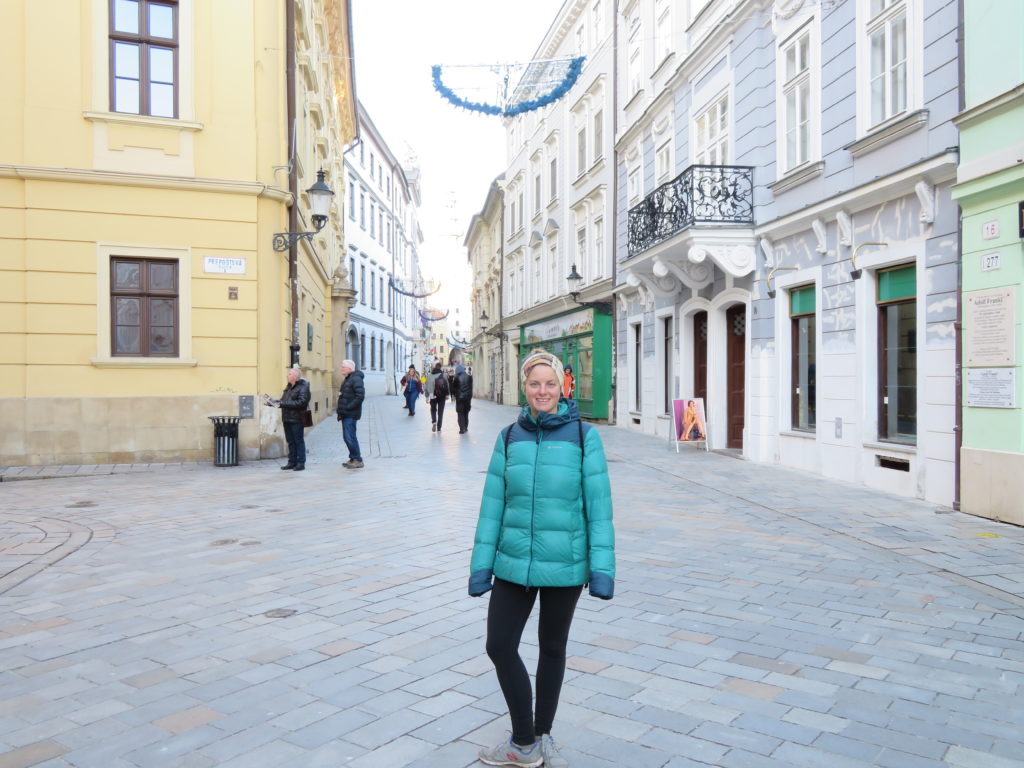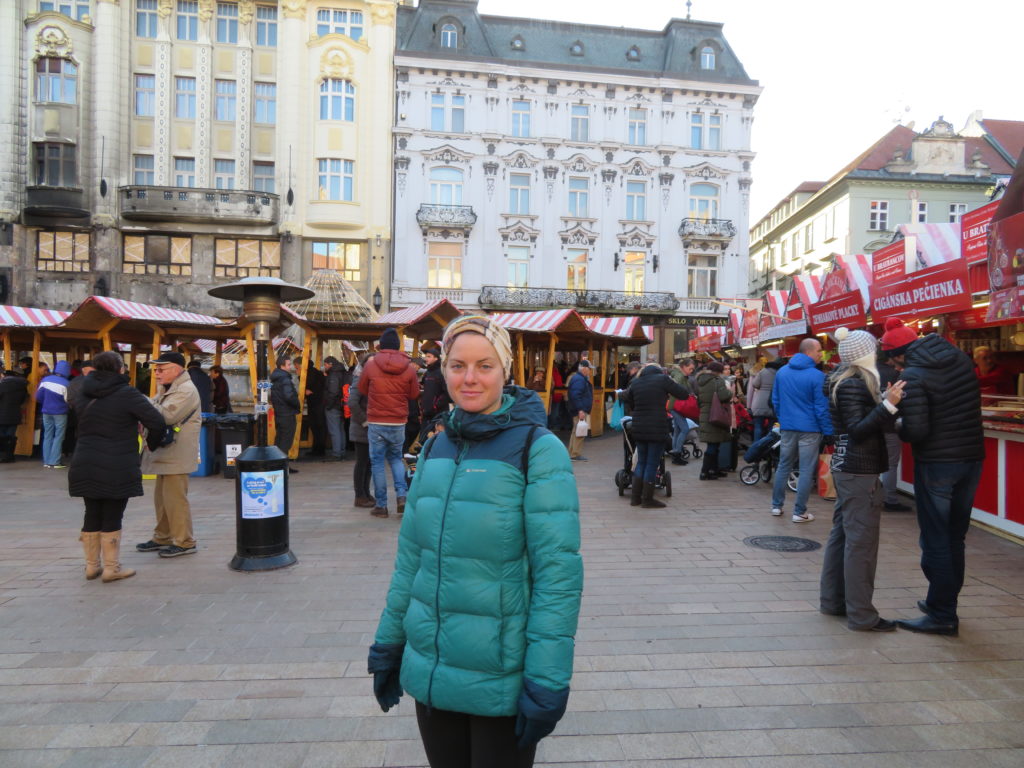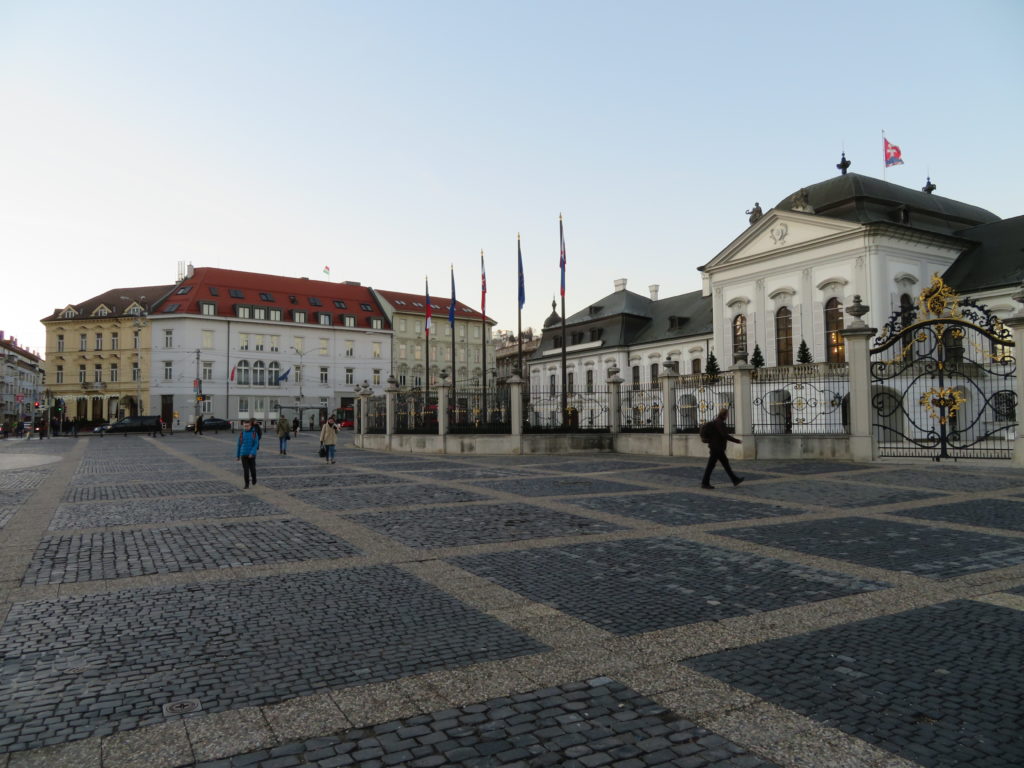 We left early the next morning with the objective of the day to get into our last country before Germany: Austria. The easiest and shortest way would have been to simply follow the Danube, but it seemed on our maps that the path was not quite paved – which at this time of the year would have meant muddy areas on the side of the Danube. We would also pass through the Soviet iron-wall on that day, which meant that apart from recent large highways, there are still surprisingly few roads connecting Slovakia and Austria. Luckily a border crossing only for pedestrians and bicycles was created in the northwest of Bratislava, which allowed us to avoid going half way up to the Czech Republic like we would have had to with a car. That path brought us along the Morava under the Devin castle and later past several monuments commemorating the death of people who tried to cross into the west during the communist time (several hundred shot trying to go across a river only a few meters wide). The bridge took us across the border right into the large Schlosshof castle.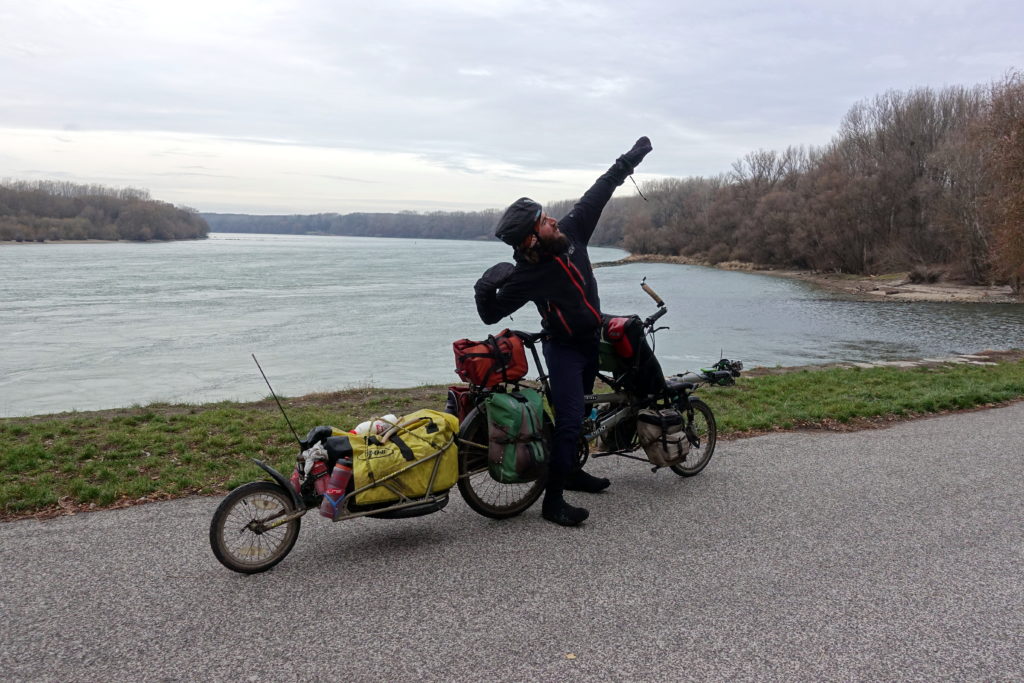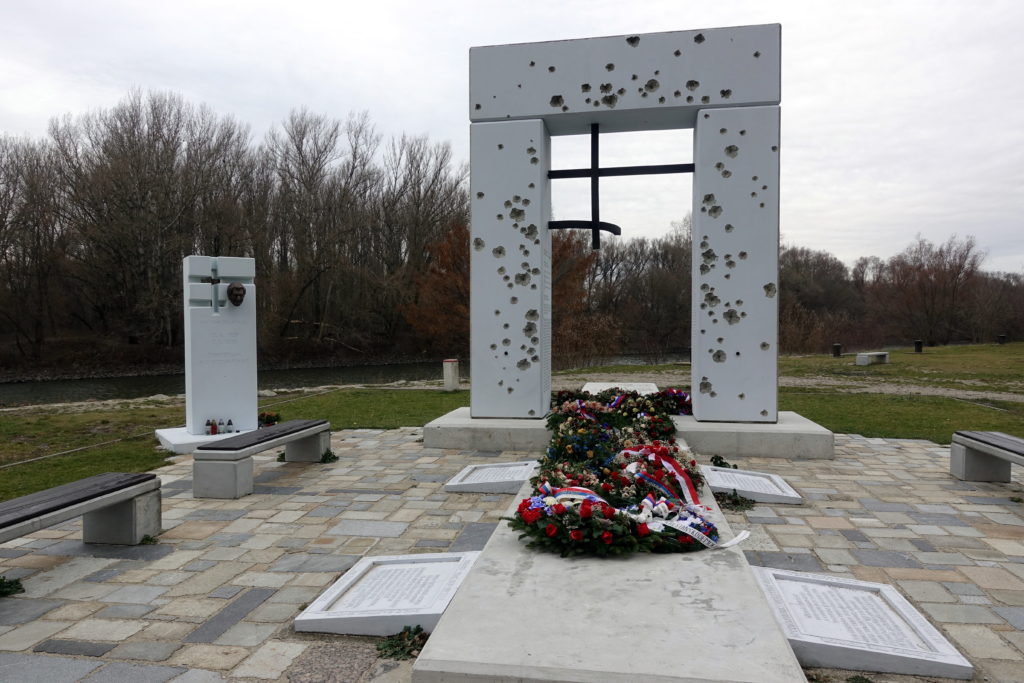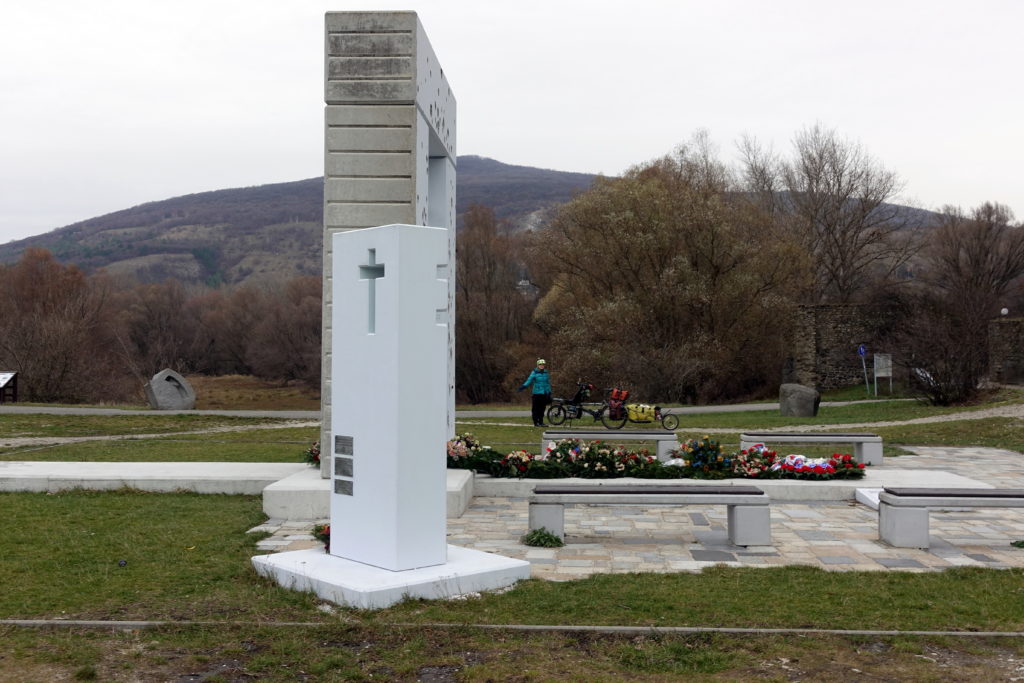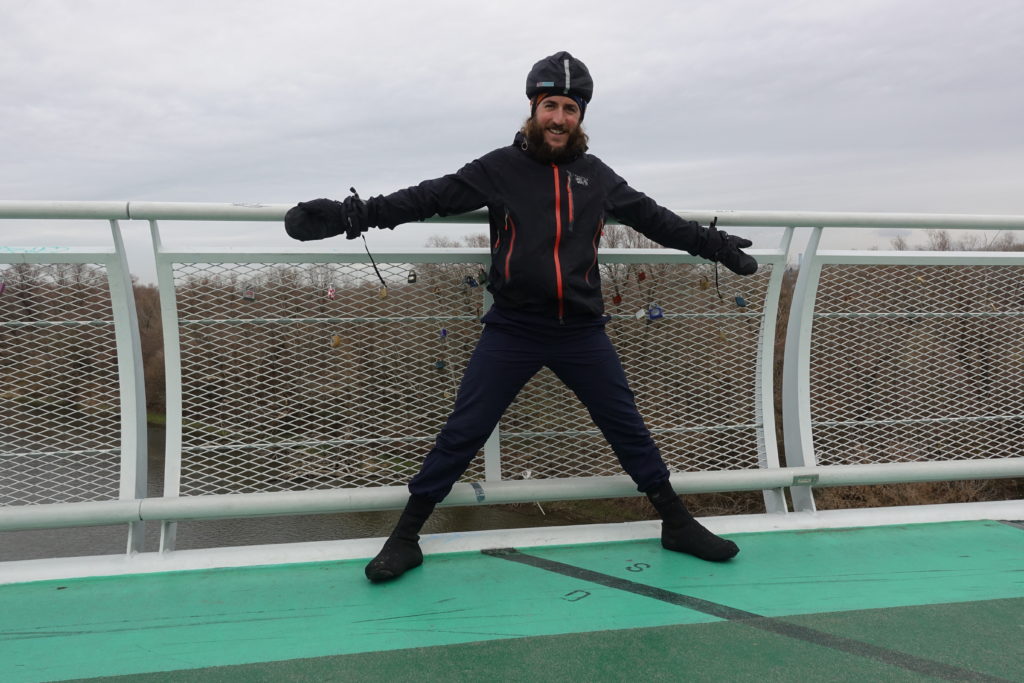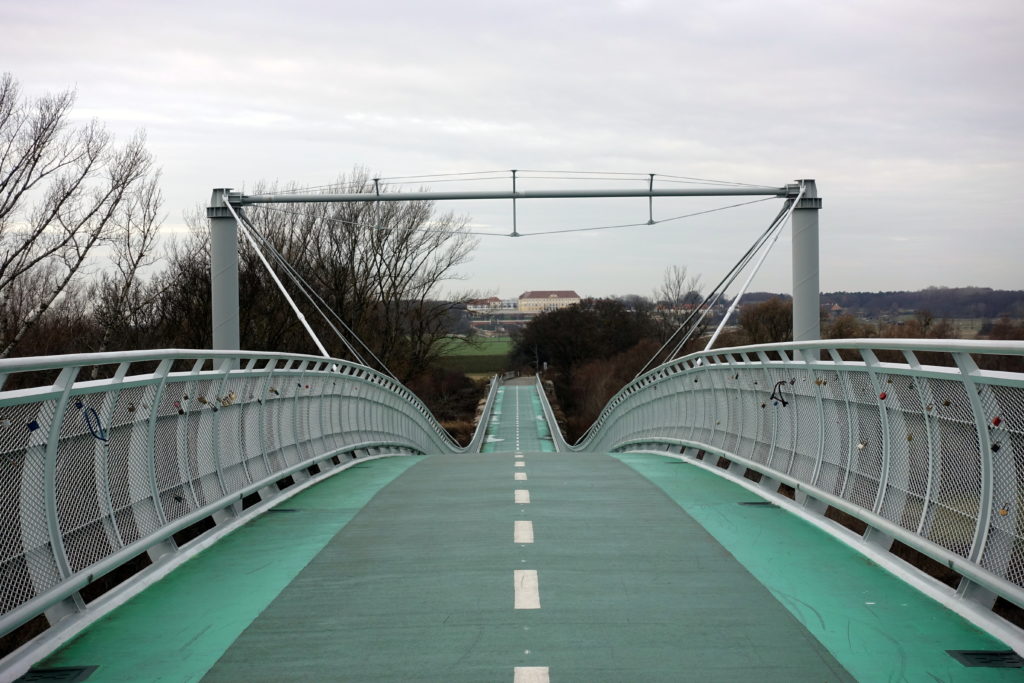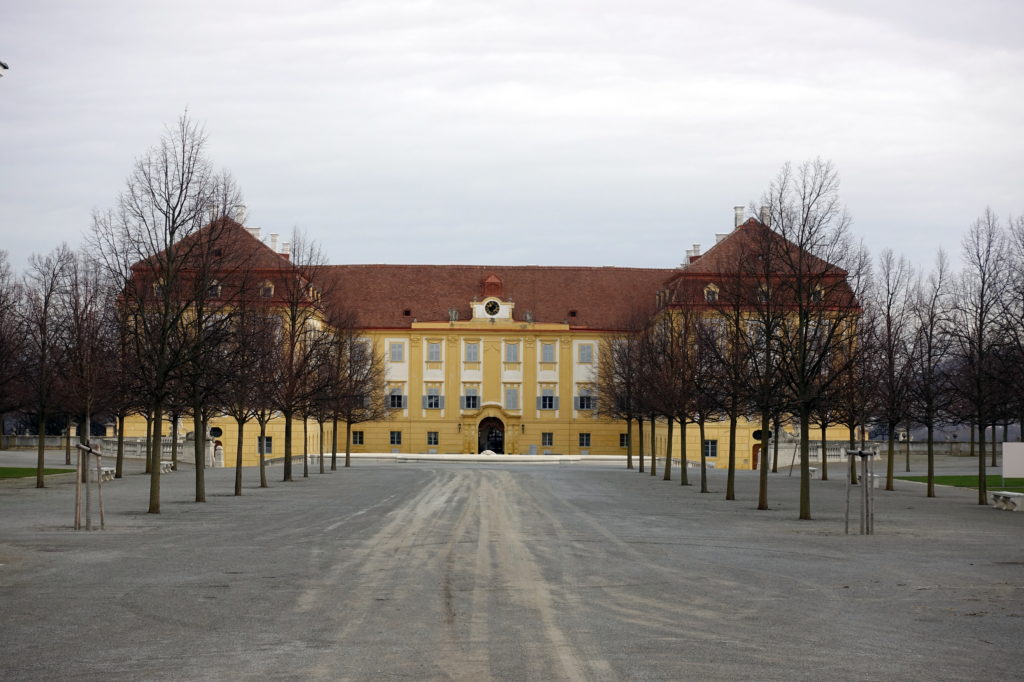 The first reaction in Austria was that it felt weird to be in an almost immaculate country: every single house well-maintained, farms perfectly clean, no dirt on agricultural machinery, etc. Well, basically Austria – but we had just gotten used to more unkept places! We stopped in a local restaurant to get our first Wiener-schnitzel since Thailand (back then at an Austrian expatriate!).
Somehow, even if we had progressively gone back to western Europe, we had to readjust again – prices had just tripled by crossing the Slovak border, dogs were not chasing you or barking like half-wits (some even going into restaurants with their owners and quietly staying under the table!), we had to park the bike to the dedicated bike-parking area, etc. We yet got some weird interactions, first Austria was the first country where people started to speak German to us – taking for granted that we had to be locals, when we were obviously foreigners anywhere else, then Austria still remains the only country in western Europe where smoking is allowed in public places – which makes local restaurants not enjoyable.
After our warm lunch in a small village, we decided to return to the Danube to avoid the Vienna traffic. Traffic was light in this region, but we knew it was going to pick up as we approached the capital city – so we wanted bike paths! Just as we got on the official Danube route, the rain once again started and we made our way up the Danube and into Vienna without many issues, enjoying what we could of the paved way. As it was approaching nightfall, we found our AirBnB and were happy to unload our wet things from the bike.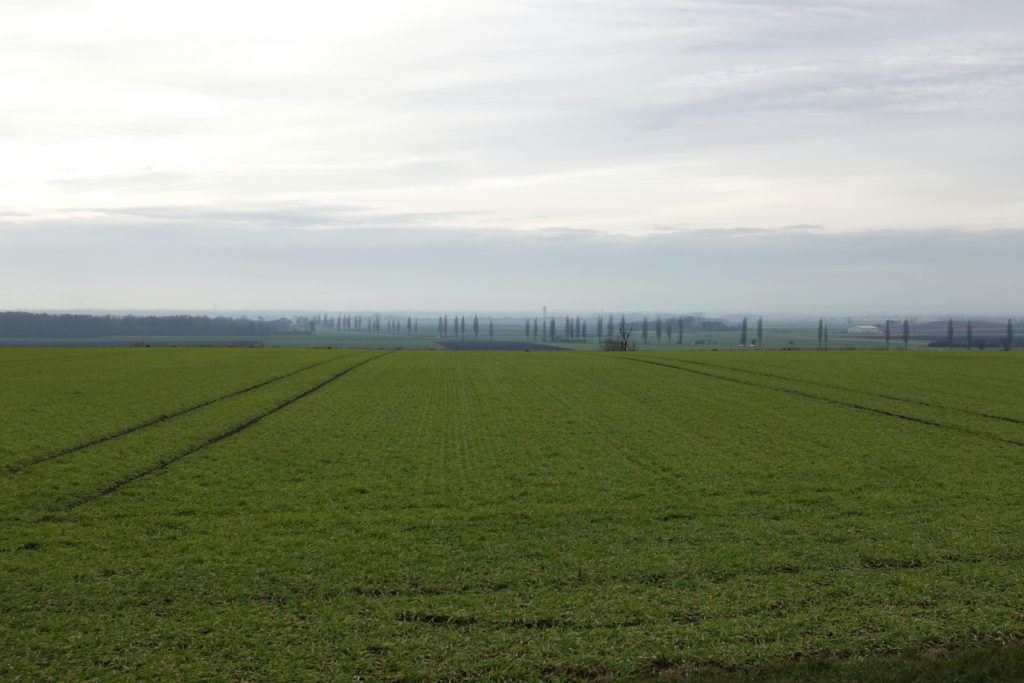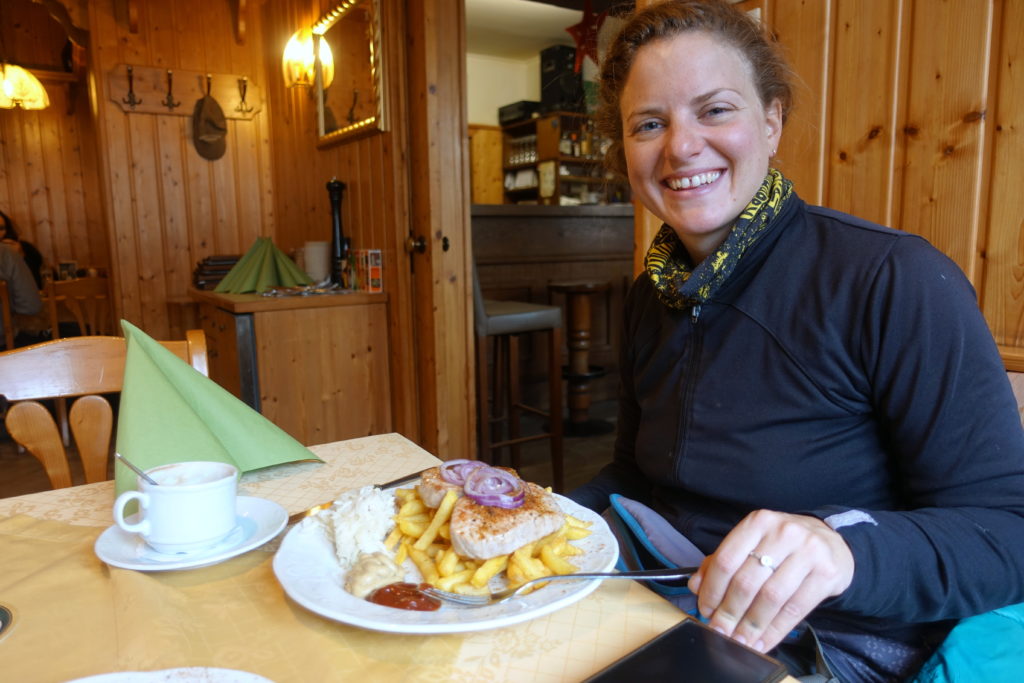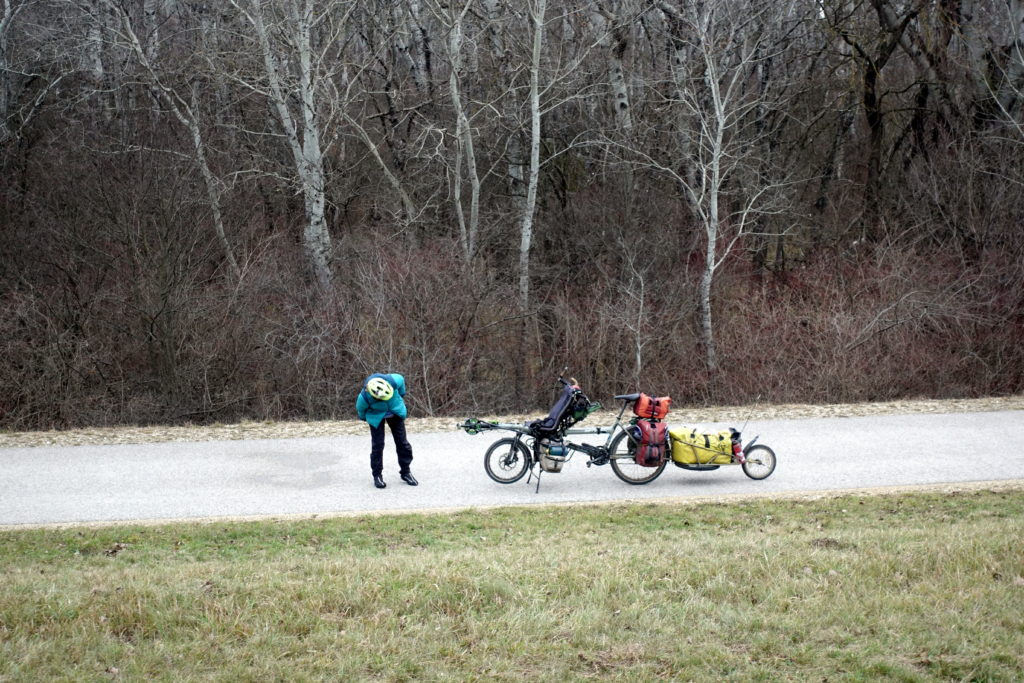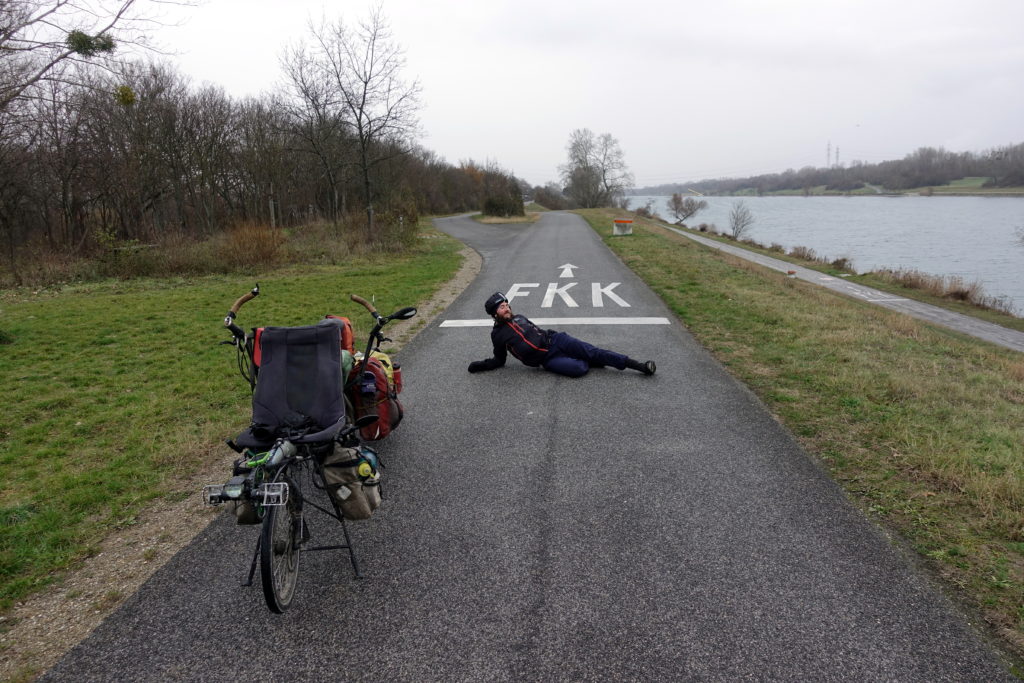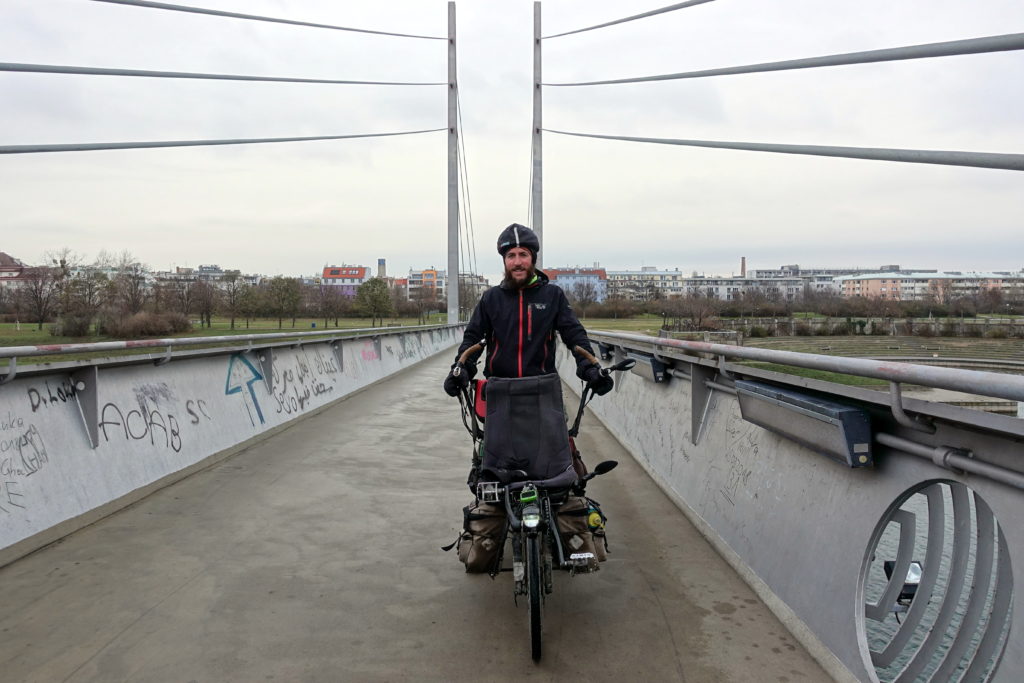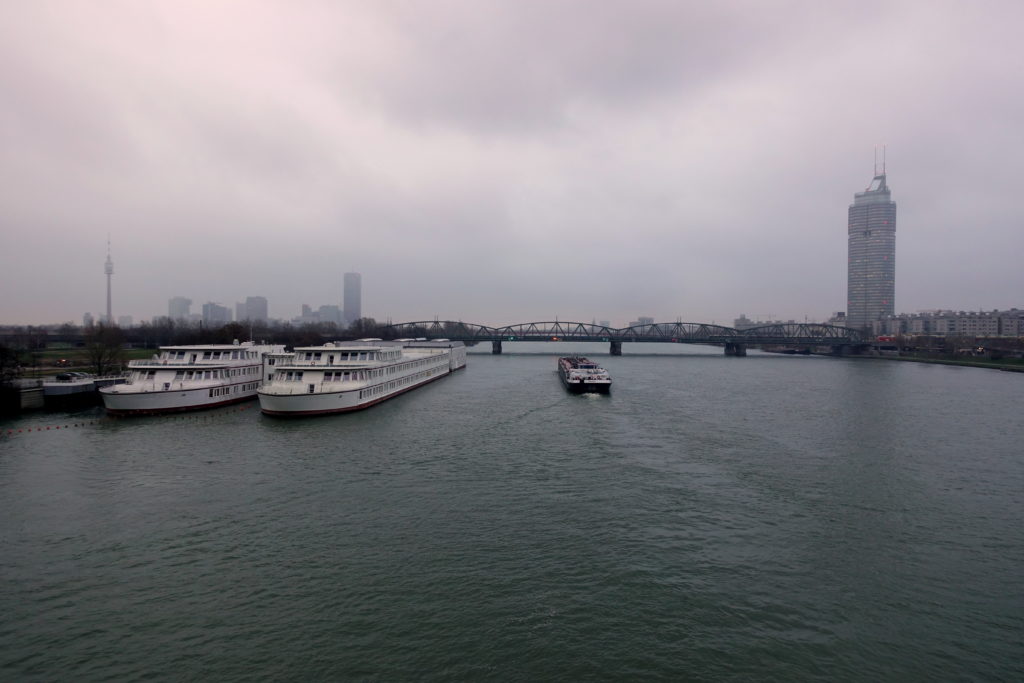 All the accommodation prices skyrocketed once we entered Austria and we were desperate to find places that were still within our budget. Hoping to once again use Warmshowers, we contacted a few people along our path in Vienna, but they didn't seem considerate of a winter cyclist's needs (arriving at 8pm and leaving before 7am would be fine in the summer, but not in the freezing cold and 8 hours of daylight). We instead found the cheapest (but not cheap!) AirBnB along our route. Because we arrived in a new capital, we couldn't help but checkout the bike store across the street (looking for a new battery for the dead tachometer) before turning in for the night.
The next morning, with all our bags dry, we got back on the EuroVelo 6 and continued up the Danube. We immediately noticed that the bicycle infrastructure was worlds apart from anything we had been riding on this entire trip. The signage made navigation incredibly easy, we rarely cycled on the side of the road, and nearly everything was paved. This was a huge surprise because our navigation apps showed few bicycle lanes, so we were expecting a lot of dirt trails on the side of the river. In addition to the superb infrastructure, the weather was also sunny – making the day that much more enjoyable. We took a detour from the trail in Tulln to see the St. Stefan church, find a bakery for snacks, and peek at the Christmas market. Although it was sunny, we had no desire for a cold picnic lunch, so we found a small inn in "Langenschönbichl" (yeah, we also had to get used to German words!) to take a break. Once we had our fill, we continued along the EuroVelo and made our way through a small forest. The rest of the afternoon, we followed the north side of the Danube and enjoyed the extremely flat route. We cycled into Krems an der Donau and met up with our Warmshowers host in the downtown. Thankful for him opening his apartment to us for the night, we made a hearty pizza and chatted about our tour.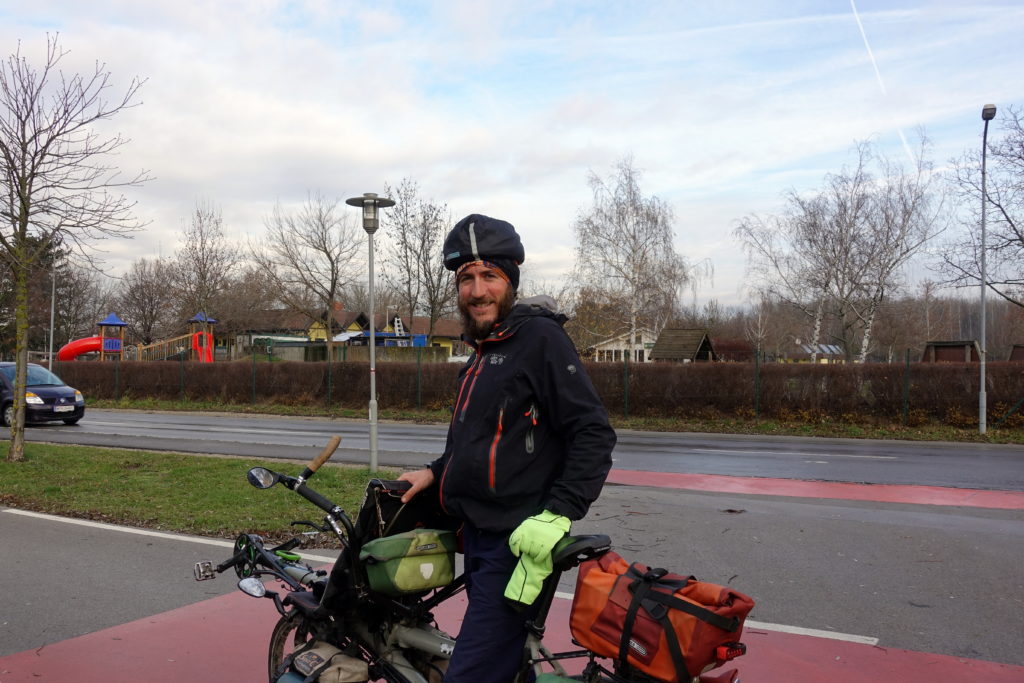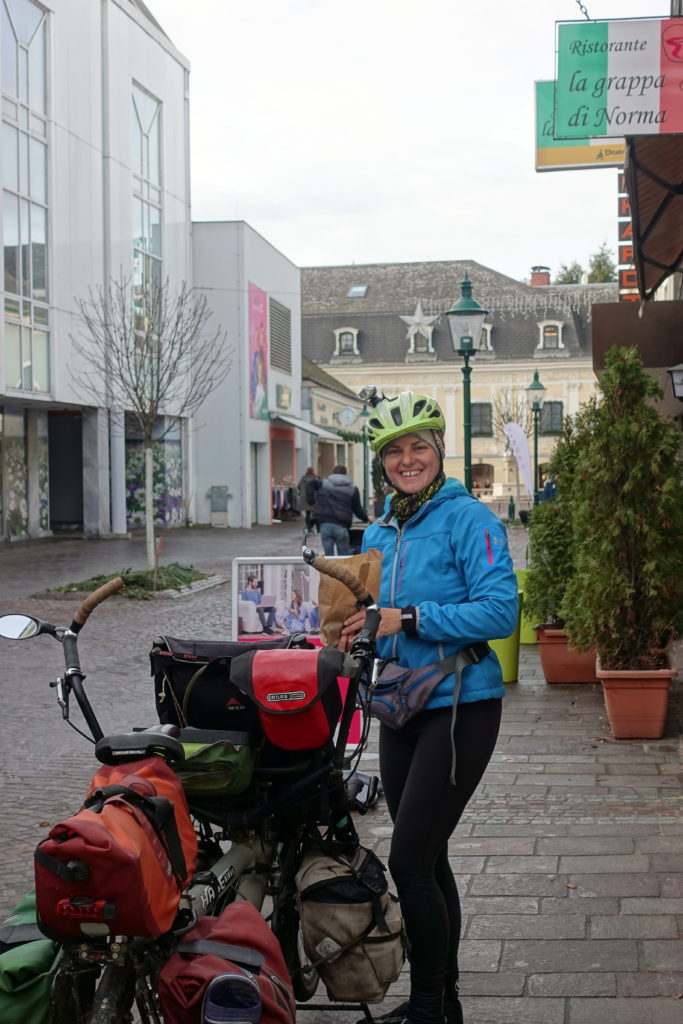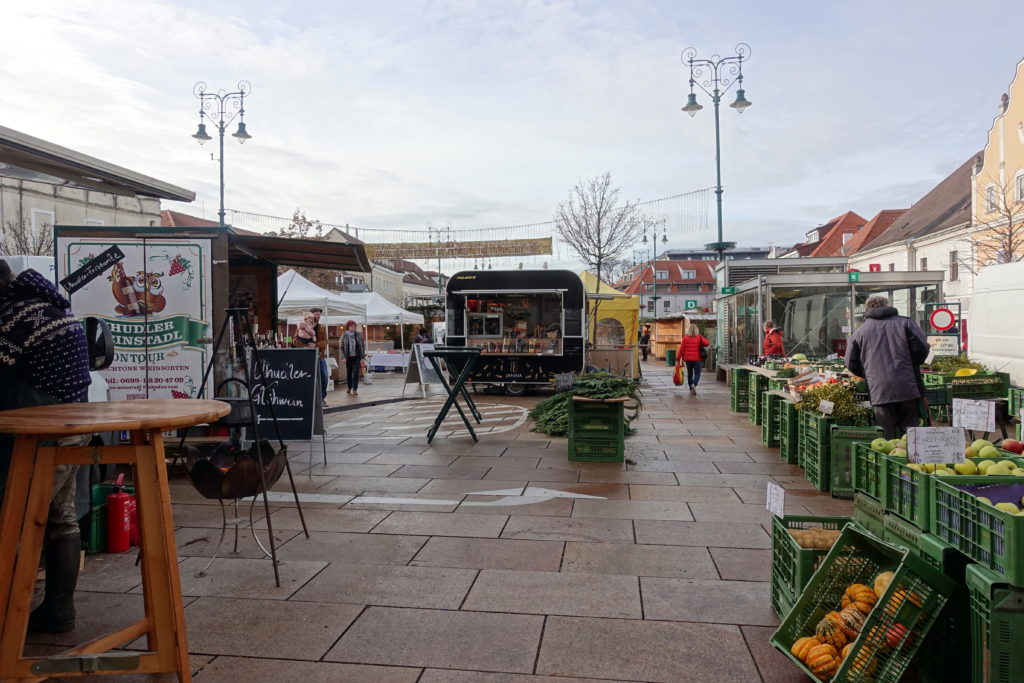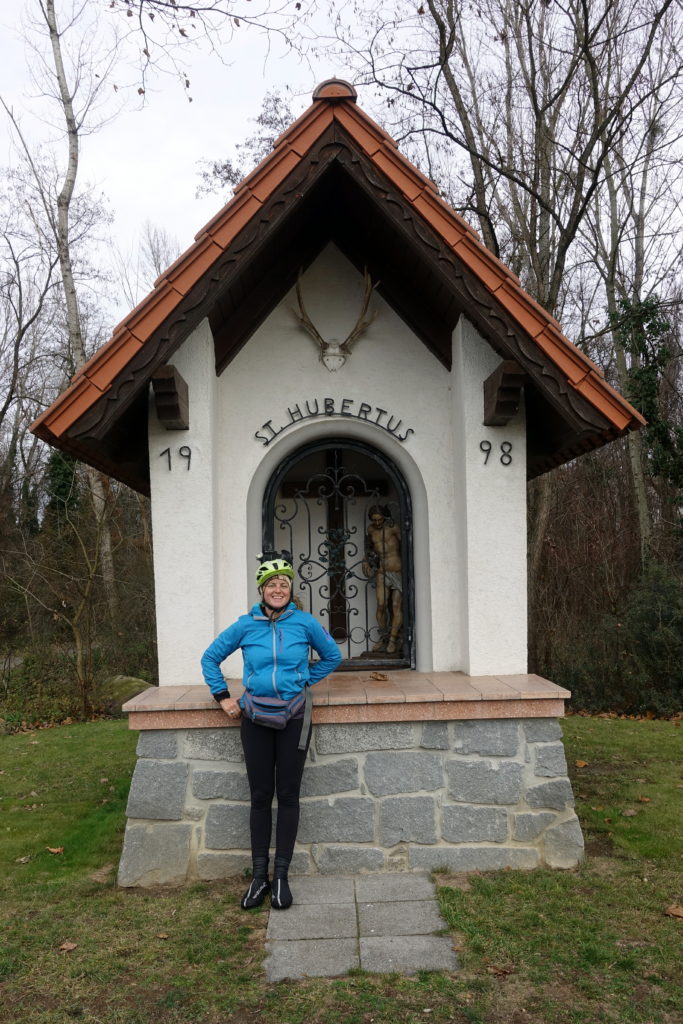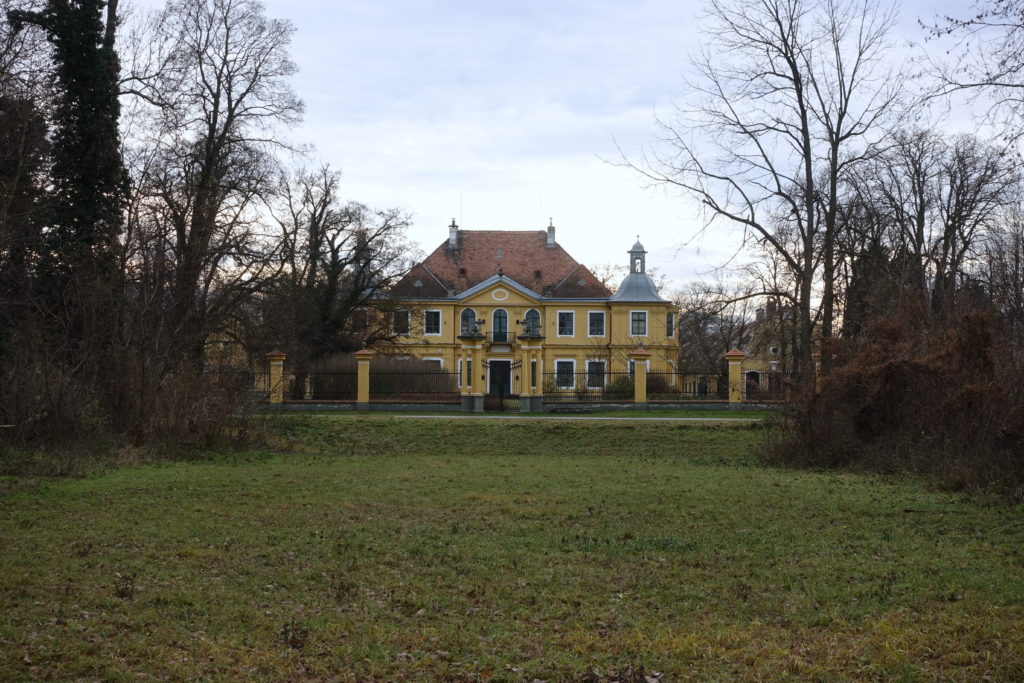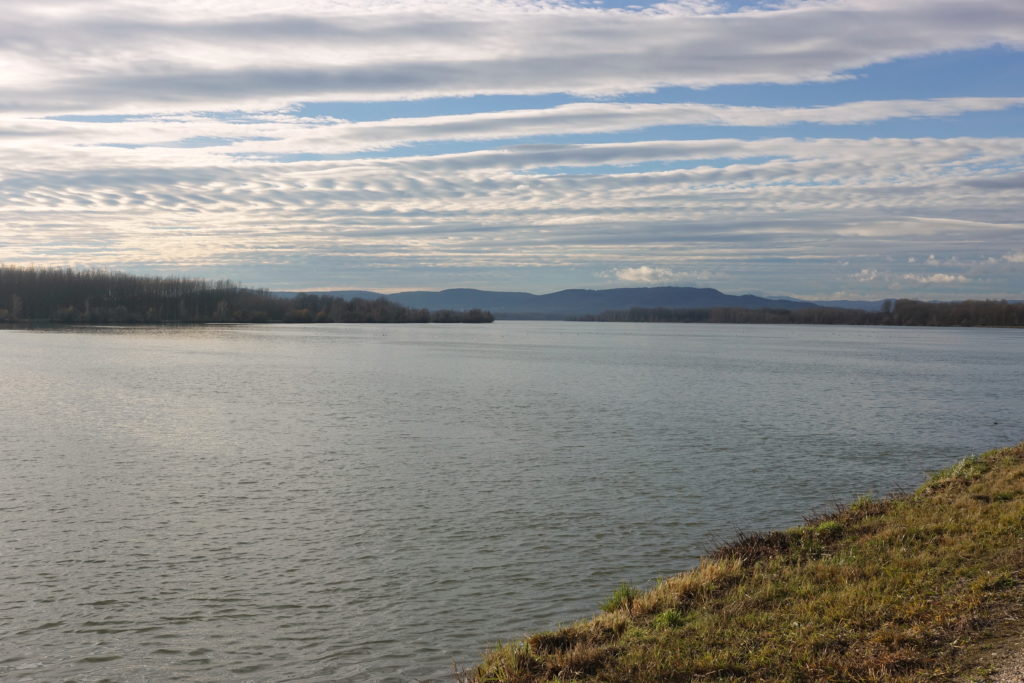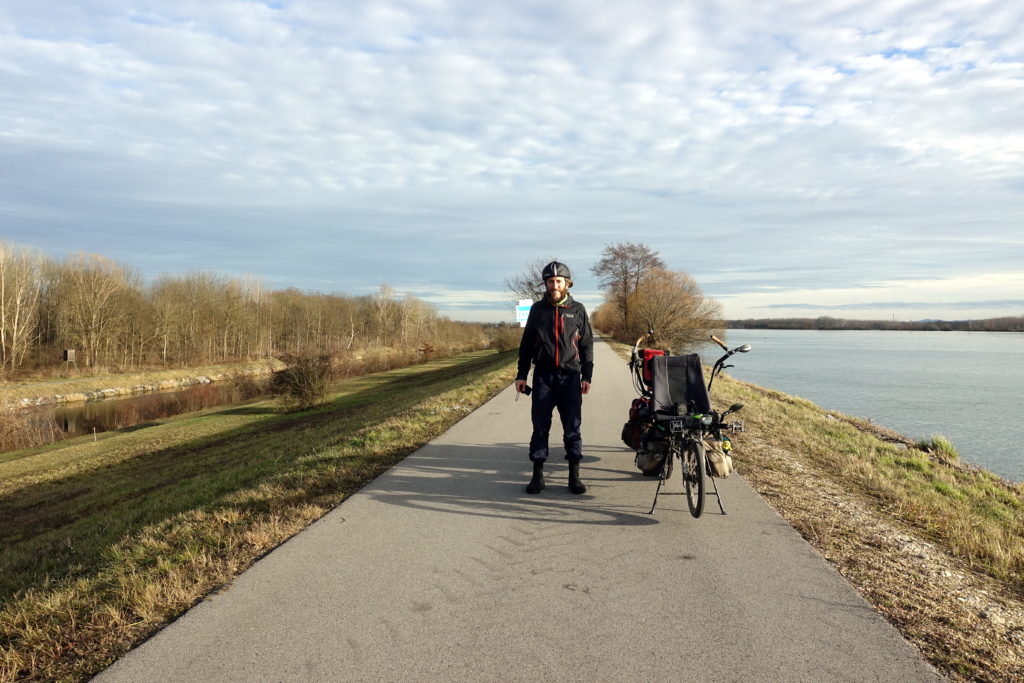 The next morning, we left Krems and cycled through the historic downtown before rejoining the Danube. Now back on the southern side of the river, we followed the EuroVelo through vineyards and up a few small hills. The weather wasn't as great as the day before (it felt much colder without the sun), so we were both happy that we decided to take a break in Melk to do some sightseeing. In the late morning after cycling 35 kilometers, we arrived at our guesthouse, dropped our things, and headed up to the gigantic abbey looming over the village. As we were milling around the inner courtyard, we realized that we got lucky and were able to join the afternoon tour without reserving a ticket in advance. The next two hours were filled with discovering the abbey's history and gazing at the impressive Baroque architecture. Unfortunately, the abbey doesn't allow photography, so our dear readers will have to visit to see the inside (or do a quick Google search). We finished the day with a Glühwein at the Christmas market before returning to the hotel for the evening.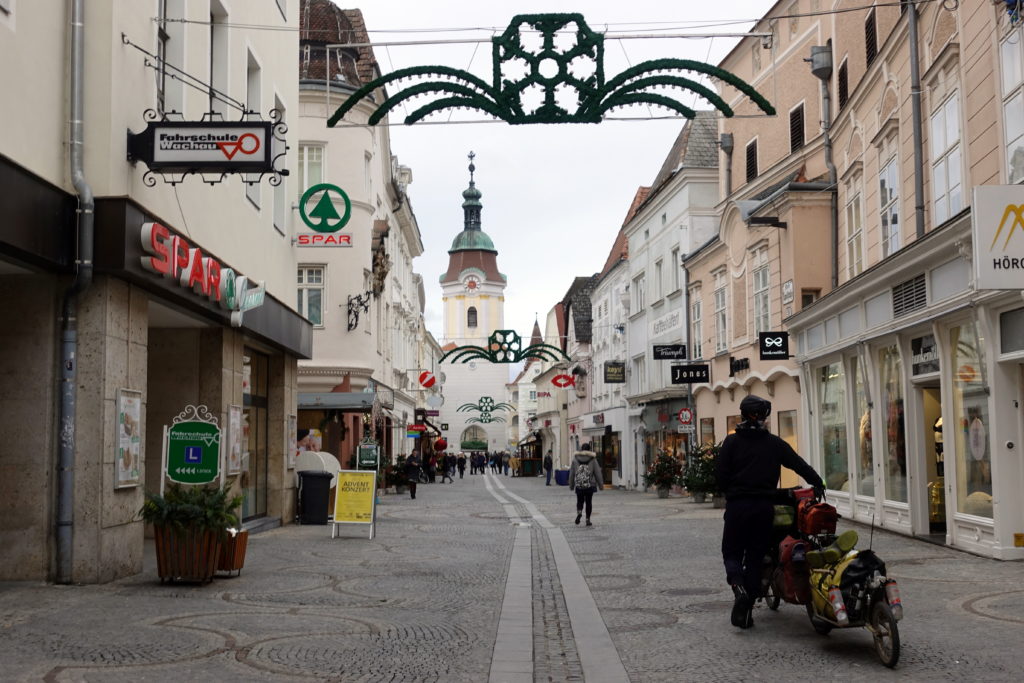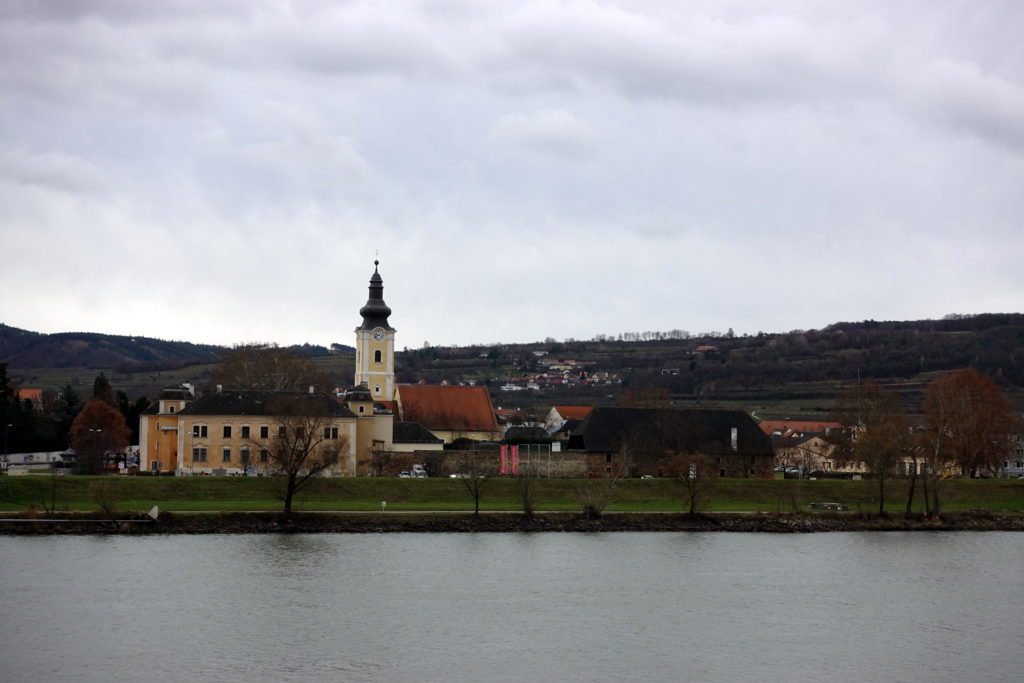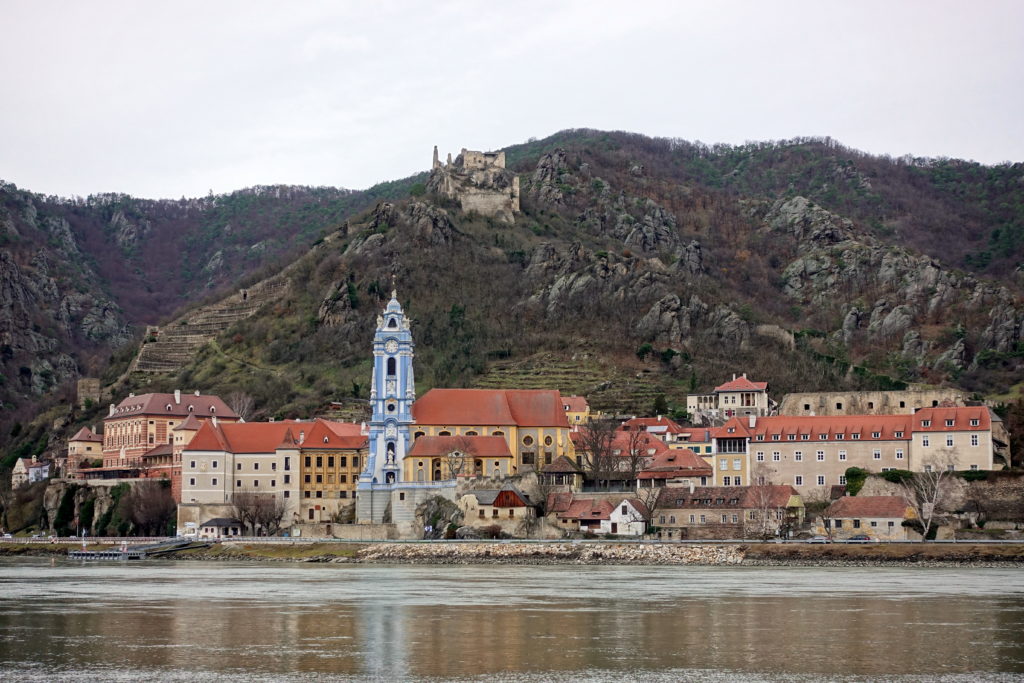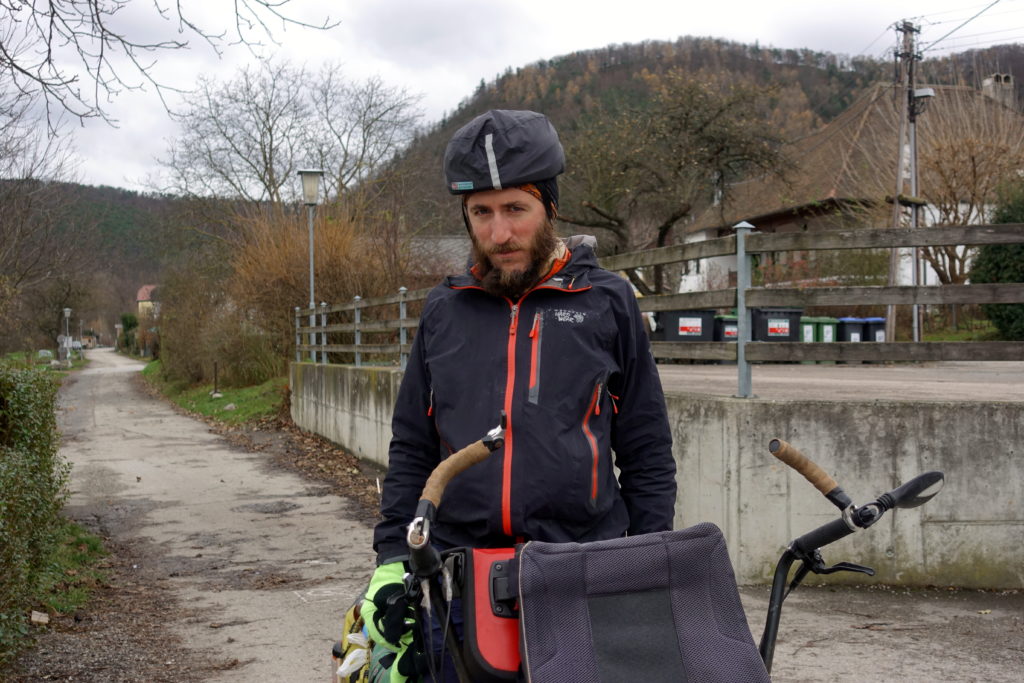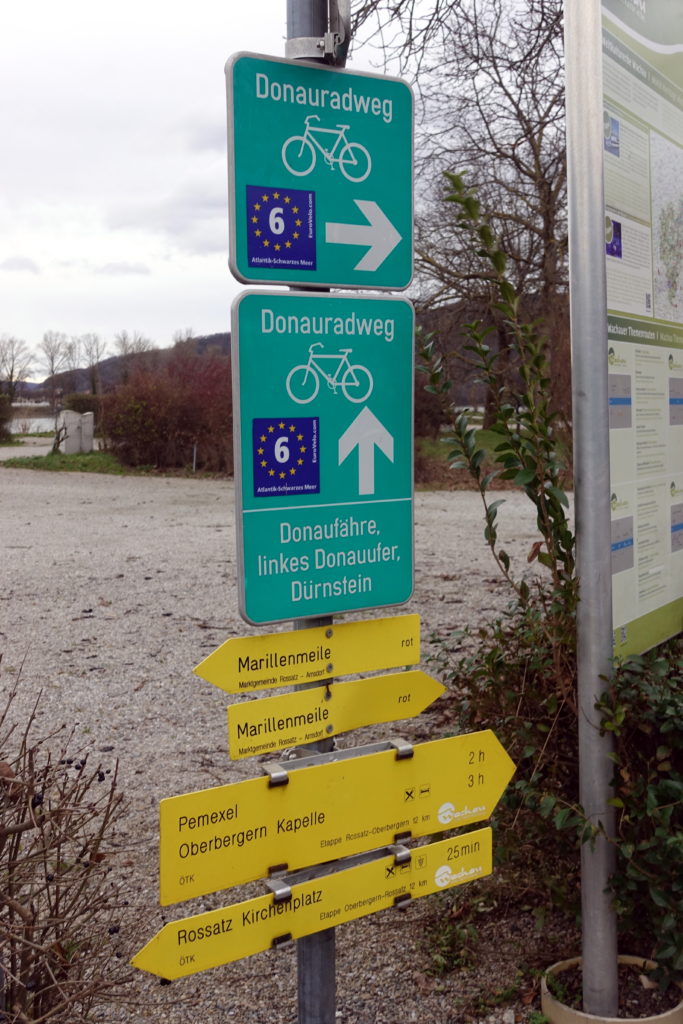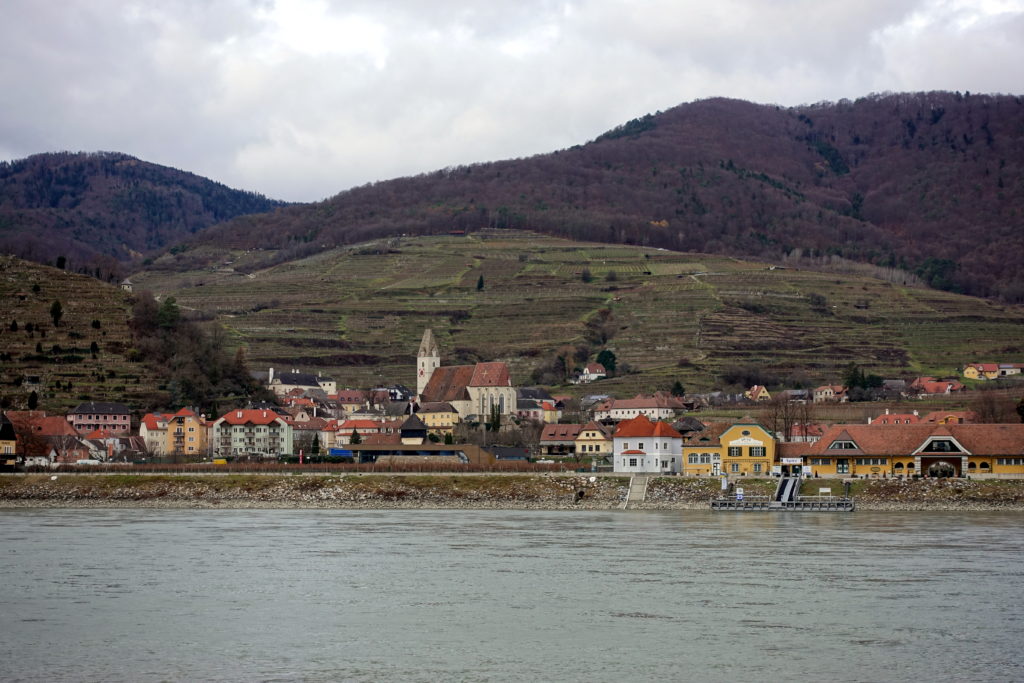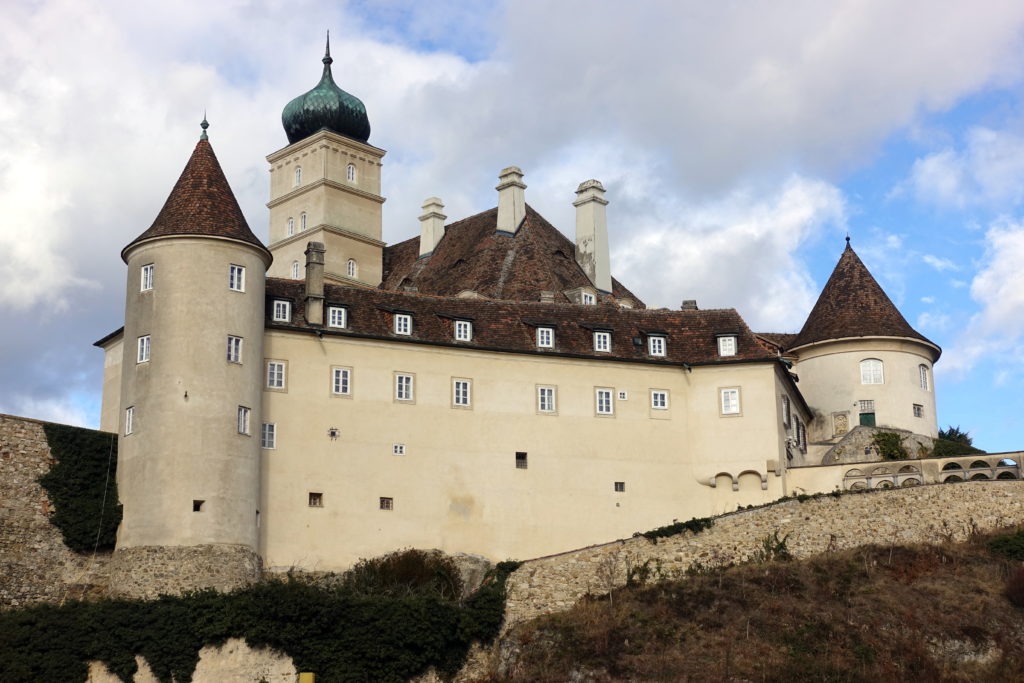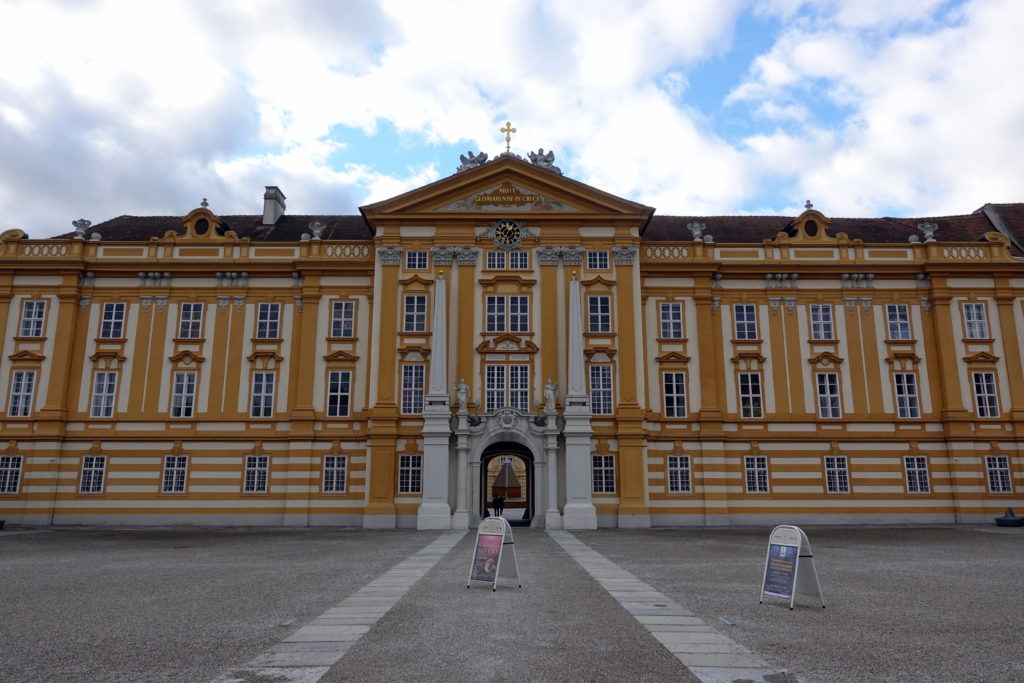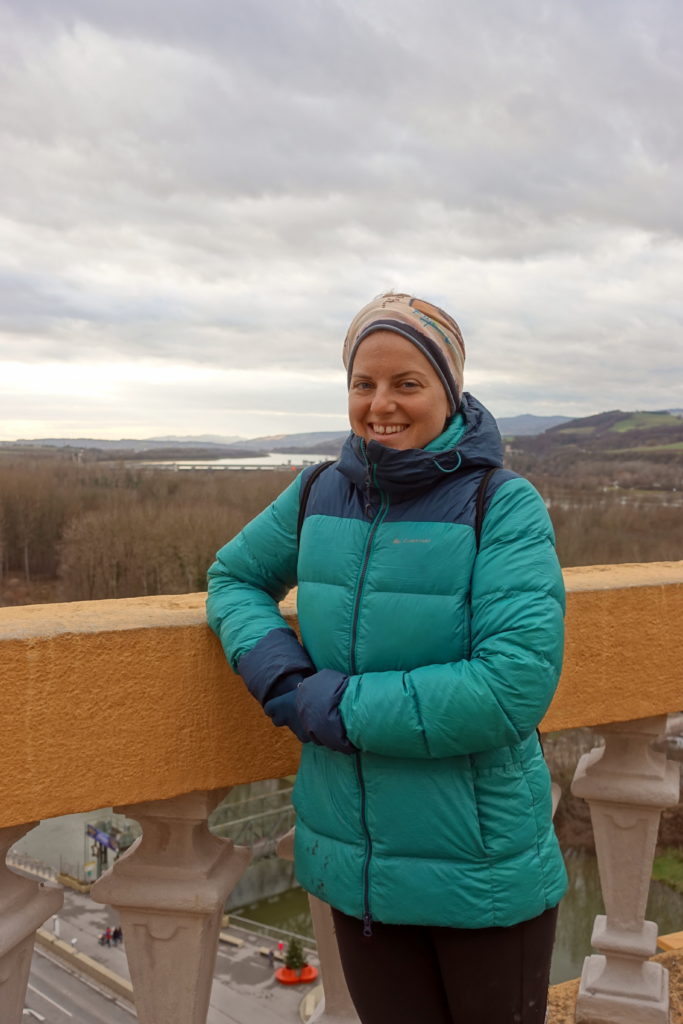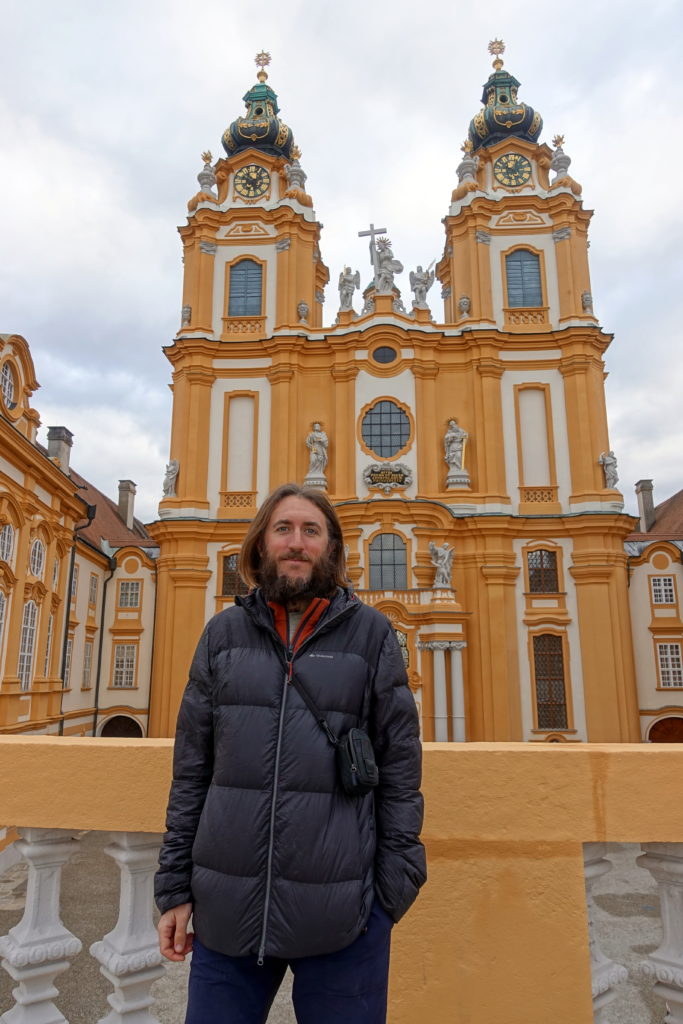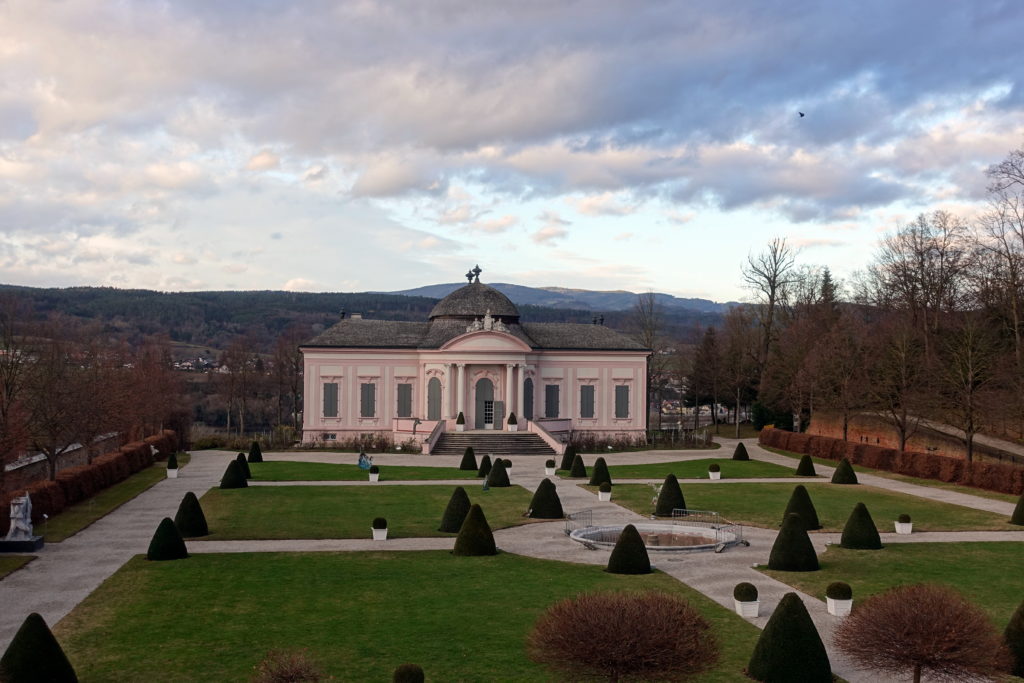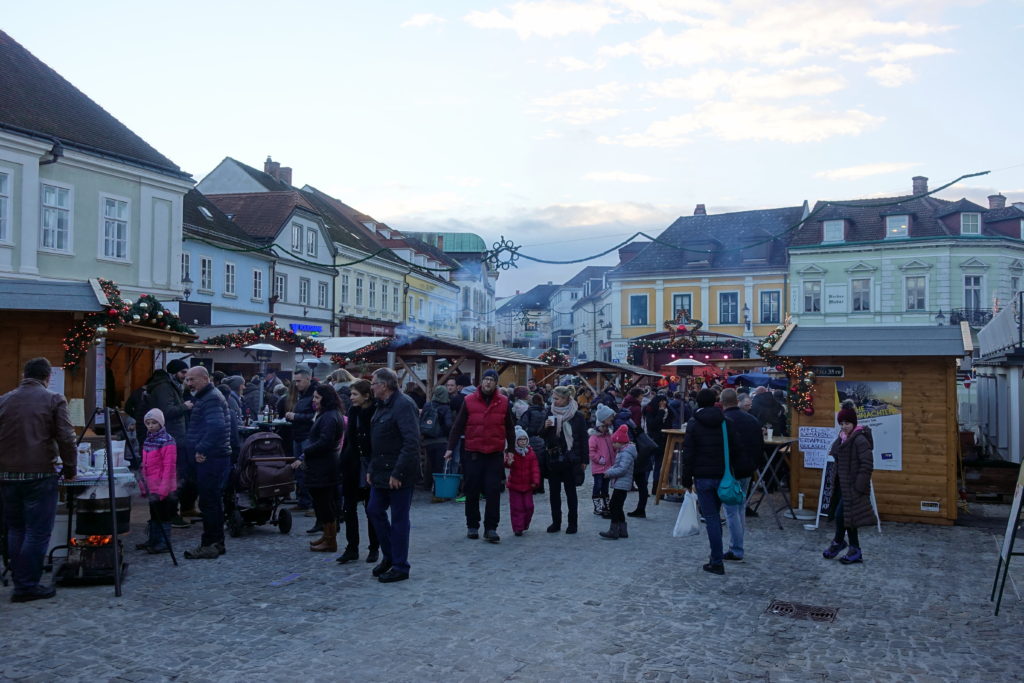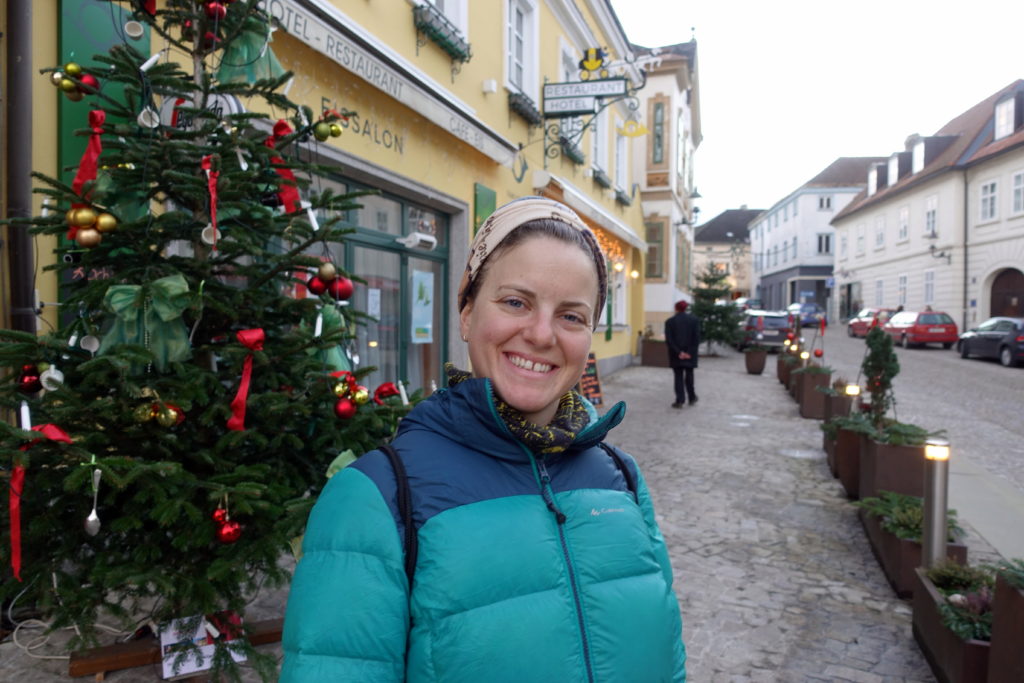 After a hearty hotel breakfast the next morning, we saddled up and set out for Ennsdorf. We were having difficulties finding simple, cheap accommodation along the Danube, so our destination was now determined by places that fit within our budget – today, this meant a 30€-Airbnb, 80 kilometers away. We left Melk and crossed the Daube to the northern side (the navigation said that this way was faster). Shortly after we left, the clouds started to become denser and a downpour erupted just 20 kilometers after we left Melk. After we threw on our rain gear, we decided to keep riding until we found a warm restaurant for lunch. We stopped at a large restaurant and bit-by-bit, peeled off our wet layers to hang up to dry, and relished the hour in a warm room. The rain had subsided that afternoon to sprinkles, so we continued along and rushing to get to our destination before nightfall. Throughout our trip, we wouldn't consider 80 kilometers to be a long day, but now with extended restaurant lunches and only 8 hours of daylight, we would consider this distance to be the maximum that we could achieve in one day. The EuroVelo took us more inland in the afternoon, avoiding some marshy areas of the Danube, but we decided to deviate from the route and follow the river so we wouldn't have to add extra time zig-zagging through fields. At the beginning, this seemed like a fantastic decision because we were following a newly paved path, but it suddenly turned to ancient cobblestones, concrete blocks and rock piles with a sign stating that cycling wasn't allowed. We stopped and deliberated for a few minutes and looked at a few maps to figure out our best option: 1. Keep on going straight, 2. Cycling through the wet and muddy forest, or 3. Turning around. We decided to continue going forward despite awful trail conditions and it turned out to be the best choice because the path became paved again in two kilometers. We quickly stopped for a quick break before continuing the last 10 kilometers to Ennsdorf, rushing because it was after 4pm and we could notice daylight rapidly receding.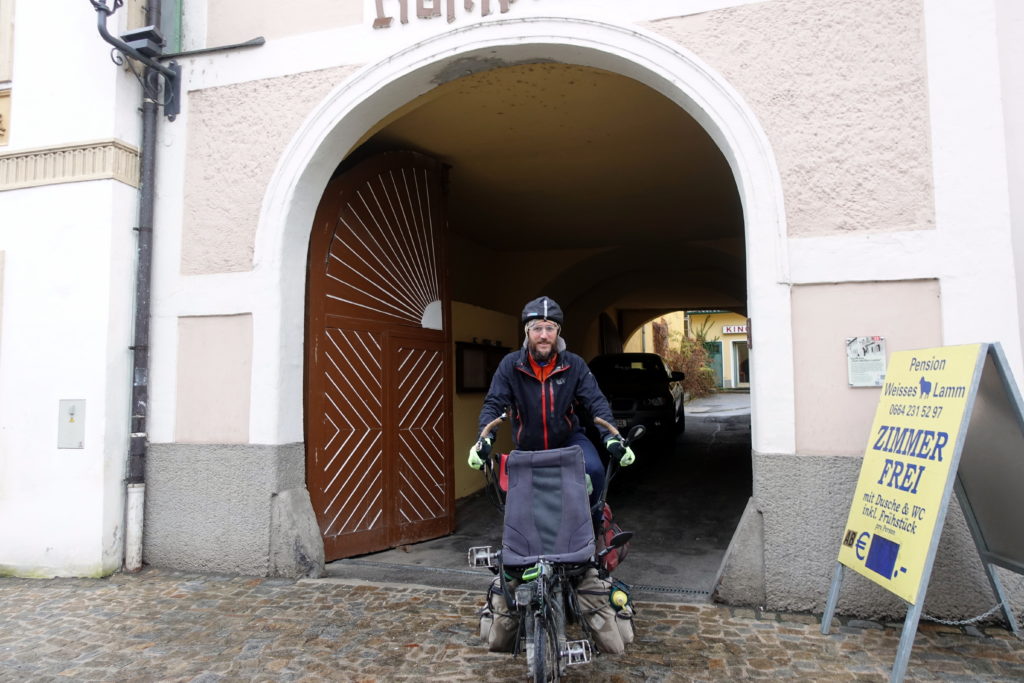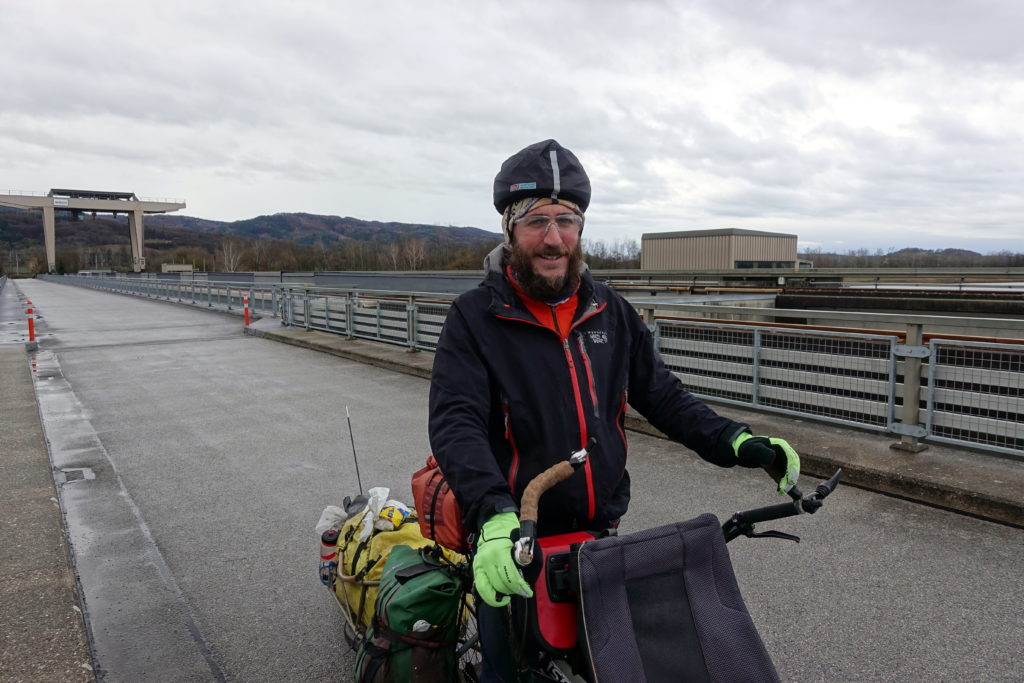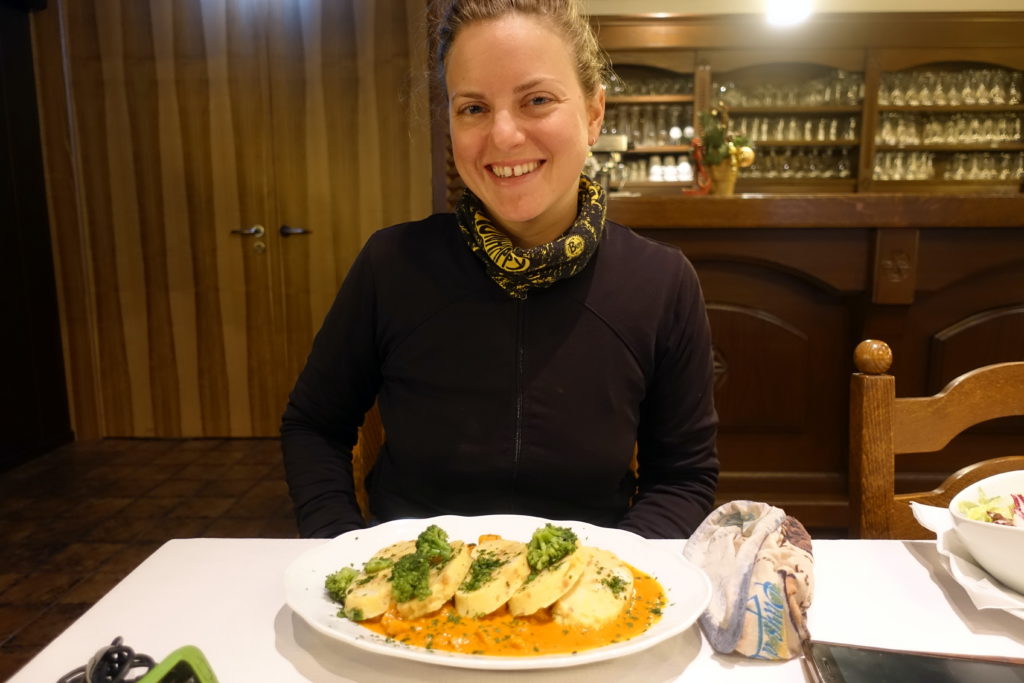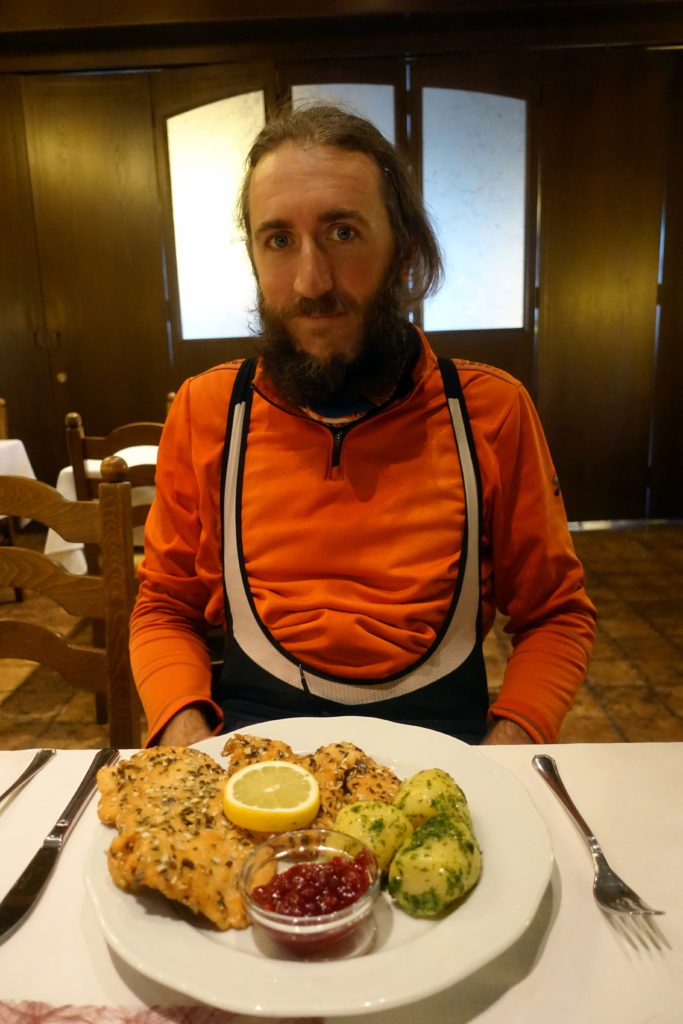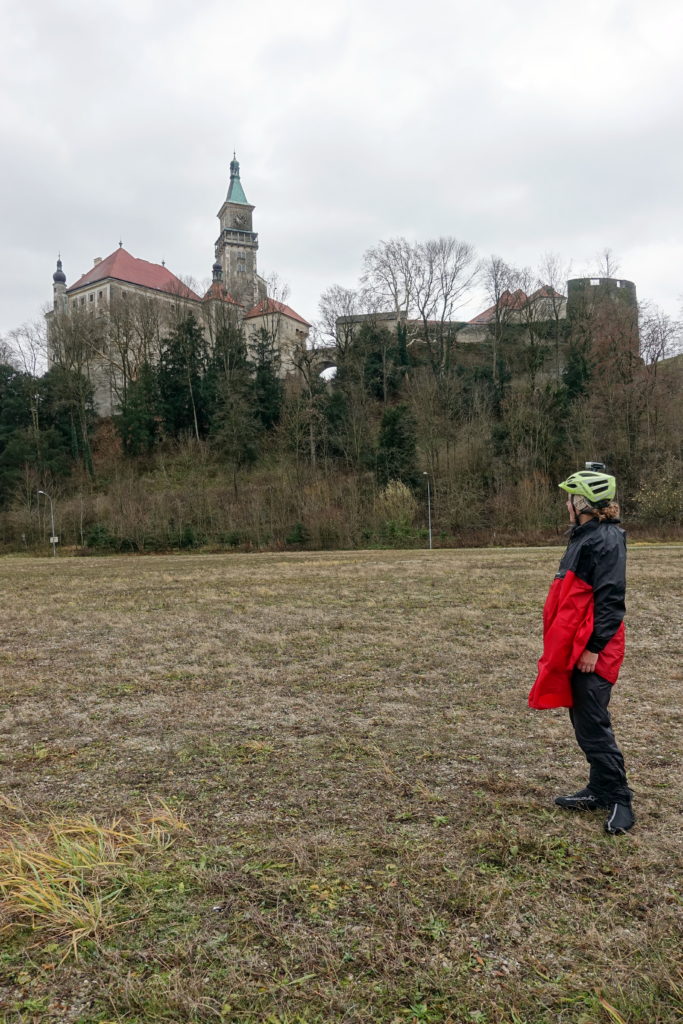 Just as we were closing in on our goal, it started to rain again so any hopes of arriving dry and not needing to hang all our gear had diminished. The family hosting us were surprised to find that they were still having cyclists so late in the season; they mentioned that another young pair of cyclists had also stayed with them two weeks prior. For being a cheap AirBnB, the family was very accommodating and let us wash and dry our clothes and even said that we could have used their jacuzzi if it hadn't been raining. After a day soaking wet, a jacuzzi was not quite are greatest envy anyway and we would have better dreamt of an open wood-fire! We set off the next day feeling clean and refreshed.
Leaving Ennsdorf, it seemed like the weather was cooperating when we cycled through Enns and back to the northern side of the Danube (since Linz is mostly on the southern side, the north side would have less traffic). As we approached the city, we passed the steelworks and were happy that we chose the north side – the Sulfuric smell was intoxicating a few hundred meters away, we couldn't imagine what it would have been like right next to us. We wanted to see some of downtown Linz, so we crossed the Danube and pulled up to the Christmas market in the main square – and had a very Germanic snack (sauerkraut and sausages) while we enjoyed bit of sun. Afterwards, we pushed the bike through a little bit of the city before we decided to cross back over the bridge and continue west. For the most part, the weather seemed stable as we were cycling along, so we were considering stopping for a picnic lunch on the shores of the Danube. Just as we pulled off the trail at a rowing clubhouse for a bit of shelter, a major downpour had caught up with us… which wasn't making an outdoor lunch enticing. As we were looking around the premises for a dry spot, we noticed that there was a restaurant on the top floor of the club house AND it was offering warm lunch specials, so we decided to save our lunch for another day. As we sat inside the warm restaurant munching on warm falafel, we watched the torrents roll across the Danube and were happy that we pulled over when we did. By the time we left, the rain had significantly subsided, and we continued along the EuroVelo 6.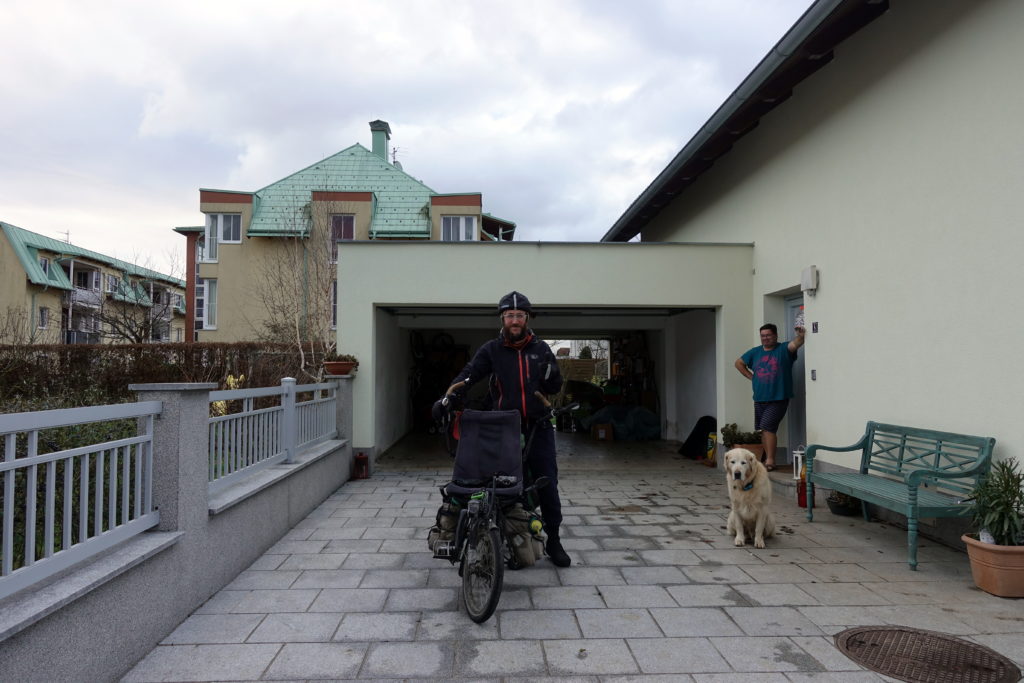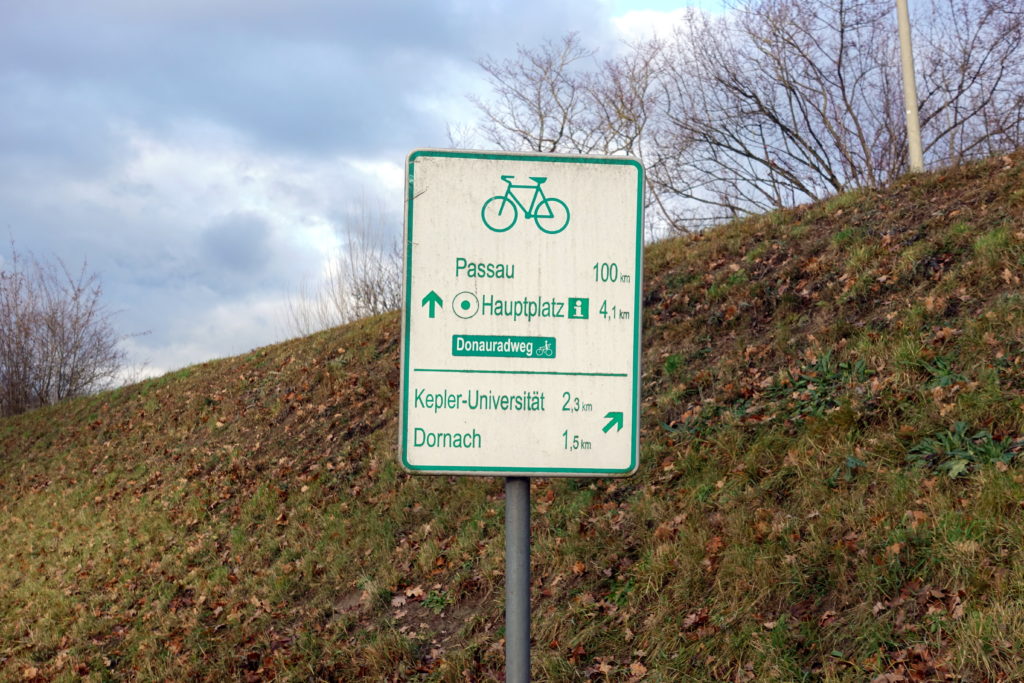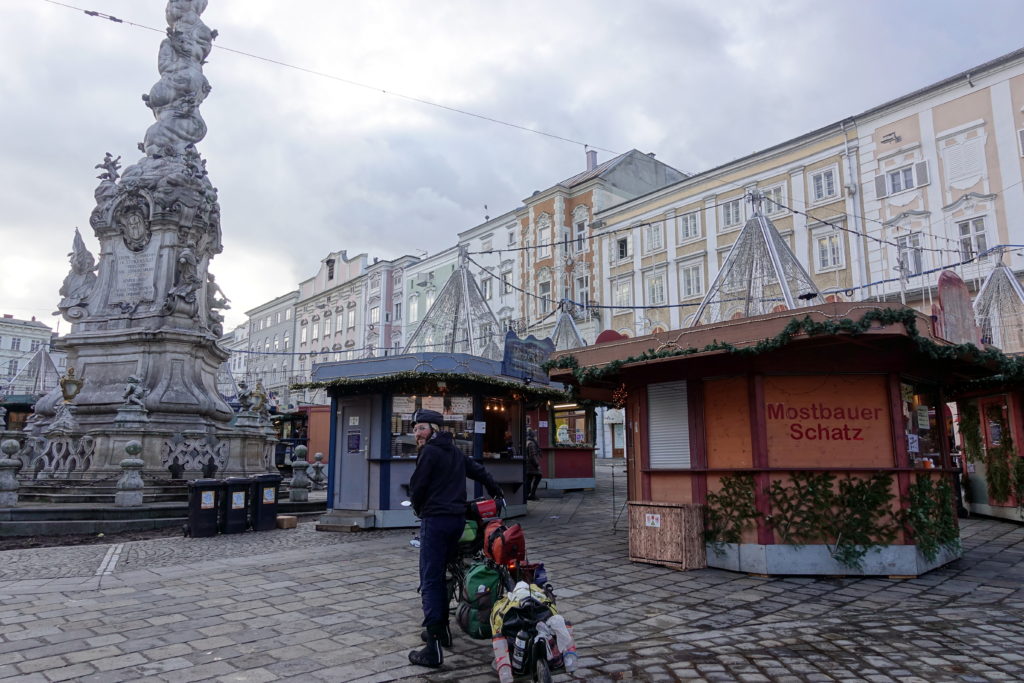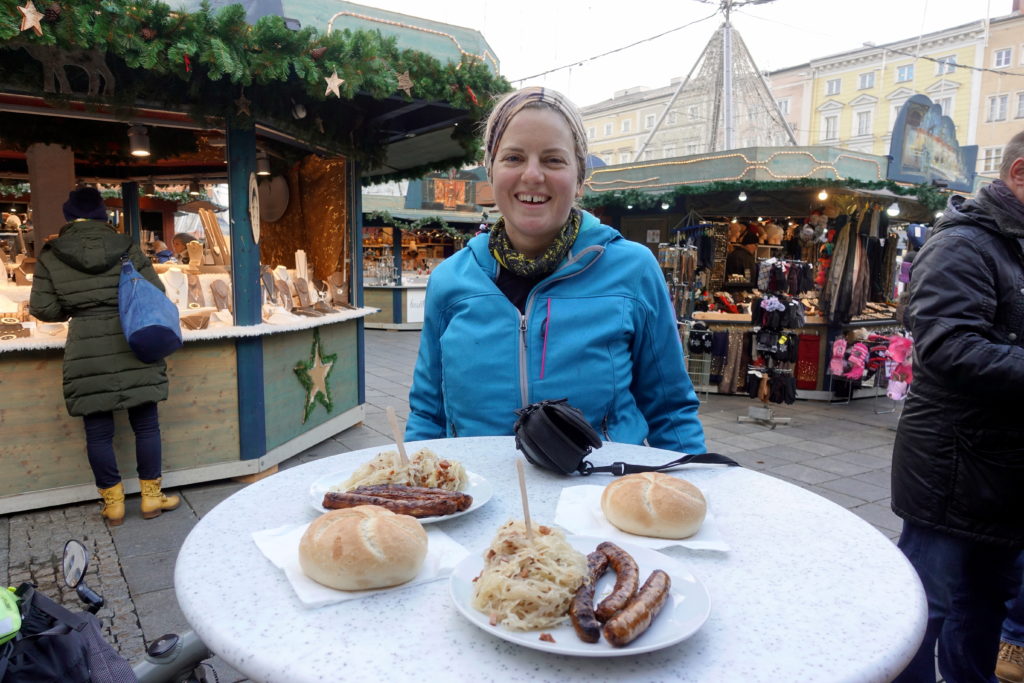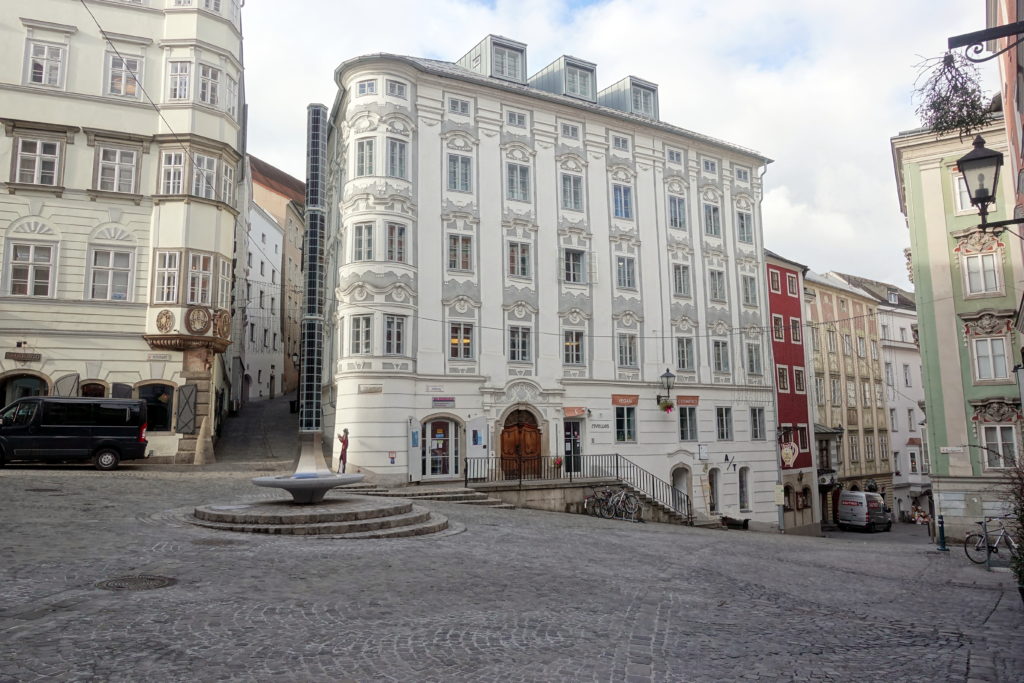 This part of the bike path wasn't very developed, so we cycled for quite a few kilometers on the flat river banks before needed to turn off and navigate. However, just as we were reaching the next village, we noticed that the hills west of us had disappeared completely due to another storm closing in on us and we cycled like mad towards Feldkirchen an der Donau, looking for some shelter from an impending downpour. We pulled up next to a small supermarket just as pea-sized hail started pelting us. We stayed under the roof for a few minutes as the worst part of the storm passed, mostly laughing and taking videos of our situation, and then continued cycling the last few kilometers to our hotel in Aschach-an-der-Donau. This night would be our last (and most expensive) in Austria, and we couldn't be happier.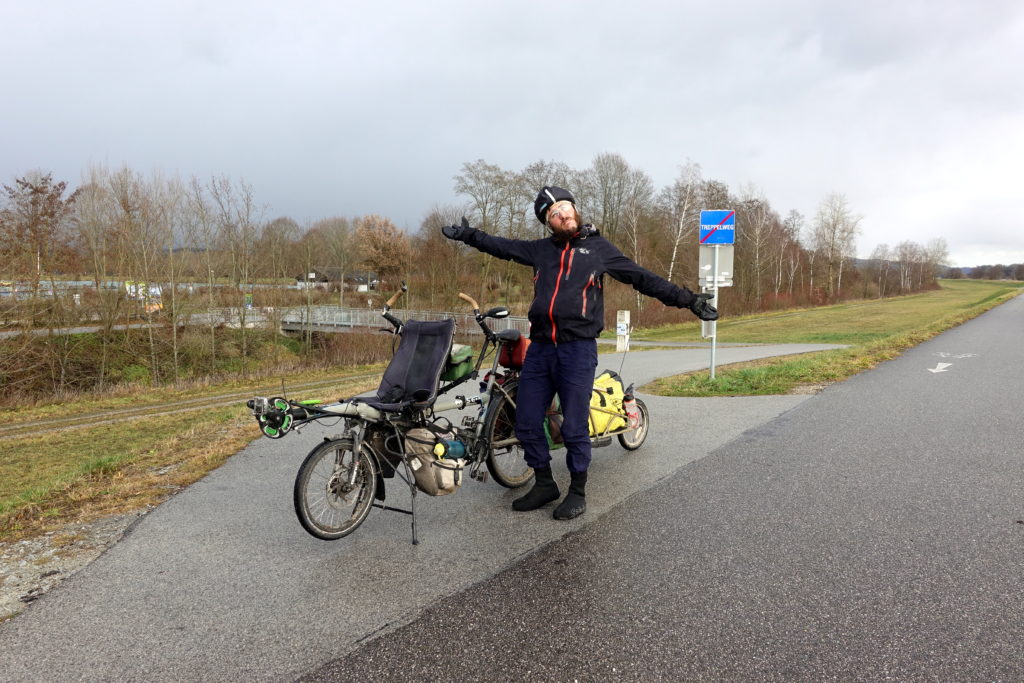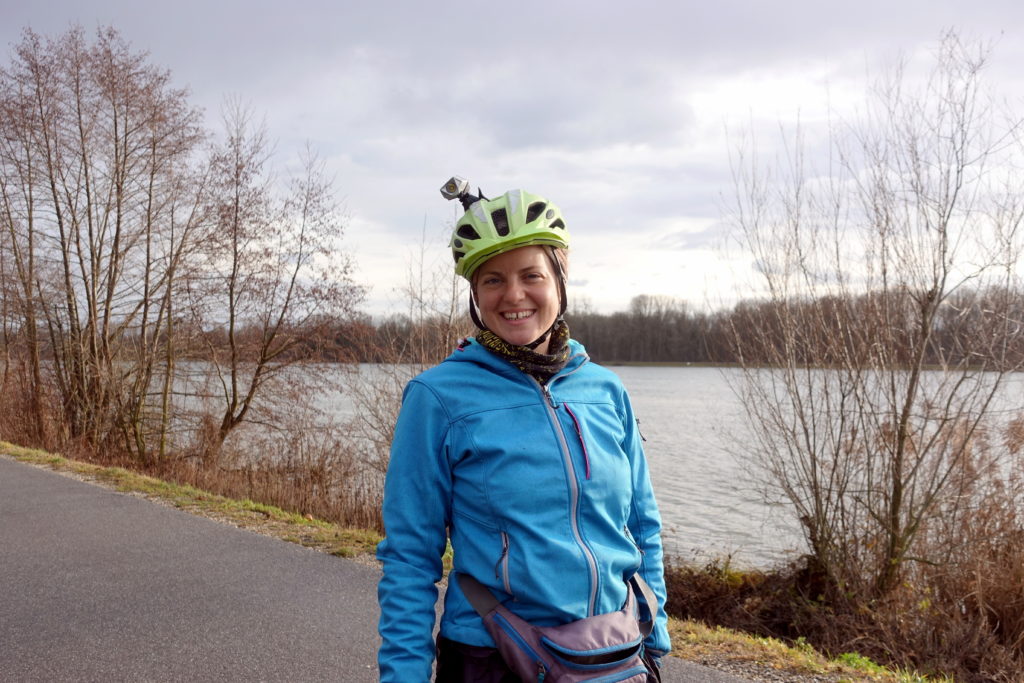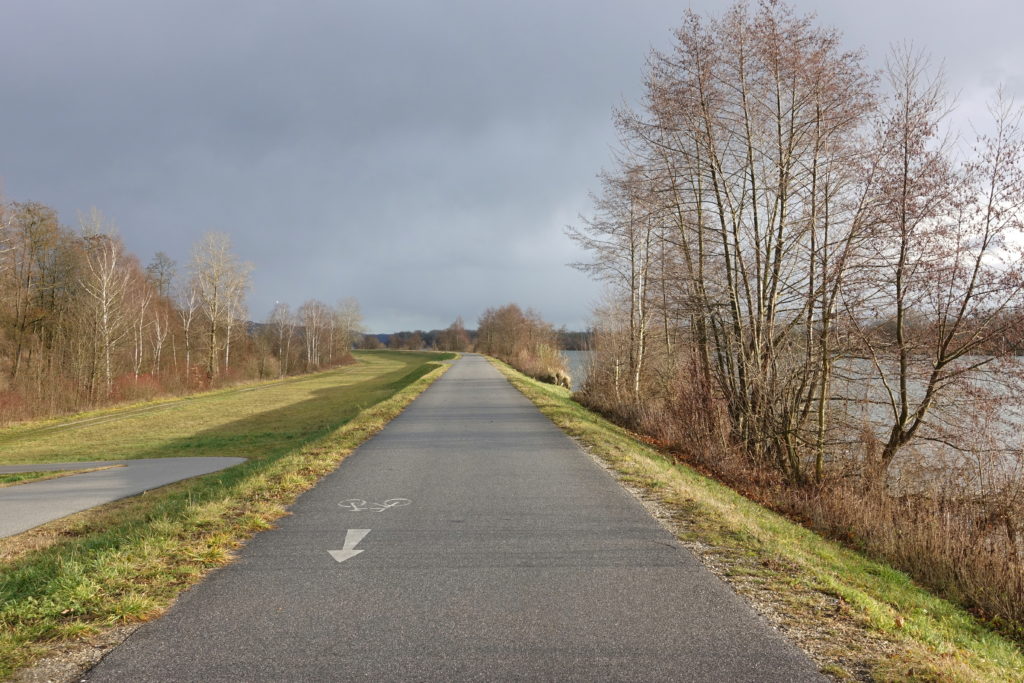 Every evening, we were spending hours scrolling through internet websites trying to find the cheapest places to stay along the Danube, shocked at the hotel prices. Even in the low season, there were no deals in the hotels and half of the guest houses weren't listed on internet aggregators like Booking – leaving us to look through every single directory in every village's homepage. (Pro tip for cyclists: type 'pension' in Google maps, for some reason it will show guesthouses that are not listed anywhere else).
We are not quite sure what is going on in Austria, but yield management pricing still has not been discovered around there – the price is the same, fixed, yearlong, no discounts even when the area is deserted: we were wondering why anyone with a car would stop in those villages when they can get much better places for much less from international hotel-chains in Linz. With bicycles, things are a little more difficult, but given that we have not crossed a single cyclist in weeks, the business model is perfectible. This hotel was yet our last in Austria and although glad that we were not freezing outside, we just couldn't understand what made accommodations three times more expensive than the neighboring countries for a poor service – here we didn't even have a water boiler or studio kitchen, and had for only exchange with the owner a key and post-it left in the mailbox. Austria was our 20th country on the way this year, and not our best recommendation for the value-for-money! We were feeling deeply annoyed to give away daily 4 months of average wage in Tajikistan to a ghost-host while we had stayed at amazing families in Central-Asia just a few weeks ago. We did not linger long in Austria!
After an evening with the heater on full-blast, we work up and put on our rain gear once again. The rain never really subsided overnight, so we were wet immediately. We spent the first hour cycling through a 'remote' stretch down a narrow country road along the shore, shocked by the frosted hilltops just a few hundred meters higher than us. Even through we were well into December, this was another reminder of cold winter weather to come. Once we reached the main road, we cycled up and down a few hills and made a lunch stop in Engelhartszell-an-der-Donau ("the spot of the hard fishermen on the Danube" if interested in the translation of weird Germanic locations!) to dry off. This time it was hearty-yet-expensive venison ragout and Schnitzel with a warm coffee. Shortly after Engelhartszell, we reached the first border crossing with Germany across a dam and decided to leave Austria behind. We could have continued cycling a few dozen more kilometers in Austria but found it too tempting to not cross at this juncture. As we rode along the dam, it was soon apparent that we couldn't simply ride across… instead we had to carry our luggage, the bike, and the trailer up and down two flights of stairs. This added a little extra stress, but then we could finally say that we entered Germany. Shortly after the border, the rain subsided, and we rolled through some small German towns along the Danube. We reached our hotel in the middle of Passau in the late afternoon a bit stunned that we were so close to home. Cedric had worked tens on times in this area a few years before. As we cycled up to the hotel, many people were about in the streets and we received many stares. Ah yes, the return to Germany, were it's completely normal for people to stop dead in their tracks and just stare at you if you look out of place (the Pino and trailer don't help). Passau is the starting point of many river cruise ships on the Danube and before we carried our rig up into the hotel, we became the focus of a group of English-speaking senior tourists who apparently seemed more impress that we had been outside in December than biked non-stop from eastern Kazakhstan (because that's probably just a few miles east of their cruise's final destination in Budapest…)! We spent the evening walking around town, not too much in the churches and monuments (we had already seen enough and had been in Passau previously), but more interested in German shopping chains: Rewe, DM, Saturn, etc. Not because it was anything interesting, but probably just to make sure we were back!