We both had previously already been in Istanbul so did not feel that we had to go around the top tourist sights of the city. We arrived in the late morning after a 20h bus ride across the country, so the first thing was to rest a little, possibly not far from the large bus station – our plan being to also take a bus out of that 15 million inhabitant metropolis, obviously not giving much consideration about riders on two-wheels. Checking quickly the hotel prices, we realized that we could get excellent deals for the next two nights near a business center – our stay being over a week-end – than in the historic downtown, while just taking a short subway ride later. We thus settled in a fancy 4* hotel with our stinky clothes and dirty ride.
Our first day in Istanbul was probably very different from a usual tourist tour: we first started by visiting the nearest Decathlon mostly because Cédric urgently needed colder weather gear (the negative temperatures of eastern Turkey with shorts, sandals and light gloves had been hard!), a few bicycle things, and some goods that we had not been able to find for months (granola bars!). We then headed to a DIY store nearby to get "better-quality-than-Kyrgyz" bolts and screws as well as some epoxy glue to fix the light that our careless bus-driver had ruined the day before – our 4* hotel should not mind us mixing the epoxy compounds in the conference room where we had stored the bike! We finished the day by another visit to the French supermarket Carrefour to get a large bag of chocolatines. Cédric has been more often in a Carrefour between Tbilisi and Istanbul than in the last decade in Europe…
The second day was a little more standard with a tour of a few famous mosques, the grand-bazaar, then strolling through small streets, getting the traditional fish-sandwich under the Galatasaray bridge facing the golden horn, and finally walking around the Hagia Sofia and the blue mosque. We had little interest to queue or pay to get into any museum and other tourist attraction, so we spent the entire day just enjoying the city, walking around and getting food whenever something felt interesting! We had been slightly annoyed in the eastern part of Turkey that lots of restaurants had reduced (or "not available today") their menu to only Donner and Kebab, so we could finally enjoy some more varied Turkish and Mediterranean dishes.
We left on day three after a gargantuan breakfast at the hotel, direction Edirne – the last city before entering Greece – and a three-hour bus ride. The best way for cycling around Istanbul is simply to avoid it entirely, and because bridges over the Bosporus are again not made for pedestrians or cyclists, the only way is to take a ferry near the Dardanelles strait. For us being already in the European part of Istanbul, that was not really an option, so we would see most of the Turkish Thrace from the window of the bus. Before that we eventually had to struggle with yet-another not cooperative bus-driver: although confirmed by the company, again at the ticket counter, the bus driver just refused us to put our bicycle in the cargo. We hardly understood his reasoning, given that the cargo was far from being full, and he gets the random extra-charge requested directly in his wallet… after some discussions not going anywhere, Cedric just went in the cargo compartment, reorganized all the bags to free enough space for a whole cycling team, and put our bike inside. The driver threatened to cancel our tickets and throw the bike outside but us running down the clock (and having the bike already inside), he put himself in the situation to create some delays and so we finally got to leave.
Once in Edirne (and luckily without any damage to the bike), we were surprised to see so many tourists from Greece and Bulgaria. Edirne was the former Ottoman Empire capital, and has thus similar monuments as Istanbul, but just across the border for Bulgarians and Greeks. It is also a cheaper place to go shopping for them, so tens of buses unload their passengers for some quick-sightseeing followed by a shopping frenzy, mostly cheap plastic things, counterfeit products and lukums… We walked around the city and its multiple mosques or monuments, also enjoying the Aegean Sea warmer temperatures at the beginning of November. We finished our day with a huge plate of Tava Ciger (fried strips of liver), one of Edirne's most famous dishes.
The next morning, Cédric and I set off in the direction of the Greek border. The morning was cool and misty, an enjoyable contrast to the icy temperatures in Eastern Turkey. As we rode east, we noticed that area felt more European than other places in Turkey – some streets still had cobblestones, people were less conservative, a lot less gender separation, and generally everything was more relaxed. We were also aware that this area is where many South Asian and Middle Eastern migrants attempt to cross into Europe; in theory, it's a quick swim (or boat ride) away is you don't have the right passport. As we bussed across Turkey, we met a few Pakistani guys who told us that their goal was to reach Germany… While they were looking and talking to us like if we were half-gods – they had obviously never or rarely been directly with Europeans before reaching Istanbul, we were hesitant to tell them that the path would be more difficult now, with an increased police presence, infrared cameras, and border fences. For us, the border crossing was relatively uneventful – we waited for our stamps and joked with the Greek police. Greece was for us a big step forwards and we were feeling almost home by entering the EU (and Schengen area, the Eurozone, etc.!). In the first Greek village, we spent the last of our Turkish money in a small shop and then headed south.
Crossing a border is always surprising as it shows so quickly the differences between countries: Greece felt immediately cleaner, the buildings of a much better standard, but at the same time completely asleep – especially on a Sunday morning. While Turkey has multiple small shops in every town, Greek towns felt a lot less lively, with usually only a few supermarkets outside of larger towns. The demography is also clearly much older on the Greek side, and with the younger generations moving in larger cities, a lot of villages felt very lonely – although well maintained. Our entry into the Greek Thrace was yet enjoyable for cycling after the border, especially with large smooth roads with little traffic, often with broad shoulder, sometimes even with a service road. In the late afternoon, we found a camping spot deep in fields off the side of the road and enjoyed a night of near complete silence (there's always a few barking dogs somewhere).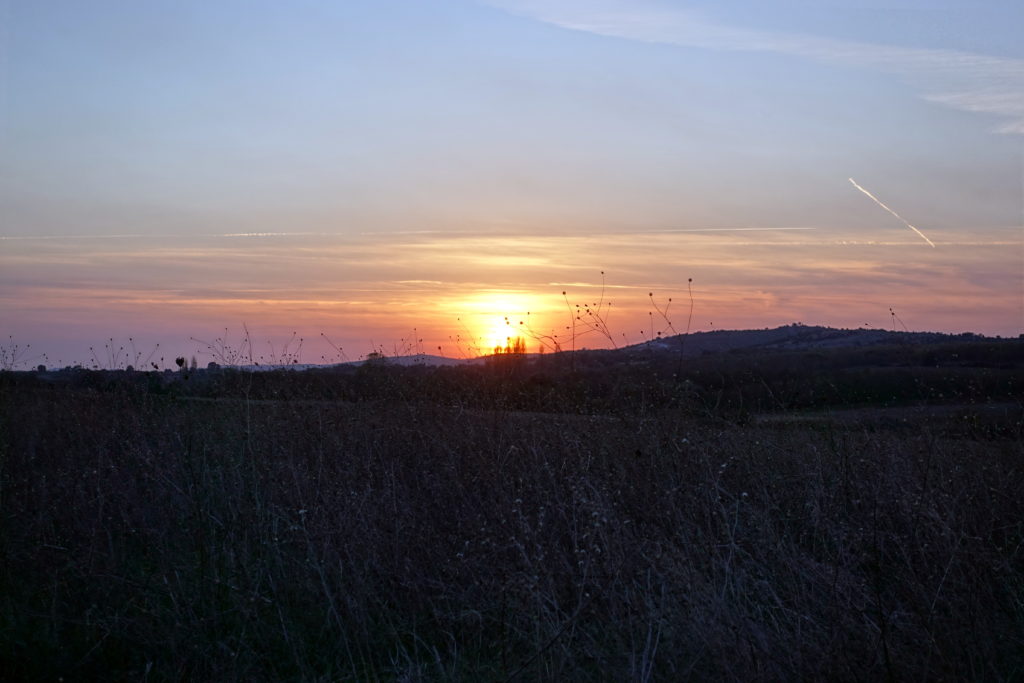 Once we awoke and packed our things, we hopped on the bike and headed for the coast. Although our plan was to spend just a few days in Greece before cycling through Bulgaria, we wanted to make the most of it by seeing the Mediterranean Sea (more precisely the Aegean Sea). In the morning, we followed quiet roads through empty cotton fields and olive groves. We arrived in Alexandroupolis and decided to treat ourselves to some Greek pastries on the side of the sidewalk- in the busy seaside town, I became aware of how out of place we must have looked since most residents were retired and wearing fancier clothes than bike shorts. After debating the route a bit, we decided to continue along the coast despite the uncertainty of paved roads. This turned out to be the best decision because the road became quieter and the views more impressive. We stopped for a picnic lunch on the construction grounds of an epic monastery that was being built – given the remoteness, we were wondering who was funding this project and why. As the day progressed, the olive groves became denser and the houses less, and we finally got an uninterrupted view of the sea. We continued following the shore on a rough dirt road – now only drivable for AWD – that felt as though it was a few millennia old (it was). As it approached the late afternoon, and having passed too many areas that looked ideal for camping, we found a nice spot between a few olive trees and overlooking the sea. This time, we didn't run into anyone while setting up our tent, but we did hear farmers harvesting olives off in the distance. We noticed some alignments of stones that looked a little strange – there are no straight lines or sharp corners in nature – we realized the following day that we had spent the night in an archeological site! Ups!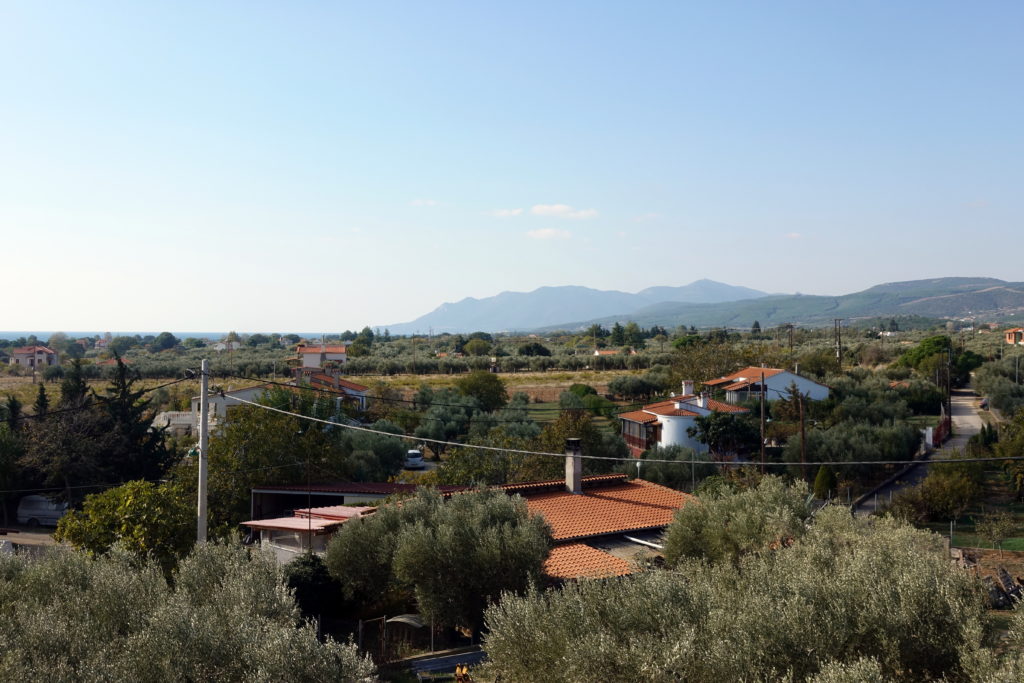 One more day heading west:

The next morning, we woke up to sun and good weather, which was ideal for continuing down this old dirt track. It didn't take long before we were constantly stopping and snapping pictures. The morning light caught the shrubby, rocky hills in a mesmerizing way. About a mile down the road, we came upon our first sign that we were riding through an archeological site – there were signs hinting to the ancient town of Ismara and its walls (now barely noticeable) and the role it played in Odysseus' travels. We rode further and came across the Maroneia amphitheater (though locked) and Dionysus' temple. By the time we reached the main roads again, the clouds crept across the sun and we were back to grey skies while cycling. We had a quick stop in the town of Ismero and were invited to Greek coffee with a guy who spoke a bit of German (which turned out to be the lingua franca for the next few weeks). Since we had our eyes set on finding a room for the night, Cédric and I cycled like mad to a village way off in the distance. Our afternoon was riding through fields of brown, overturned dirt and a few coastal villages. Finally, well into the afternoon, we stopped at a restaurant to devour some seafood risotto and mussels before pushing out another 37 kilometers before nightfall. Just as it was getting dark, we found our little hotel in Kremasti, a Turkish minority town, and called it a night. Although completely deserted at this time of the year, with virtually no tourist at all, hotels remain outrageously expensive in this area of Greece in the winter. Not sure what the business model is – apart ripping off the only person that may come during the month – but given the proximity with much cheaper countries, it clearly does not stimulate the low-season tourism. The difference between Edirne and Alexandroupolis – only 1:30h drive away – is shocking. The hotel in Kremasti was the only one offering reasonable rates, and the only one having customers in the region!
After our night in Kremasti, surprised to wake up by the call for prayer of the local mosque (how we realized that this region is the only one in Greece with a recognized ethnic minority), Cédric and I loaded up the bike and started cycling towards Kavala. Unlike the day before, we spent most of the morning cycling along the road because the landscapes didn't provide too many things to marvel at. It is still amazing that there is an archeological site every few kilometers in Greece, but apart for Hellenist experts, a lot of those places are not quite breathtaking (there aren't many columns and statues!). We found the area near Kavala to be quite industrial and full of marble processors, so just cruised through. Around noon, we entered the city along the coast and cycled through the aqueduct to the downtown. We stopped for a hearty Greek lunch (moussaka) and frappé and then used all of those extra calories to cycle over the massive hill to get closer to the Greek/Bulgarian border. About an hour later, we stopped for a quick break in Krinides and tried to get peaks at the UNESCO Filippi Archaeological Site despite the closed gates. Our night ended in a small apartment tucked away on the hillside.