With our day off in Kazarman, Cédric and I were happy hang out in the shade at our clean guesthouse and catch up on some sleep. At one point, Cédric ventured out in search of 'worst case scenario' screws at the local bazaar, incase our trailer didn't manage with the zip-ties, cord and prayers. In Kyrgyzstan (and most parts of Central Asia), finding the correct, high quality bike part is almost impossible. Instead, cyclists must make do with whatever cheaply-produced piece they can find at the local market, which means that nothing is as durable as one would hope. During our ride along Issyk-Kul, we met a cyclist who cracked his 'new' rim from Dushambe after 500 km. While out wandering around Kazarman, we also noticed how vodka played a strong role in the local community – some supermarkets had complete rooms dedicated to vodka and there were a few men stumbling around the streets looking like zombies. Kazarman is already a bit of a desolate town, drunk guys stumbling in the middle of the main road in the afternoon make it kind of feel (slightly) like you could be in Michael Jackson's Thriller!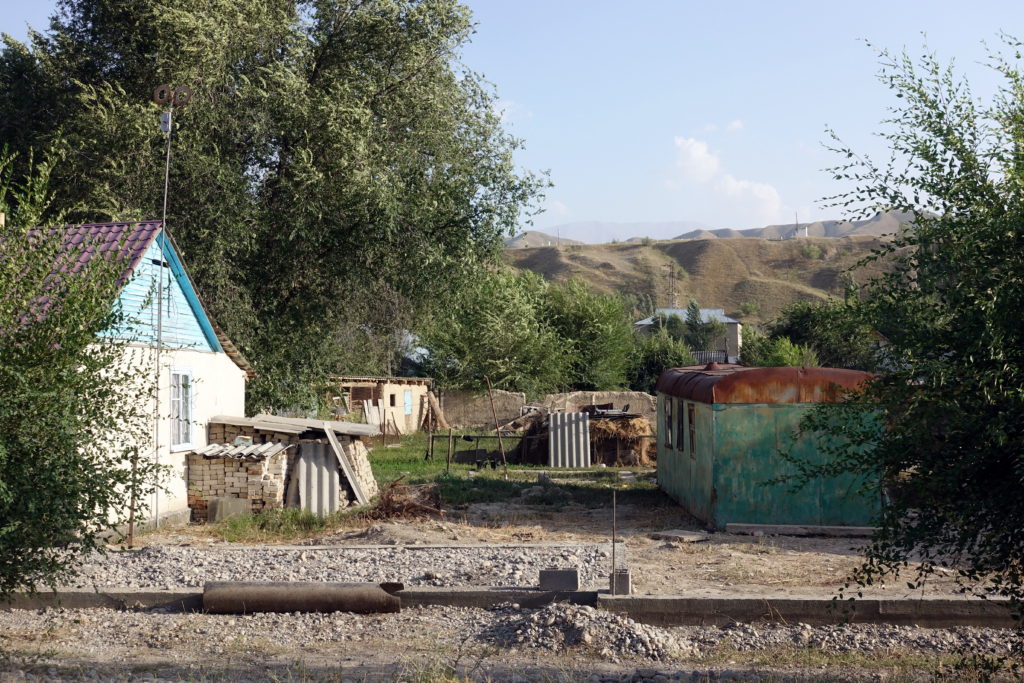 After another night's rest at our guesthouse, Cédric and I set off for the mountains. Just as we were making our way out of the city that Sunday morning (and warding off two dogs with a handful of rocks), we heard a loud engine revving behind us. Slightly confused by the sight unfolding a few hundred meters behind us, we watched a way-too-many-decades-old Lada (a soviet/Russian brand of car) reach a top speed, attempt to make a sharp turn, then doors flying open as it crashed into a 3m ditch. Stunned, we watched a man stagger out and realized that there had been a drunk driver at the wheel – this was our sign to get the hell out of town before anything else happened. Just as we were making our way up the first hill out of the city, the weather quickly deteriorated, and we were caught in a shower. Continuing, we slowly rolled through Kekerim and attracted the attention of nearly every dog in the village, so Cédric was happy to continue practicing his stone throwing (with a much better result: 2 hits! Local dogs are much bigger though!). As the day went on, storms and showers rolled over us and we were happy to find a spot to camp near a river. Here, as we were warned by passing cyclists, there would be a lot of curious children to watch us set up our camp for the night. Just as we made our way down to the river, the kids from the nearby yurts made a human roadblock and showed us the way to the designated camping spot for cyclists and kindly filled up our water containers at the nearest source.
The next morning, after entertaining some kids while we packed up, Cédric and I set off for the Kaldaman Pass, just 20km away but 1000m higher. Throughout the morning, we took breaks to see the mountainous landscape evolve around us. Unlike the day before, when all the mountains were shrouded in rain clouds, we could see far into the valleys and where we cycled from. Around 1pm, after a final push to the top, we were able to make a slow descent down into the Fergana valley. Once again, the landscape changed drastically, with the hills becoming dry and autumnal, and the first forests in weeks. We found a campsite next to a river and were greeted by a local man who kindly showed up where to find a hidden water spring. He also offered (via gesture) to have us camp next to his house, but we couldn't be bothered to drag our bike uphill.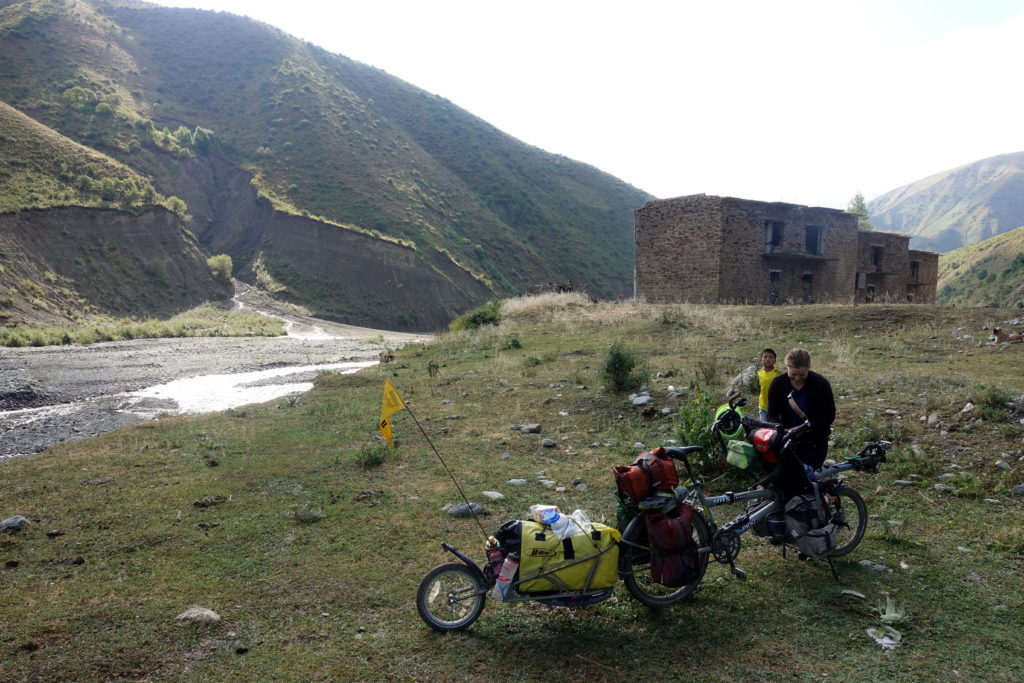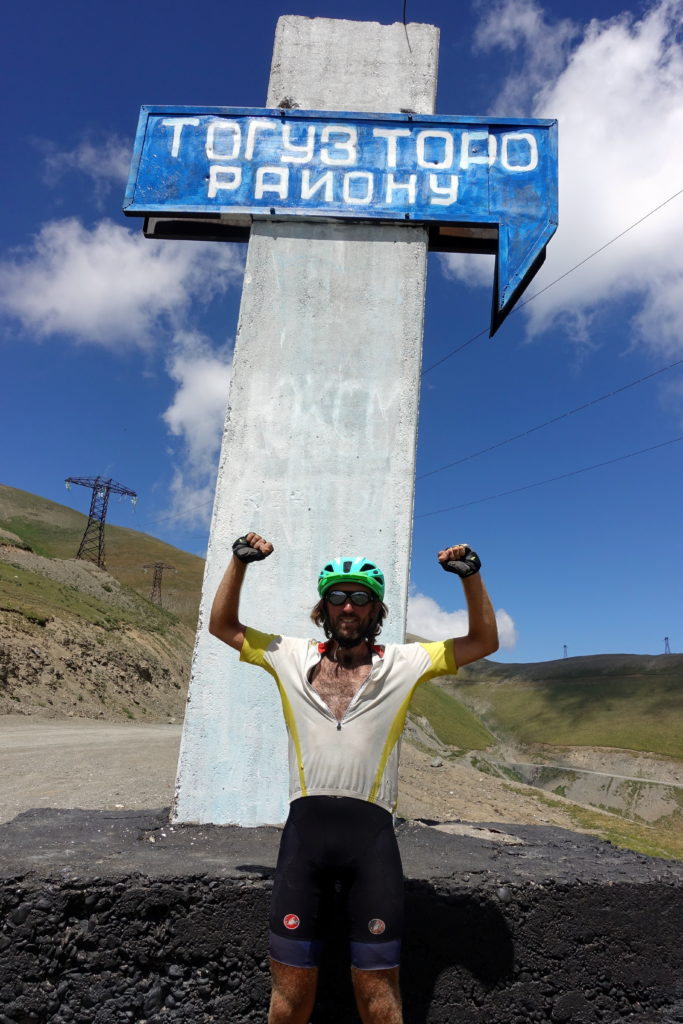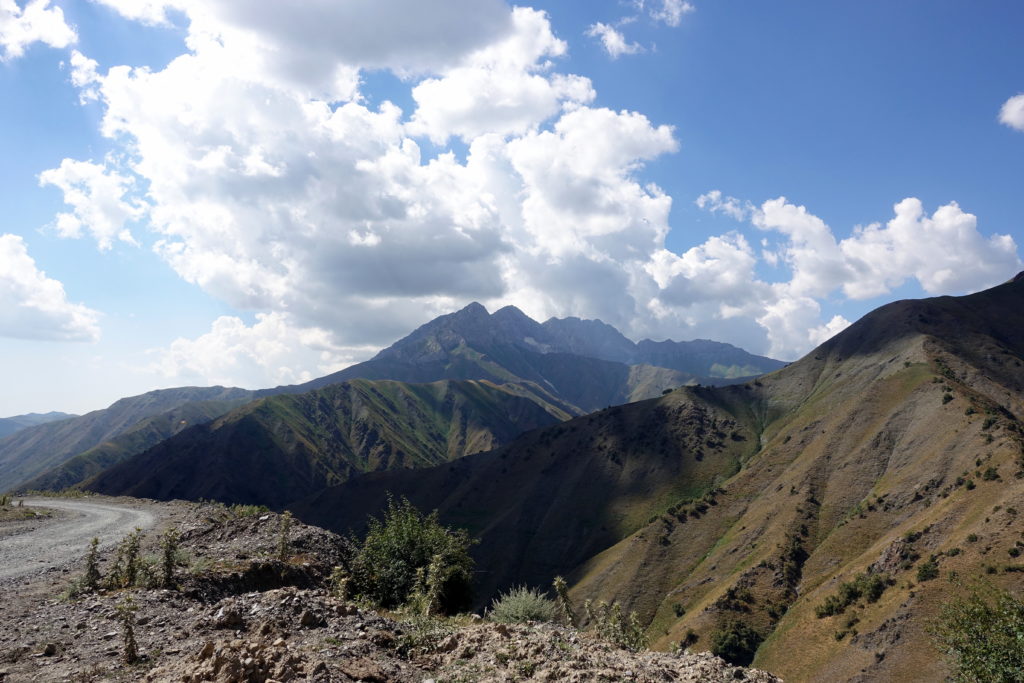 Encouraged by tales of smooth pavement down the road, Cédric and I set off on the last few kilometers of this rough track. Although dirt tracks never bothered us before, this 400km stretch brought us to our limits. For Cédric, it reminded him of his few weeks riding through sand and loose gravel in Zimbabwe (with a lot more elevation, but a better climate though, and approximately the same pace), where he could only inch along the road, happy to cover 40km in a day. For me, I was constantly annoyed by the sheer speed of the drivers going down these roads (which in turn, deteriorates the road even more) and their eagerness to wave, honk, and give a thumb's up whenever they passed. Every time a car went by, it would kick up a huge cloud of dust for us to inhale while the people inside the car didn't think too much about us besides having a picture of us on their phone. Both locals and tourists alike were guilty of this, although tourists would more often understand my gestures for 'slowww downnn!' A few kilometers from asphalt, a front spoke broke in the nipple and we were unable to repair it because we of course didn't pack spoke nipples with us. Luckily, we ride on large sturdy rims and the front wheel could go on with one less spoke. Once we hit asphalt in the afternoon, Cédric and I glided into Jalal-Abad and found a guesthouse for the night. In the evening, we wandered around the local bazaar looking for spare spoke parts – this required using google translate, pictures, and asking multiple people where we could buy a bike wheel (a gross approximation, but it worked out in the end).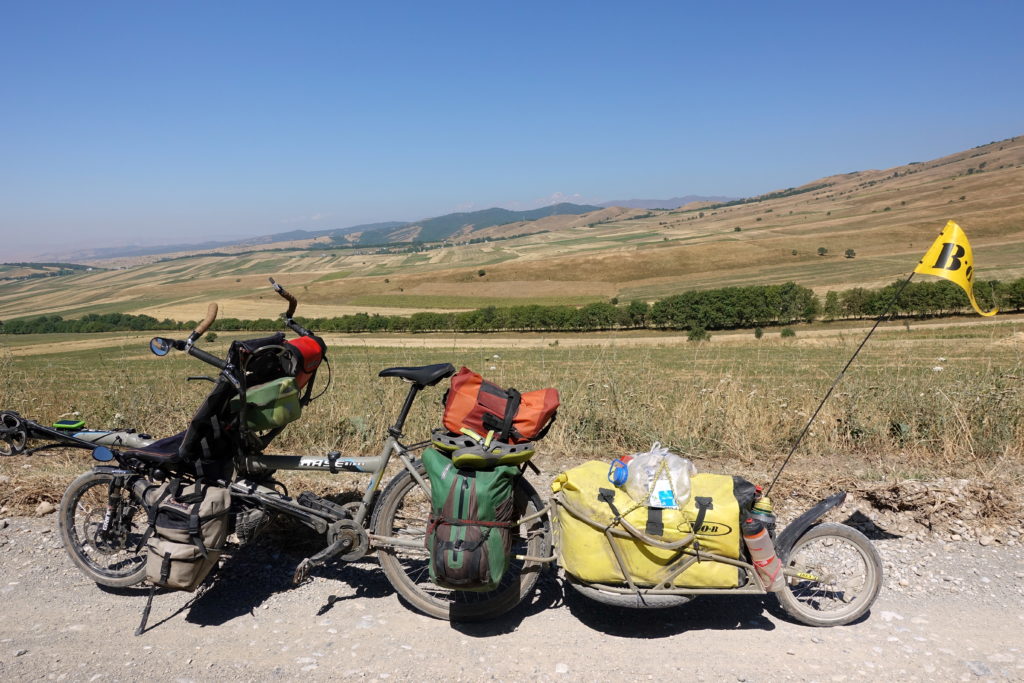 The next morning, Cédric and I decided to forgo all sensible reason and cycle the 100 kilometers to Osh, Kyrgyzstan's second largest city. Now that we were in the Fergama Valley, all lush greenery had turned into dry, amber-colored grass and didn't seem very inviting for a night camping. With the altitude now 2000m lower, the temperatures are also a lot higher. We made our way along the busy two-lane highway, using our mirrors often because of erratic Kyrgyz driving. I liken it to those YouTube videos of Russian dashboard cameras, where you watch and think, 'No… they're not going to do that, they're not going to do that, OMG they just did it!' The road (highway) was sporadically painted with white lines, which seemed like were more of a suggestion than rule. Every chance they got, Kyrgyz drivers would pass the slower car and the road would sometimes turn into three lanes instead of two. With the mirror, the noisy engines and a large unpaved shoulder, we could manage the 6h ride, but happy to know that the road to Tajikistan and in the Pamirs is a lot quieter. Late in the day, exhausted, we cycled into Osh and found some respite at our guesthouse.