As we both rolled into Chiang Mai, we had a few things in mind before we got on our flight to Almaty in a week's time. First on our list was to continue servicing the Hase Pino (we had ordered some parts in Bangkok and some small issues with breaks bleeding) and prime it for everything Central Asia has to throw at it (and a week into our Central Asian journey, it's been a rough ride). After cooling off at our hotel, we cycled to ''Triple Cat Cycle'' (basically the only bike touring shop in northern Thailand) to have a list of things done to the bike: new bottom bracket, hydraulic brake repairs, new tires, and multiple spare parts. We left the bike with Nu and walked back to the center of Chiang Mai before an evening shower started.
The next day, Cédric and I set off to visit the historic downtown and the myriad of temples scattered throughout the city. Each temple had something unique to offer – Wat Jedlin had a bamboo bridge over a lily-filled pond and Wat Chedi Luang had 15th century architecture. Not ones to miss out on the cultural aspect of our trip, we also visited the Lanna Folklife Museum to understand the local way of life some centuries ago. We felt reconnected to the western countries in Chiang Mai, as we could clearly meet tourists travelling during their summer holidays, for the first time since January during the high season in the southern hemisphere. We rounded out our day visiting the large markets east of the city. For us, we could only window shop – no additional weight was allowed on a tandem that needed to reach an altitude of over 4000m!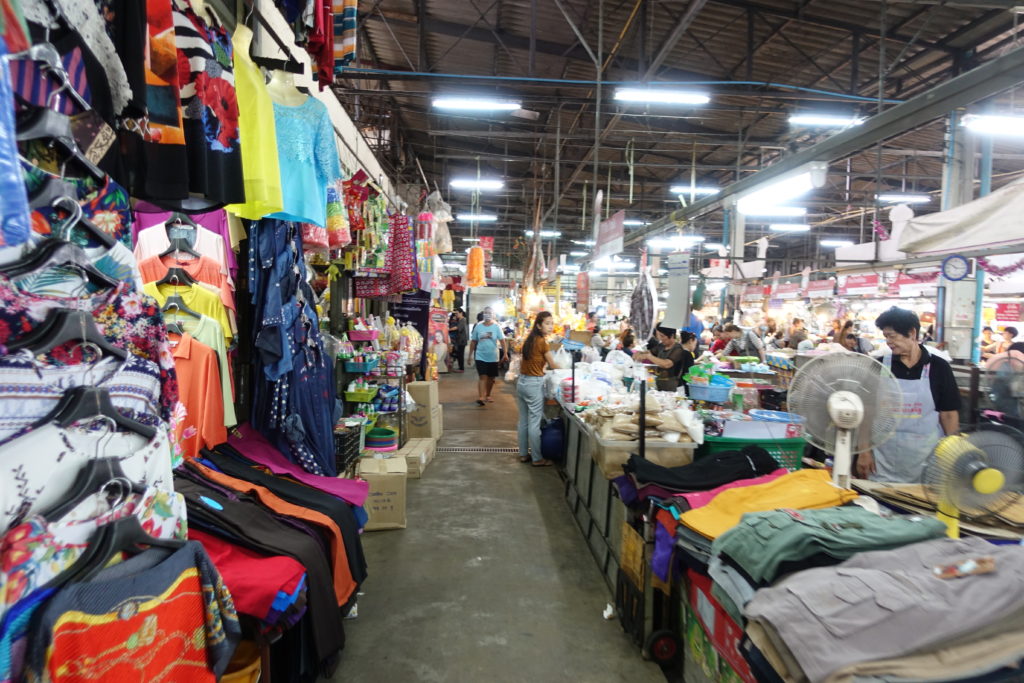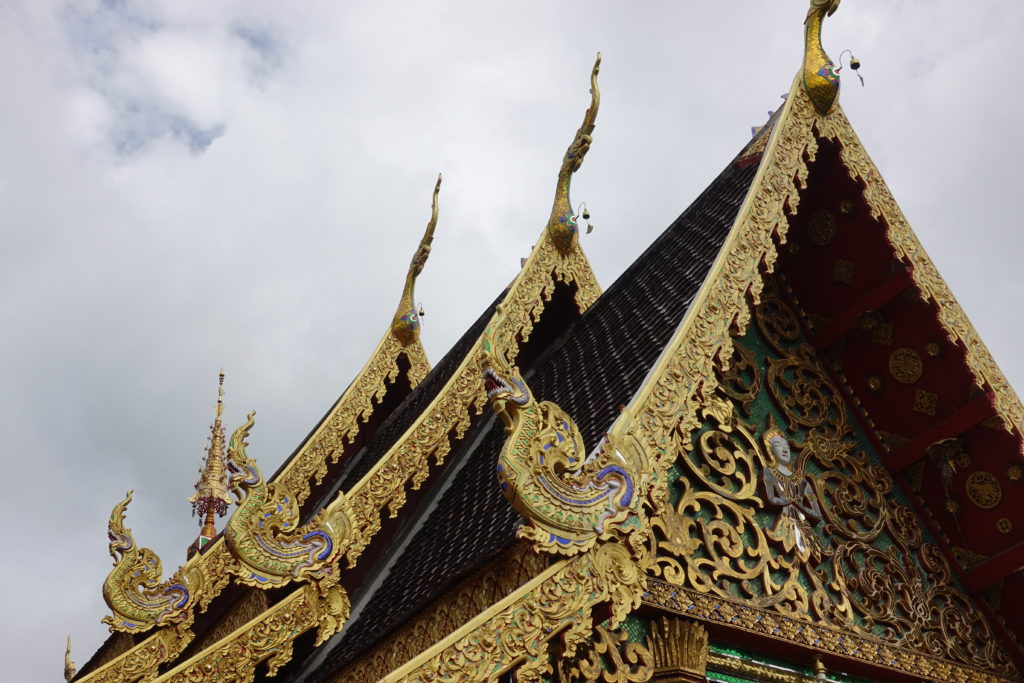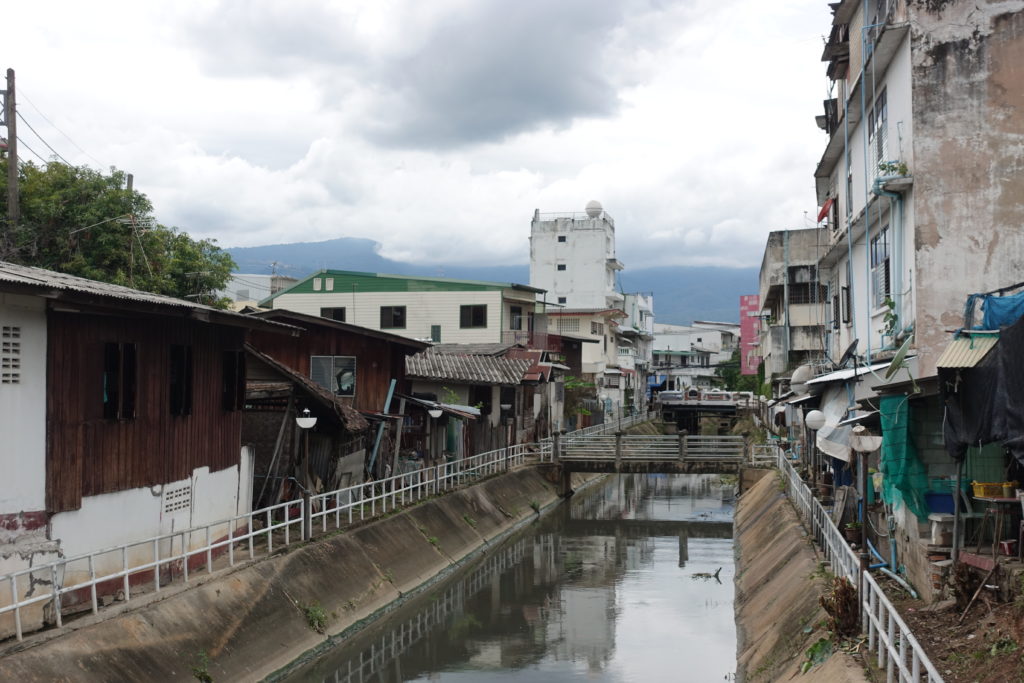 Back at the hostel, still continuous rain – so instead of visiting a temple overlooking the city, Cassie dragged Cedric in a Thai-massage salon. Part of the reason was that it was a comment made several weeks before, when Chiang Mai was thousands of kilometers away, when I said ''sure we'll get a massage when we'll make it to Chiang Mai. Well, a bike can cover any distance fairly quickly! The choice of Chiang Mai is that there are a lot of good clean certified places there, not the backyard of a highway garage like in many smaller towns, or some special ''treatments'' with little clothing involved in Bangkok (Chiang Mai being more the cultural town of Thailand's tourism). So, apparently the main goal of the game is to get lots of cracking, from the toes to neck through every single moving bone… Cassie is probably a more adequate size for a local Thai masseuse and got to enjoy having all articulation being cracked. I honestly felt more like someone was desperately trying to climb on me to achieve the goal! You get some knees in your backbone, the hand pulling your shoulder, the other hand trying to twist you and if not the forearm you get a tibia compressing your leg muscles – and after some sort of torture-ritual that turns into meat softening, the masseur is relieved to hear a mini crack of your back… okay, I am not particularly flexible, about a head taller, a few inches wider than the masseur, and after 7 months on the road all bones are fully straightened by muscle training, which probably did not help! Let's say that 2h for 15 dollars, including tea, cookies, and an almost-nap (it's hard to not fall asleep on the mattress during the 10 minutes stage of toes cracking) is not much worse of a deal than watching yet-another-boring-Hollywood-movie. The result, well I was fine before, still fine after, nothing sore, nothing cracked too much, so I guess that'd be called an experience, not necessarily to be renewed.
Another day and another (few) rain showers later, Cédric and I visited more of the Chiang Mai cultural museums and decided on a plan for the upcoming days: we would rent a car to do the Mae Hong Son loop. This 600-kilometer loop is known by cyclists for its never-ending extremely steep hill climbs and sharp curves. The ones who set out of conquer this route plan to carry as little luggage as possible and shorter distances per day, usually still in over 10 days – often more 20 days! Because Cédric and I were short on time and the rain showers were becoming more frequent, the traverse would be made with four wheels instead of three. Whereas we had not been too affected by the monsoon in the previous 5 weeks, the arrival into the mountains was a different story: clouds coming from the Indian ocean get stuck in these foothills of the Himalaya and only disappear when all humidity has fallen to the ground. During our last two weeks, you probably heard in the news around the world the story of the Thai soccer team stuck in a cave, but also the dam collapsing in Laos or large landslides in Myanmar.
We set our early the next morning in the direction of Pai. Once we turned off highway 107, the hills began to take over our view. Utilizing the car's full throttle potential, we went up steep sideroads and made several detours, something we don't normally consider on the bike. The first stop was a waterfall and short jungle trek in the Doi Suthep National Park. Next, we followed the undulating, stray dog filled road to a hot spring and geyser. After seeing the technicolor hot springs in New Zealand, these were a little underwhelming, but the National Park had the idea to attract more tourists by making almost resort-like pools. Since the day was warm but drizzling, we ventured in to the pool and enjoyed the scenery. The 40c sulfur water is still more enjoyable on a snowy day in winter in Austria than when we are already sweating in Thailand. Next, after more hills and curves and Cassie verging on getting sick, we drove up to a 'lookout' high up in the mountains. However, rain requires clouds and this lookout was not much more than wind and fog. Every now and then, we could make out a valley off in the distance. The day ended in Pai, where Cédric and I had very northern Thai cuisine: animal offal and tendons (Cassie thought at first that ''we should take that, it's probably a typo''! The bowl of chicken tendons is not too bad though), all paired with sticky rice (amazingly in that region, they no longer had regular rice!).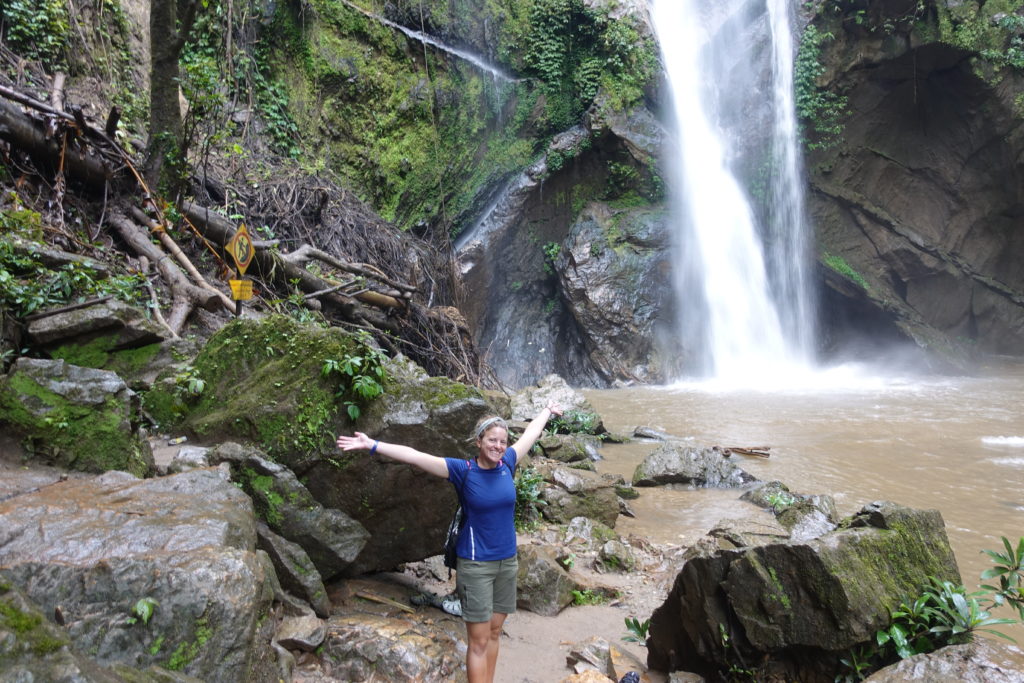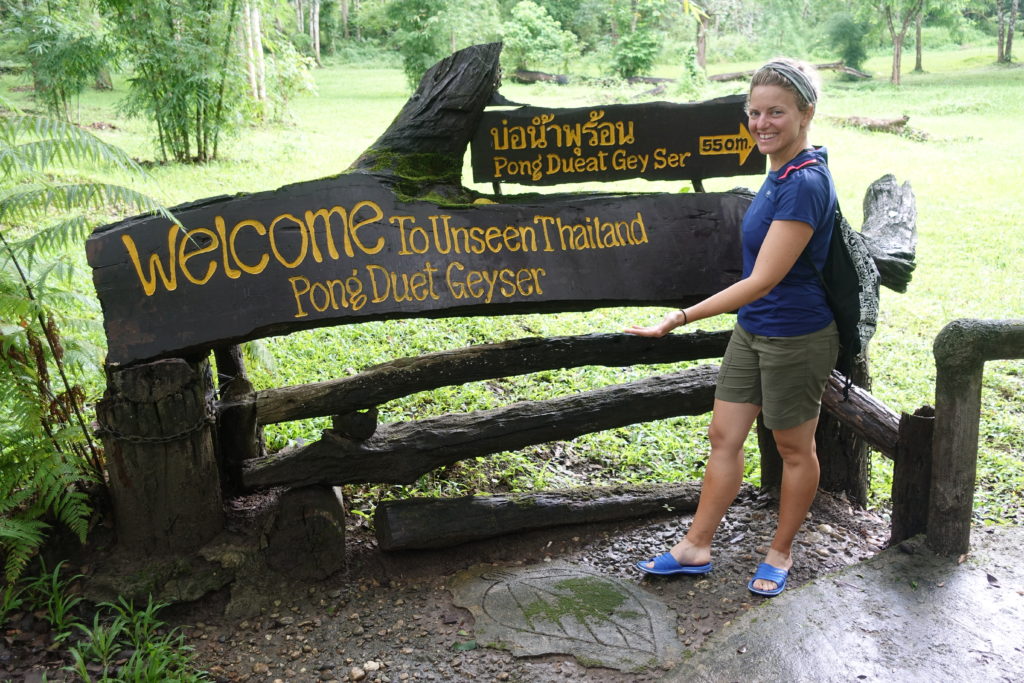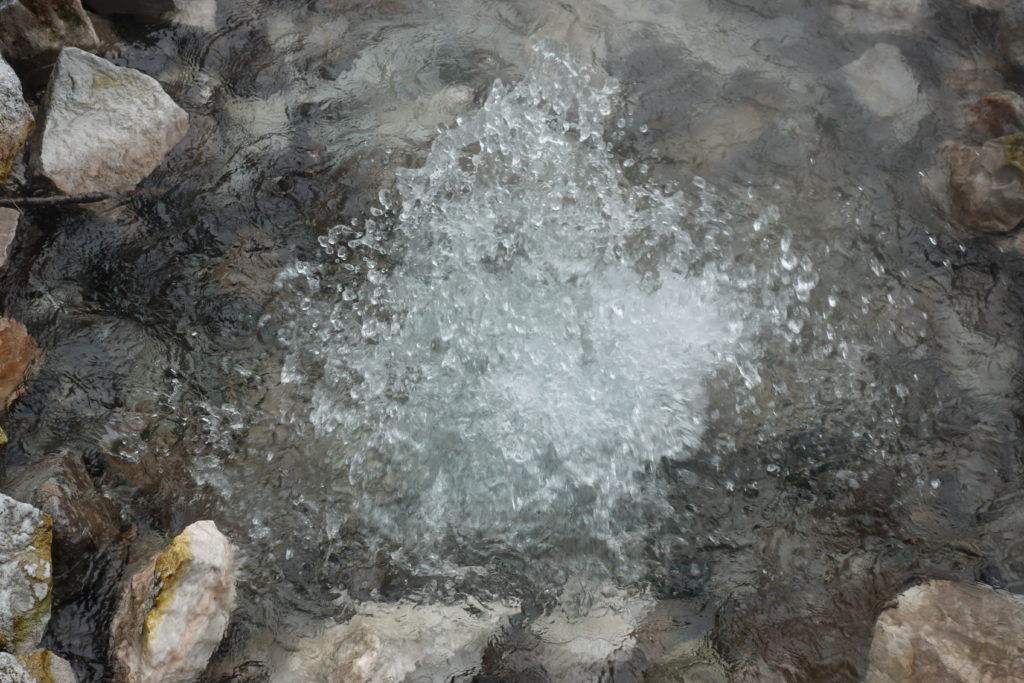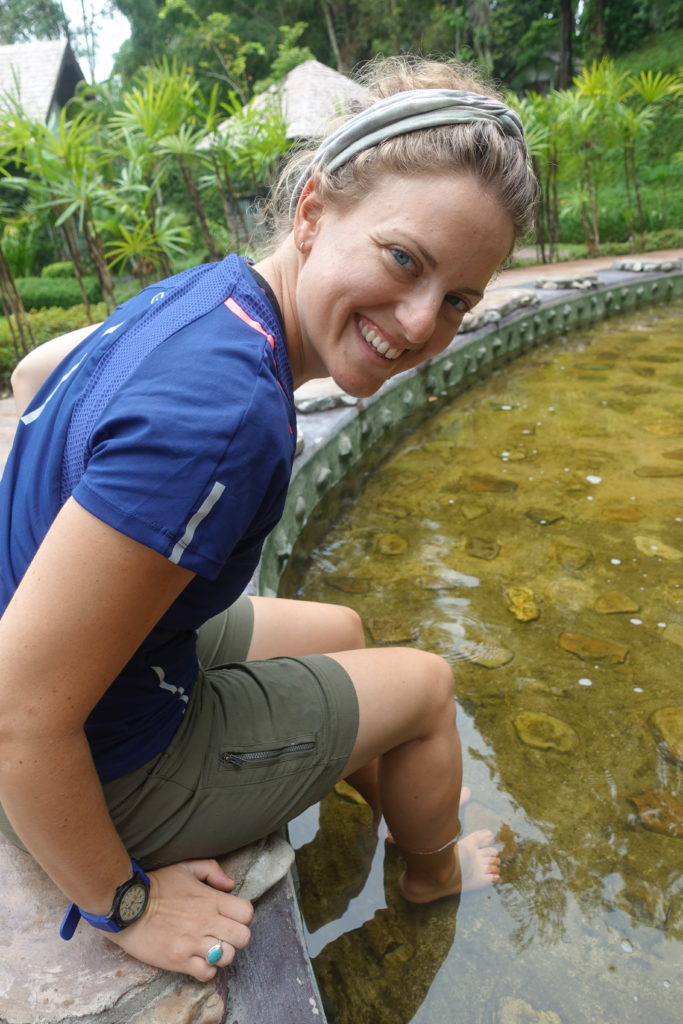 The next day was full of driving, and we didn't take any detours until we reached Mae Hong Son. Along the way, there were several opportunities to explore some local caves, but considering recent events in northern Thailand, Cédric and I wanted to make sure we could still catch our flight out of Chiang Mai. The police were anyway over-cautious and to avoid having to deal again with half of the world news organization, reporting not much day after day about caves in Thailand, they had simply closed all of them. In Mae Hong Son, we explored several temples around the town. In the afternoon, we continued driving up and down the mountain roads until we reached Mae Chaem in the evening. Our tour went on the next day to the Inthtanon summit, which again was rather unspectacular given the amount of mist and parking lot on the summit, but it is still officially the highest summit in Thailand, and thus worth having a big temple on top. We continued on later that day back to the plains and were surprised to feel both heat and sun again.  Before turning in the car, we drove up to Doi Suthep Temple and managed to overlook the Chiang Mai valley between heavy rain showers. Once in Chiang Mai, Cédric and I started preparing for the upcoming journey to Kazakhstan.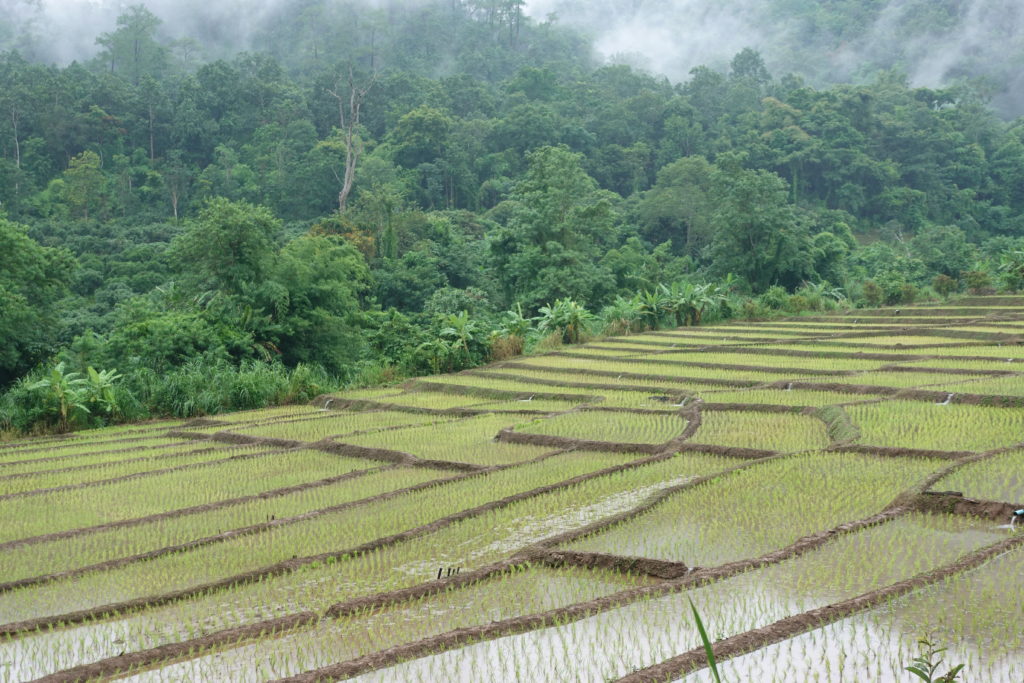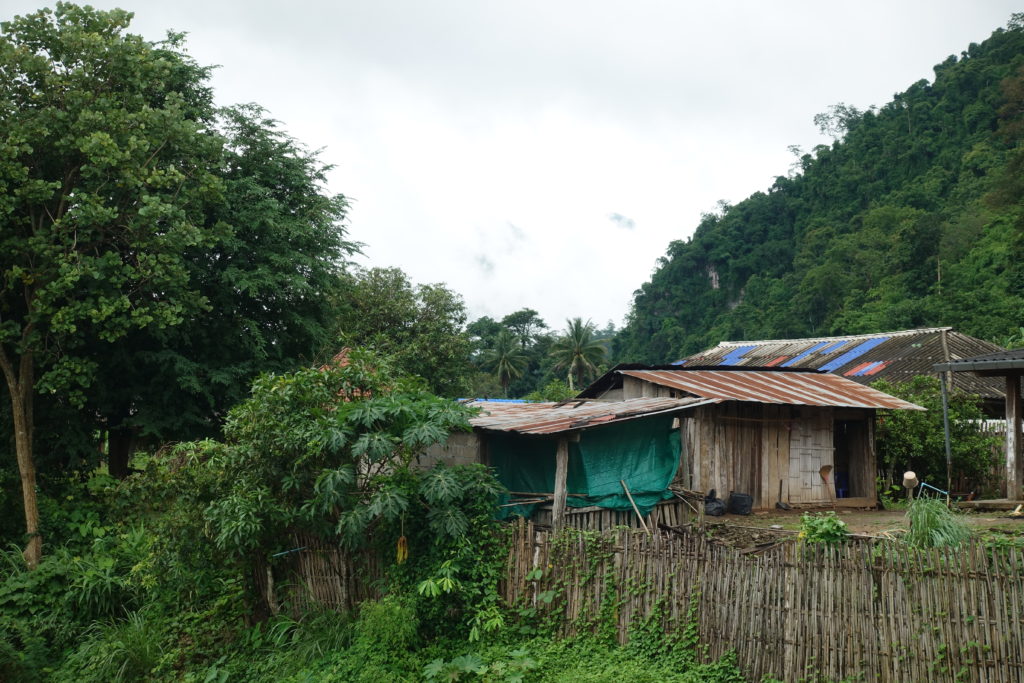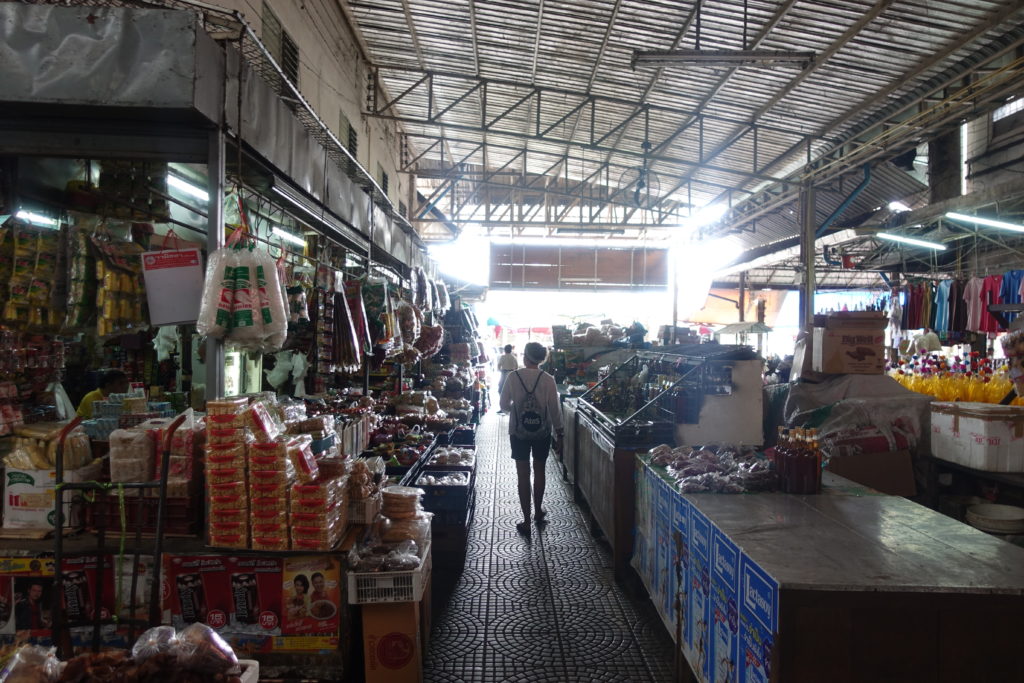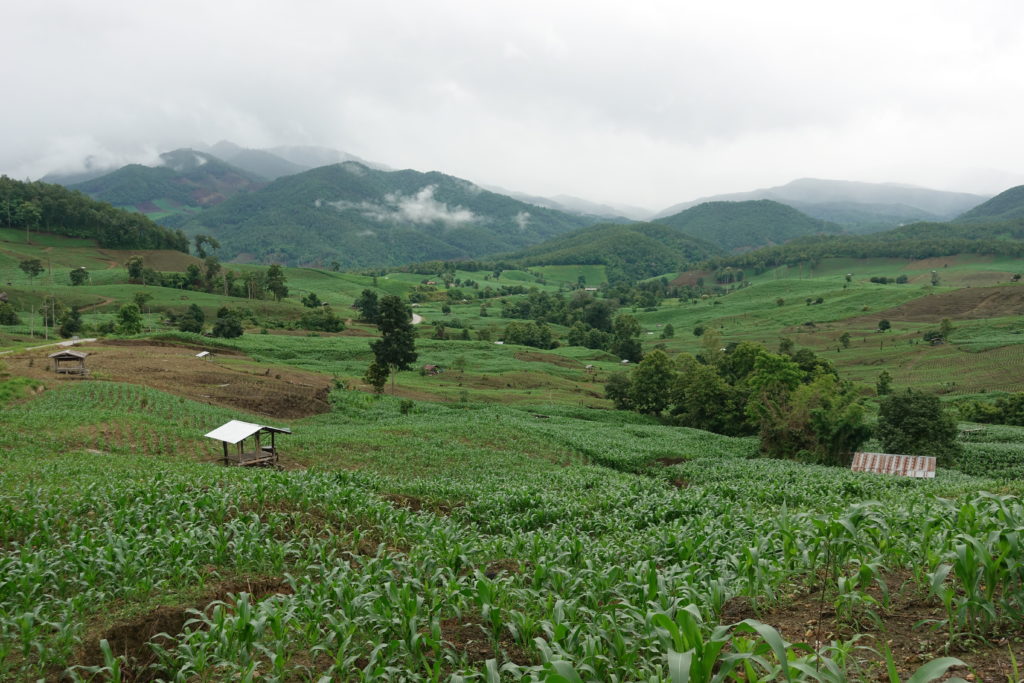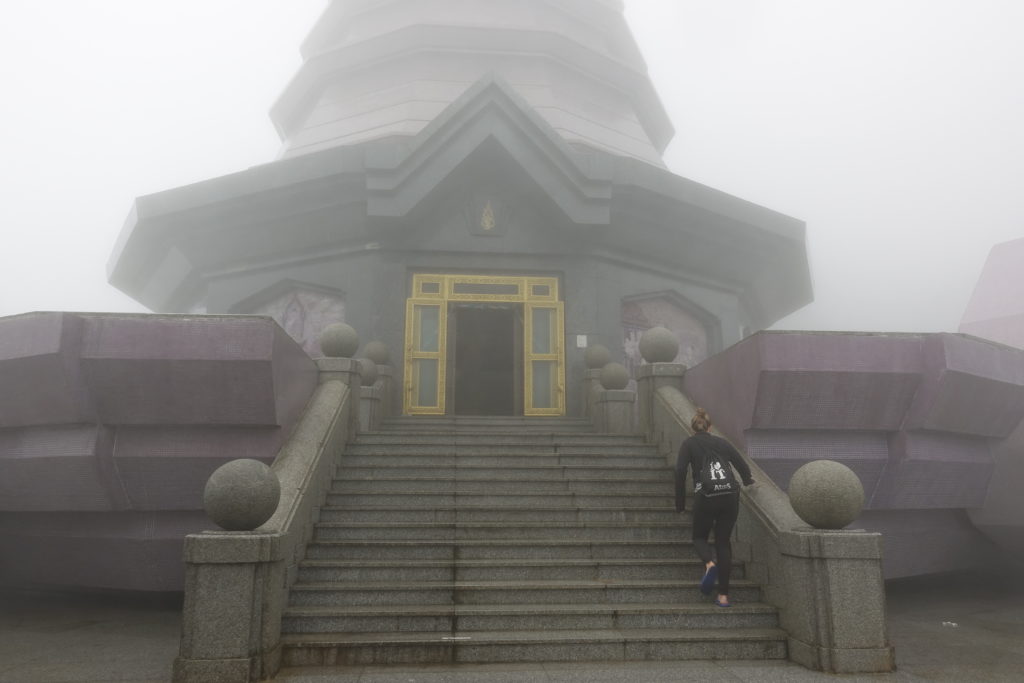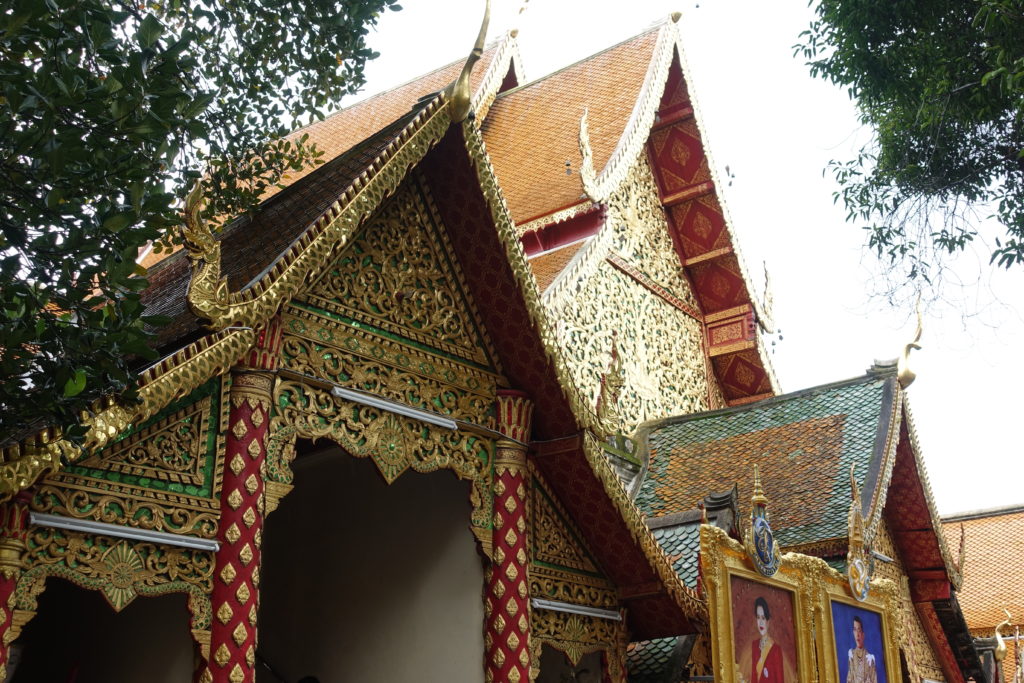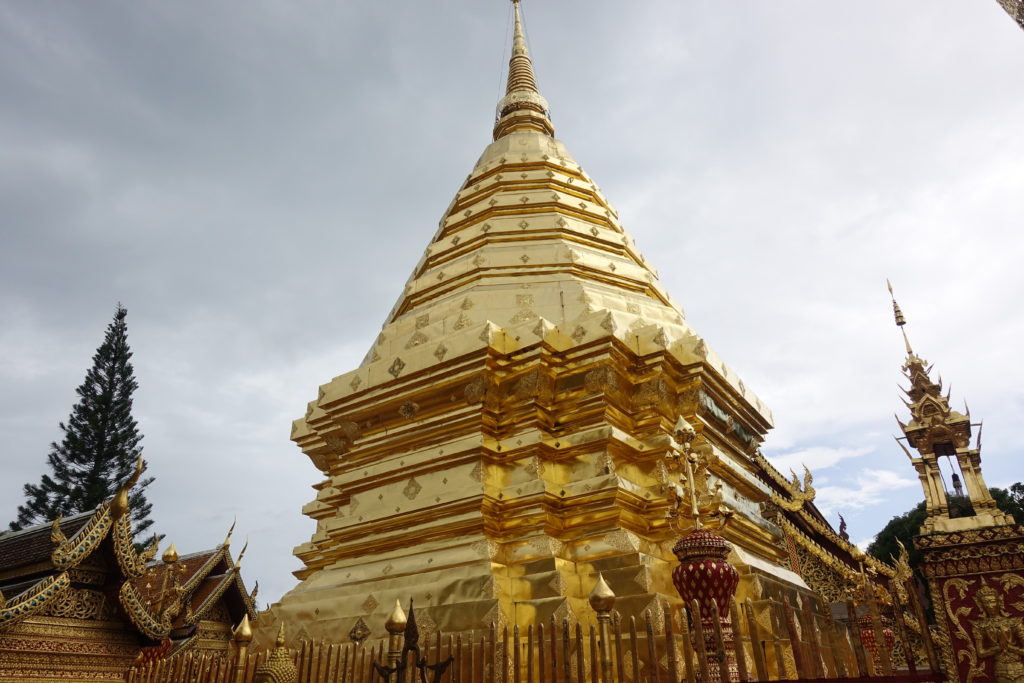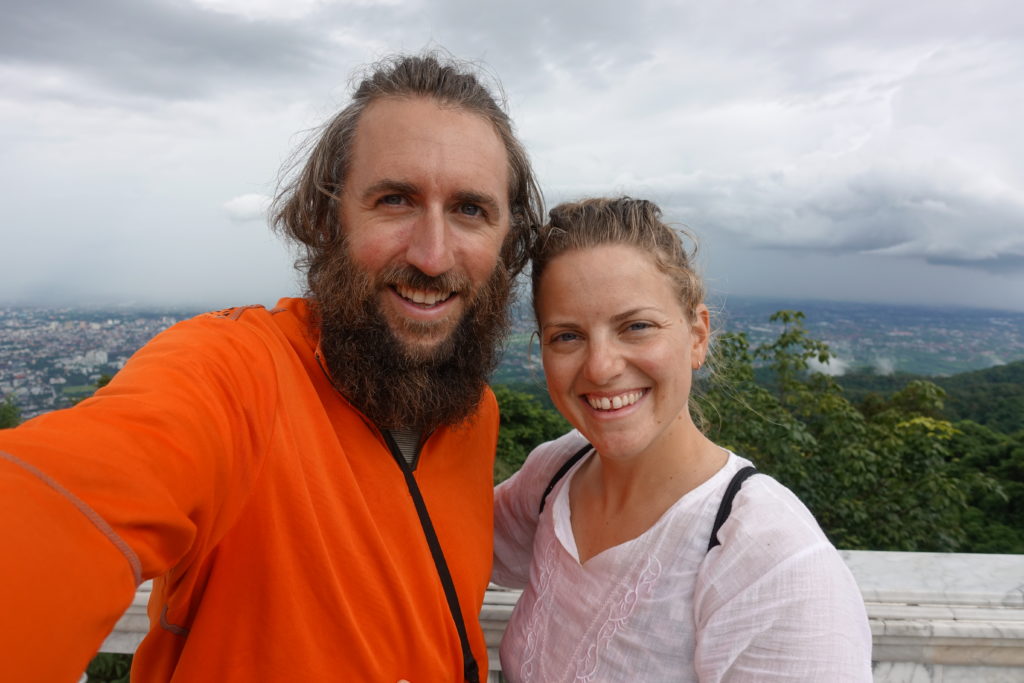 Over the next two days, we retrieved our bicycle, got packing supplies, boxed everything, and ate our last Thai meals. It was more about resting and doing not much than trying to see yet another Buddha-temple (we got slightly Buddhad-up). With three large pieces of luggage, our tuk-tuk trip to the airport was interesting: the bike box was strapped on the roof of the tuk-tuk, and the other pieces stacked on top of each other, between our legs and the driver. He could barely use his rear-view mirror, although this was not very necessary at 430am. With only a few small negotiations about the bike at the check-in counter in Chiang Mai, Cédric and I were off to Almaty, Kazakhstan. Both Bangkok Airways and Air Astana are remarkably great airlines with excellent service (which is becoming rare), but ever since we had bought the tickets we had to explain both airlines that they indeed had a codeshare agreement with the other one…
Guess what we watched during the flight to Kazakhstan? Some cold-war soviet espionage movies!