We have had a few thoughts about cycling calculations while riding our bicycle. And it seems that Colby have had similar ideas recently (comment previous post), so I guess it's time to open an official discussion in a "formal" post.
This post may be a bit of everything, but I will try to keep it clear and logic.
The main background question, from an engineering viewpoint (not about traveling, meeting people, philosophy, etc.) is "Does it make sense to ride a bicycle?"
Different approaches:
I. Energy cost comparison
As written in a previous post about food, we spend a lot of calories during the day, and thus have a much higher intake of food. We are not using any precise equipment to give a good value, but our GPS routing device gives a value of about 3000 additional kCal spent per day each. Size matters, and I probably spend more than Cassie, but let's keep it simple: 5000kCal/day for one person. The best way to estimate the calories would be to wear a heart-belt monitor – but it's not particularly comfortable, and in addition to be something extra to carry around, we don't really care about our weight and the exact heart rate value…
A regular person not exercising would normally have food intakes of about 2000kCal. That means +3000kCal x 2 people = additional 6000kCal daily
We bike about 80km/day when the road is fairly flat (less than 500mD+/day), slightly less on hillier days (although we have done up to 100km and 1200mD+ some days, and 30km with 150mD+ on others…).
1km therefore requires with two riders: 6000kCal / 80km = 75 kCal/km
 a. Calculation based on our expenses
We did not detail the cost of food in our expenses. It is currently about 300Bahts/day (about 10US$ or 8€ for two people in Thailand including snacks, multiple coffee breaks (with sugar and milk so it must be considered!) and 3 meals (always eating out 😊). Malaysia was probably slightly more expensive (15$ – 12€ / day), Australia and NZ probably around 30US$/day (NZ slightly more, Australia slightly less, almost never eating out – pasta are cheap though).
We get:
NZ & Aus: 30$ / 10.000kCal * 75 kCal/km = 0,225$ per km (additional cost of cycling food: 18$/day)
Malaysia: 15$ / 10.000kCal * 75 kCal/km = 0,1125$ per km (additional cost of cycling food: 9$/day)
Thailand: 10$ / 10.000kCal * 75 kCal/km = 0,075$ per km (additional cost of cycling food: 6$/day)
b. Calculation based on fast-food chain
We could take a more standardized food price, through the BigMac-Index (published by 'The Economist') – although there is a small bias given that McDonald's is a bit of the crappiest place to eat in rich countries, and often a luxury eatery in poorer countries. That nevertheless gives a price for its 257kCal. For information, we would need to eat 39 BigMac to cover our calories (or about 1 BigMac every 2km!), ridiculous (or Bob's dream if he's still reading)!
              NZ: 4,51$ -> about 175,5$/day -> about 2,2$/km
              Australia: 4,71$ -> about 183,3$/day -> 2,3$/km
              Malaysia: 2,28$ (they have a strong competition from KFC…) -> about 88,7$/day -> 1,1$/km
              Thailand: 3,72$ -> about 144,7$/day -> 1,8$/km
c. Calculation based on John-john-the-trader
Some alternatives could also be to buy some raw food products on commodities markets. Apart from being easier to calculate our budget globally without having to worry about the borders, that would possibly slightly become a boring culinary travel.
Nevertheless:
Raw sugar: 0,27$/kg -> 0,27$/3870kCal -> 0,70$/day -> 0,008$/km (yey, we can probably reach the moon on that budget!)
Palm oil: 582,25$/ton -> 0,582$/kg -> 0,582$/8840kCal -> 0,008$/km (surprisingly the same as sugar – but I guess we would ride faster carrying 1,13kg of palm oil everyday vs. 2,58kg of sugar…)
Bananas: 1,15$/kg -> 12,8$/day -> 0,16$/km (note that I'm not sure if we are supposed to eat the peel)
Shrimp: 12,9$/kg -> 129,6$/day -> 1,62$/km (we are not that far from McDonald's anymore!)
d. Comparison with other means of transportation
       – scooter: from our few rentals we had a consumption of about 1,5l/100km (two people riding)
– car: based on our Australian Hyundai: 6,5l/100km
Scooter

Car

NZ (1,60$/l)

2,40$/100km

0,024$/km

1,92$/day

10,4$/100km

0,104$/km

8,32$/day

Australia (1,1$/l)

1,65

0,0165

1,32

7,15

0,0715

5,72

Malaysia (0,55$/l)

0,825

0,00825

0,66

3,575

0,0358

2,86

Thailand (1,02$/l)

1,53

0,0153

1,224

6,63

0,0663

5,304
Conclusion: Well, McDonald's is definitely not a good idea, eating only shrimps either. Riding a scooter would be a cost saver (but we would be sad to no longer be able to try all sorts of food available in SE Asia!). Getting a diet based on raw sugar and palm oil (pretty much making your own Nutella) would short term save us a lot of money; however, we may have a larger medical bill at the end of the year (Dentist and heart doctors? Maybe even some case of that mysterious Kreislauf?). Also interesting is that although driving a small car is generally cheaper than cycling, the difference is not that large in Thailand where gas is quite expensive and food really cheap!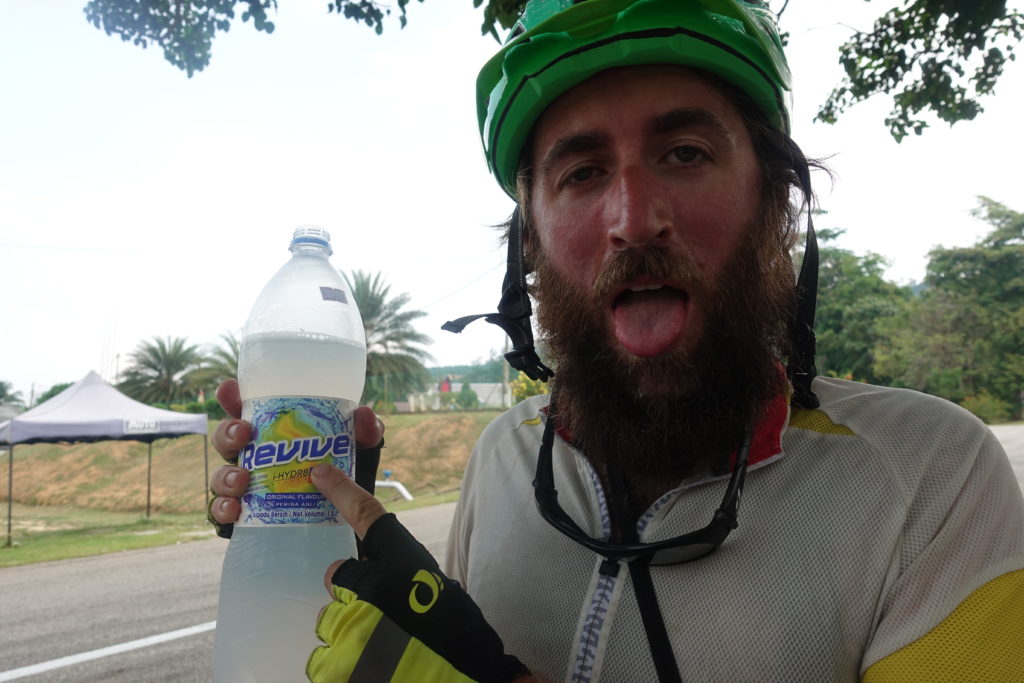 It can get insanely humid and hot in Malaysia! The weather forecast does not look too worrisome at first – until you check the heat index! 36°C (96°F) becomes 50°C (124°F) with 70% humidity…
II. Energy consumption
That should be shorter, given that there is no fluctuation depending on the country!
Cycling on our tandem: 75kCal/km -> 0,313 MJ/km
Scooter (two passengers): 0,015l/km * 34,8 MJ/l = 0,522 MJ/km
Small car: 0,065l/km * 34,8 MJ/l = 2,262 MJ/km
Conclusion: we win! We are more efficient than those stupid noisy stinky polluting fuel-engines (we've had a lot of time on the bike next to cars to form our opinion towards them 😊).
Although I must concede that there is here another bias: producing food (i.e. also energy) requires a lot of energy (from the sun at one point or another, but often through a long food chain, and often with a lot of fossil fuels anyway…), producing fossil-fuels including distribution requires however a lot less of energy. But that would possibly be the start of a PhD (and we still want to win at the efficiency-rank)!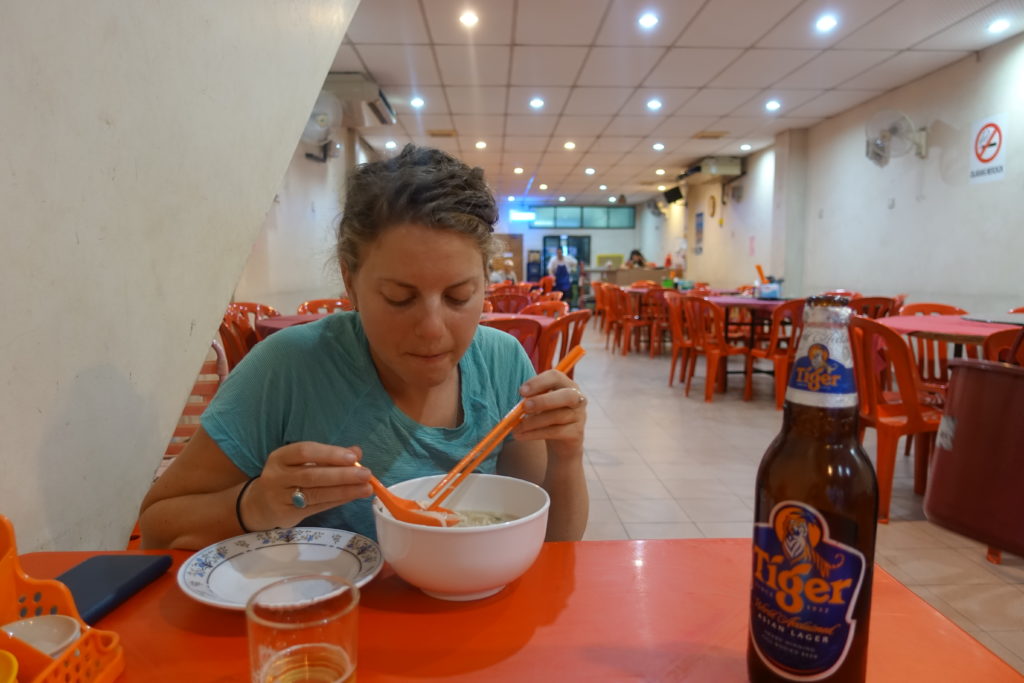 Something also to be noted, is that getting a scooter (and particularly a car) makes anyone drive much longer (often unnecessary) distance. While renting cars, we have rarely done days driving only 80km:
Car: Going to a not-super-amazing viewpoint 20km away, sure! // Bicycle: meeeh, I've seen others!
Car: Dropping all your luggage at a place for a week and doing day-trip from that place. // Bicycle: no way you bike back the same road! Let's camp and do a loop instead!
Car: I forgot to get some bread, let's drive to the supermarket. // Bicycle: whatever, I still have a can of sardines!
Car: If I take the highway, I can sleep-drive as long as I want // Bicycle: I've seen a sort of path going through the forest that does a shortcut, that probably goes through somehow!
III. Your turn!
Any thoughts? Any comments? I am glad you read all that post 🙂
I may also have done some calculation mistake, or approximation… you're welcome to notice them! The Baccalaureate was over a decade ago 😉
You are also very welcome to open the discussion and have any questionings like Colby for that one – that gives us a lot to think about and discuss while on the road!